DeLand proclaimed another success for 2018. As one of the "troops in the trench," I can attest to a satisfactory event, as I chronicled in Day 1, Day 2, and Day 3 articles.
Of particular note, DeLand can boast nine of nine days of wonderful weather. OK, fine, it rained one evening and winds blew somewhat furiously for a short while, but the precipitation came after show hours and no aircraft were damaged (although a couple tents took a nose dive).
I've opined how the thick crowds of the giant shows are not necessary and may not even be desirable. At smaller events, customers get more face time — and air time, through many demo flights launched. Exhibiting vendors got actual orders, made deliveries, and connected with pilots who may act later. When both customers and suppliers are happy, I'd call that a success. Neither had to spend big money to participate.
Again, Sport Aviation Administrator and longtime show director, Jana Filip and her team — backed by affable airport manager John Eiff — got rave reviews for highly professional orchestration. Her enterprise was comprised of a large number of volunteers, without whom these events — even the biggest shows — simply could not happen. DeLand was buttressed by 119 volunteers previously engaged plus another 11 walk-ons providing 130 volunteers to help support Showcase 2018.
DeLand 2018 By the Numbers
The key number that everyone seems to focus on is attendance. Jana Filip announced, "The total attendee count for Showcase 2018 was 5,500 over the course of the three day event." Some organizations — including the biggest shows — count each person entering through a gate each day, even if the same person comes every day (meaning one individual could be seven "persons" if the show runs for a week. Many call that legitimate; they may buy something each day. Other observers think that is only one person attending seven times. In the end, what matters is consistency as you could argue either method is correct.
However DeLand's 5,500 visitors are tallied, it's a net positive. Most attendees likely did not come all three days but what really matters is that virtually every attendee is clearly interested in what is exhibited or presented as no airshow entertainment is offered (other than the nearly non-stop skydiving). While the quantity doesn't compete with the giant shows, the quality of attendees is sky high; every one is motivated to be present.
Jana continued, "All revenues were up from the prior year, from the Souvenir Shop to the admission gates, equating to a steady growth three years in a row. The Saturday of Showcase 2018 was our break-thru day, with perfect weather and more attendees than ever before." I can affirm (and wrote that) Saturday was strong. Reports were the front gate ran out of wrist bands on Saturday and had to request more.
Of course, shows like DeLand, Sebring, and Midwest also hope to promote their airport and its development. This has worked extremely well for Sebring, the grandaddy of these sector-specific shows. The Central Florida airport has new tenants and flight operators because of producing the show.
Likewise, DeLand is promoting its "DeLand Sport Aviation Village, a 40-acre commerce park" where businesses can get hangar space in an incubator-like concept. They also reported a brand-new airport administration building is almost complete. The Showcase will have offices in this new structure.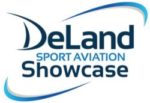 One More Thing… Because this post is about airshows and because 2018 events are now history, our left column has all the correct 2019 dates for your planning. If you can make it, please wave when Videoman Dave and I zoom by en route to more fresh video recordings. If you cannot attend… well, at least we will be at all these events capturing new interviews and Video Pilot Reports (VPRs).