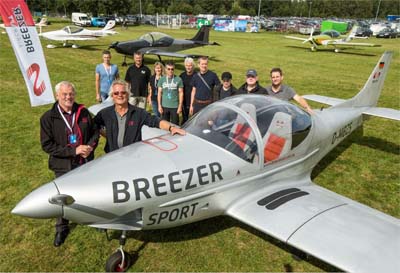 In a eNewsletter to what they call "Breezerians," the German company with the same name as their model reported a festive debut to their newest model called Breezer Sport.
At their home field and despite weather problems for arrivals coming from the south, the airport got "overloaded" with traffic.
The Breezer event was "not too hot, not too cold, great clouds for such an event, and little wind," reported Wolfgang Nitschmann. "In short, a dream; even the catering was excellent."
Among a collection of airplanes, rare and contemporary, Wolfgang and team unveiled their new Breezer Sport, joining other models called LSA Elegance and LSA Attraction. All Breezer models are available as B400 or B600 editions, the former being those conforming to Europe's Ultralight Class, limited to 472.5 KG (with a parachute system, as is mandatory in Germany). The latter are the 600 kilogram Light-Sport Aircraft models.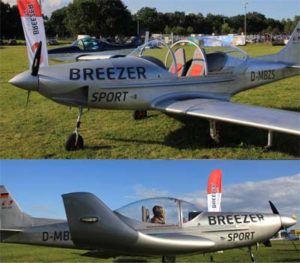 Here's our earlier looks at Breezer when first announced in the U.S. and Breezer II when updated.
Find more about Breezer Sport, and check out the snazzy paint schemes at the top of the page. The company has often displayed very striking and artistic paint jobs at their Aero Friedrichshafen show exhibit.
Breezer Sport has not flown yet. "The weather has so far prevented it," said Wolfgang. "Pictures and videos of the first flight will come over the well-known channels," as soon as practical.
Breezer Sport
"Aluminum at its Best"
Breezer Sport is focused on speed, said the company. "The B400/B600 design philosophy had its roots in the ease of building for the homebuilder market back in the early days," noted Wolfgang.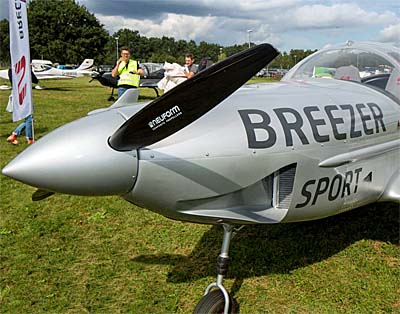 "Today, we can do things differently and that's why the Breezer Sport has a totally different approach. Plus, the current integration of 3D CAD/CAM systems enables us to create form factors meeting the expectations of strength and performance." Breezer Sport is not only an enhancement of the B400/B600, series they say. "It is a completely new aircraft with totally different technology approaches."
"Aluminium is our core competence," said Wolfgang, "so it had been a fascinating task to design a round fuselage. It was all done on computer making the first article close to the proposed production version. The new aircraft has several distinctive qualities compared to earlier models.
Counter-sunk rivets support the clean design in smooth surfaces.
Tapered wings are new in all aspects from profile to main spar.
Breezer Sport uses a spar in a center section connecting to the landing gear.
The Sport model's wings are shorter and are attached to the main section.
To support low-speed behavior, Fowler flaps provide additional lift.
Breezer Sport is designed to accept Rotax engines including 912 UL, 912 ULS, 912 iS and even the new 135-horsepower 915 iS.
The new engine cowling is shaped to generate less drag and allows a large opening for coolants or intercooler. The visual dominance in the future is the large side intake.
As Breezer Sport still awaits flight trials it is premature to talk about performance and other specifications. However, the earlier Breezers were reasonably speedy, flying to 120 mph, so a 915-powered, retractable gear, slimmed fuselage Sport may be quite fast. European regulations do not limit speeds of their Ultralight models and allow both retractable gear and in-flight adjustable props.