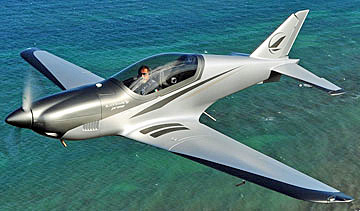 At Aero 2013 in Friedrichshafen, Germany, I was caught by the smooth, lean lines of an airplane called Prime by designer/producer Blackshape. The LSA-sized two seater has an aggressive yet sweeping physique and small frontal area that benefits from tandem seating. While powered by Rotax and light enough to otherwise qualify as a Light-Sport, Prime has retractable gear and an in-flight adjustable prop so it cannot currently meet U.S. regulations. However, it has been approved by Transport Canada in their Advanced Ultralight Aircraft class that is very similar to LSA. Though speculation has continued for years, Canada has yet to embrace the U.S. LSA regulatory scheme. By the way, Aero 2014 is scheduled for April 9-12 — immediately following Sun 'n Fun 2014 (April 1-6) — and ByDanJohnson.com reporters will be on the scene to catch the newest offerings from Europe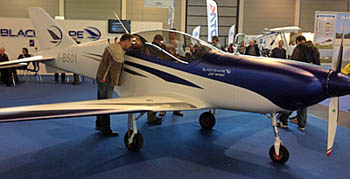 Blackshape's Prime will be distributed in North America by the Aircit Aviation-Aviasport partnership. The importer reported, "Prime delivers … performance and economy for a very low operating cost. Using a complete suite of electronic equipment, the Prime redefines the standards for pleasure and efficiency by taking full advantage of the strength and light weight of carbon fiber. The well-known and respected Rotax 912 ULS engine contributes to the reliability and efficiency of operation of this futuristic aircraft." Standard equipment: retractable landing gear; digital instrumentation; variable pitch propeller; autopilot; survival [cockpit] cell; and ballistic parachute. Prime specs: VNE of 212 mph; cruise at 75% throttle up to 170 mph (and remember, this is claimed from just 100 horsepower); maximum takeoff weight 1,232 pounds (the original LSA weight before it was bumped to 1,320 pounds). With two fuel tanks totaling 29 gallons, range at cruising speed is reported at 688 statute miles. In economy mode at 140 mph, range increases past 1,000 stature miles. Takeoff and landing requires less than 500 feet on a paved or smooth natural surface.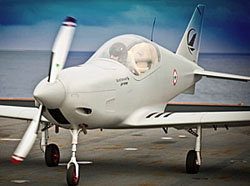 Developed and produced since 2011 by Blackshape SpA in Italy, Prime is now well known in Europe and the Middle-East. The importer claims the Italian Navy is working with Blackshape to develop a program using Prime aircraft to train its pilots for aircraft carrier operations. A more powerful version with Rotax's turbo 914 at 115 horsepower and 1,650 pound gross weight is reportedly in preparation for Canada and the United States. For more civil uses in North America — and for those who don't mind paying for the fetching shape, the Advanced Ultralight Aircraft (AULA) ready-to-fly version of Blackshape's Prime is available starting at about $242,000. Aircit Aviation-Aviasport's first model is expected in April at the Lachute, Quebec Airport, 40 minutes west of Montreal. The Italian manufacturer requires all Blackshape distributors to offer at least 10 hours of flight training in the Prime upon purchase.