Beringer Aero USA announced an expansion of the French company's U.S. presence on what they call "The Last Frontier." Known for its best-in-class wheels, brakes, and related components, Beringer opened an office at the Birchwood airport in Alaska to wide their network and offer customer support.
Alaska is an airplane lover's state. Reportedly one in 50 residents of the largest American state are pilots, compared to around one in 650 in the "lower 48."
No wonder really, as the vast state has only a handful of roads and most of them are in Anchorage or en route to Fairbanks. The rest of the enormous state is largely accessibly only by aircraft.
"The Alaskan Landing Gear and a complete range of wheel and brake systems are nearing certification and will be available to all Cub owners and pilots soon," announced Beringer. "Our wheel and brake kits raise the level of safety thanks to efficient and progressive braking action combined with the strong and reliable design of the wheels." Weight savings comes as an added bonus, the company said.
"The kits also come with a pressure regulator ALIR® to prevent the plane from nosing over and help keeping a perfect line at landing," added Beringer. This makes even more sense in Alaska where short and difficult runways are commonplace and where help may be a long way off.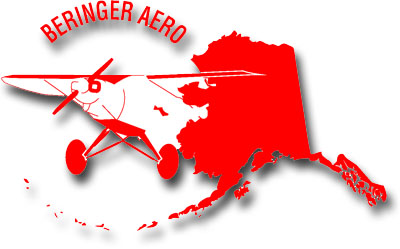 Beringer, know for great ideas like their groundloop-proof tailwheel has innovated again on the latest development phase of the Alaskan Landing Gear. The 13 inches of travel allow the gear to absorb a vertical speed impact of 700 feet per minute while staying below 3G load factor, while also providing favorable ground handling characteristics, the company explained.
"This best-of-both-worlds combination is accomplished using the new anti-roll system that provides a solid feel during taxi in all conditions including stout cross-winds and tricky side hills" said Beringer. That sounds perfectly suited to those challenging strips that Alaska calls runways.
Yet Beringer added that "while taxiing, the gear provides [only] 2 inches of travel," which they say is comparable to the travel of the standard Cub bungee gear.
Find our more technical details by contacting Chief Engineer, Lukas Stutzer at 206-771-6329 (+33 492 201 619 in Europe) or by writing Lukas@beringer-aero.com.
Regular air show attendees may know Claire Beringer better. She is sales and customer support director, and can be reached at 920-509-1814, (Europe: +33 492 201 619) or by emailing to Claire@beringer-aero.com.
The following video shows off the Alaska Landing Gear quite well with beautiful scenery.