Click graphic above to go immediately to the company's website...
DUC Propellers USA is a French company (DUC Hélices) that is now also established as an American supplier. The company specializes in the design and manufacture of carbon fiber composite aircraft propellers. At this they excel, proven by many airframe producers that tried other props and settled on DUC.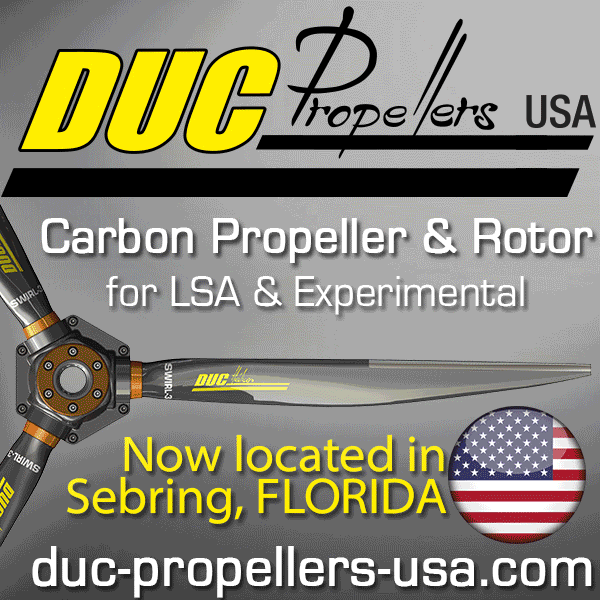 Now in America!
— DUC Hélices Propellers opened its first subsidiary in North America as DUC Propellers USA at the Sebring Airport. At this location the company provides sales, maintenance and repairs. On a January 25, 2019 event, the new facilities welcomed more than 200 guests for a grand opening. "Opening a subsidiary in the US is obviously strategic in this country which counts the most important community of pilots in the world. All specificities of this huge market push ourselves to be present there," said
Vincent Duqueine
, CEO of DUC Hélices and DUC Propellers USA.
Props for All Aircraft — A full range of propellers have been developed to fit all types of tractor and pusher aircraft, from three-axis conventional airplanes to weight shift trikes to gyroplanes to powered parachutes ad paragliders and even drones or unmanned air vehicles.The company can accommodate engines powered from 40 to 210 horsepower.
Qualified and Capable — DUC's expertise in both aerodynamics and composite materials allows this well-established French company to provide efficient propellers that operate quietly while providing powerful thrust. No wonder they have won fans around the world. DUC props can be found in a wide number of countries, attesting to their strong function in a variety of climates and conditions. DUC Hélices is ISO 9001 certified having proven their quality controls and well-managed production system. After-sales service is another strength.
Range of Products — DUC offers three-blade props in several configurations such as Flash and Flash-2, Swirl, and Windspoon plus a five-blade series called Flair (find all prop details here). In addition the company offers spinners in white or carbon fiber black finish to fit a variety of aircraft plus neoprene blade covers to protect your investment.