Sun 'n Fun kicked off the 2021 season but also restarted the idea of returning to airshows. AirVenture Oshkosh proved it could be done on a grand scale. Now, the Midwest LSA Expo is almost here. This was nearly the only show in 2020 and it went well with no reported illness afterward but plenty of smiles on the faces of new airplane owners.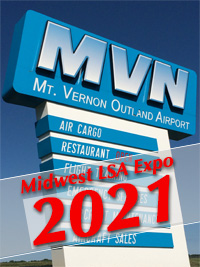 OK, look… someone will object anytime you use "best" as I did in my title. So you understand, I call the Midwest LSA Expo the "best little show on the circuit" because — thanks to highly-supportive airport manager, Chris Collins — LSA, Sport Pilot kit aircraft, and ultralights own the airfield for those few days. My video parter and I are permitted to roam anywhere on the airport looking for the best aircraft, the best stories, and to collect the best video and still images.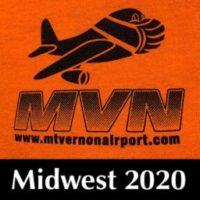 For this reason, Midwest has become the number one event for Videoman Dave and me and we are so deeply appreciative of Mt. Vernon Outland airport's high level of cooperation and good management and services from the orange-shirted volunteers. We love the others show, too, but Midwest works beautifully for us — and that means we get better content for you.
My airline ticket is bought and I will be on-site for all three days of the show. As usual, I will provide daily reporting (who needs sleep?)
C'mon! No entry fee; completely free to attendees. Close to a huge midwestern population. Great people keen to help you buy a plane, sell a plane, learn about planes, or simply talk aviation to your buddies. In town, you'll find plenty of lodging, restaurants, and other services.
Head to Mt. Vernon
(1 Hour East of St. Louis)
"It is hard to believe, but in just over two weeks KMVN will host the Midwest LSA Expo for the 13th consecutive year," wrote airport manager and general great guy, Chris Collins! I can't recall another airport manager I've ever met who is so dedicated to his airport and those who enjoy it.
"The event features a great assortment of LSA including Part 103, STOL, and gyroplanes. This year's forums/seminars lineup is one of the best ever. There really is something for everyone," Chris wrote in a two-weeks-out update. "You are always welcome at Midwest LSA Expo and Mt. Vernon Outland Airport!" I know from experience that he means it sincerely.
Which company representatives will you see at Midwest 2021? Here's a page-full direct from the source. These are committments Chris has received but some may not show for technical or weather reasons and some not on this page inevitably arrive No matter; Chris calmly welcomes all.
Last year, in a rare event for 2020, several companies were no-shows. Some were fearful of the virus and others didn't want their employees feeling threatened after they returned home from Mt. Vernon. That's all understandable but Chris had the necessary means to protect guests who were concerned.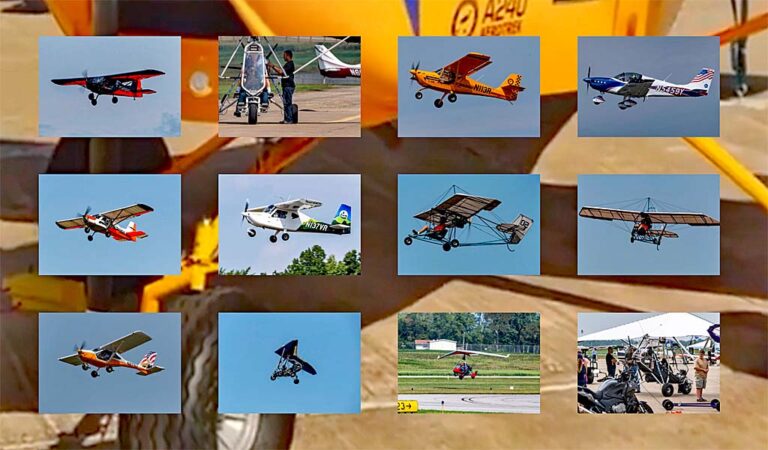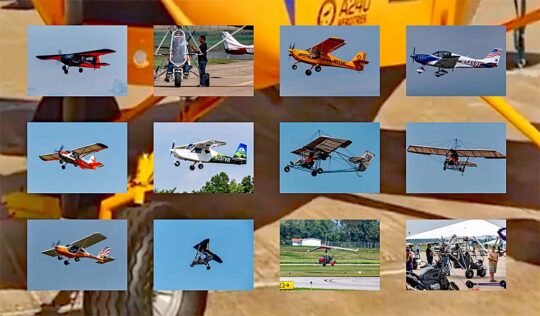 Having attended all of these Midwest events (but one, due to an approaching hurricane in my home state of Florida), I can tell you — and many pictures prove — that social distancing is easy at Mt. Vernon. These sector-specific shows have smaller crowds. You can easily approach a vendor and have a conversation without getting close, if you prefer.
Of course, Midwest won't have tens of thousands of airplanes and hundreds of thousands of visitors …and that's one of the main reasons it is so wonderful. Vendors can actually engage with you for an extended conversation without others waiting anxiously to talk to the same person.
More Advice from Chris
"We will have plenty of orange shirt volunteers to direct you so no worries when you get here. If you are driving or trailering in, please proceed to Gate #1 just north of the Koziara Terminal Building. You are welcome here anytime so if that means a Tuesday arrival, the welcome mat will be out.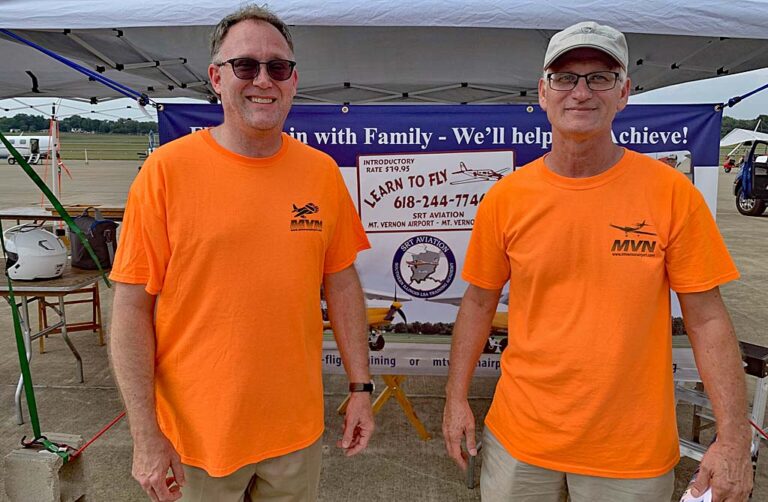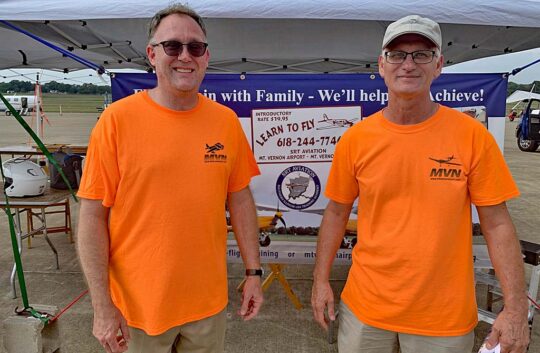 "The shuttles (to and from hotels and restaurants in town, 15 minutes away) will begin with the first arrival.
"Our Thursday afternoon party at the FBO (SRT Aviation) is back! Plan on a great post-Expo dinner at the conclusion of Day One. We are still working on the menu but rest assured there will be plenty of BBQ and drinks served in a great aviation atmosphere.
"There will be daily safety briefings at 10:00 a.m. in the Koziara Terminal Board Room. Please plan to attend each day. If unable to attend daily, please ensure you are there on Thursday September 9, 2021. Each briefing will be short.
"Mo-Gas will be available at the Expo. It is 91 Octane, no ethanol blend.
"Bonnie Café (very popular with the townspeople!)  is open daily inside the Koziara Terminal with no restrictions. The Café will have a limited sandwich menu available on the flightline also.
"In addition to our rolling water distribution, we plan to have water stations on each end of the flightline.
"The forums/seminars will remain in the Corporate Hangar. This year features our best lineup yet!
"We are making electrical infrastructure improvements to our camping facilities. Each east side pedestal will have 30 amp. service. We will be three 50-amp service locations."
As I've done every year, I'll be giving another forum and I plan to video record it as I did last year. Besides speaking to a full (but physically-distanced; nearby photo) audience, that video was quickly edited and uploaded by Videoman Dave*; it has been viewed more than 112,000 times. This year I'll try to update last year's FAA regulation talk with the changes I believe are coming. Buckle up!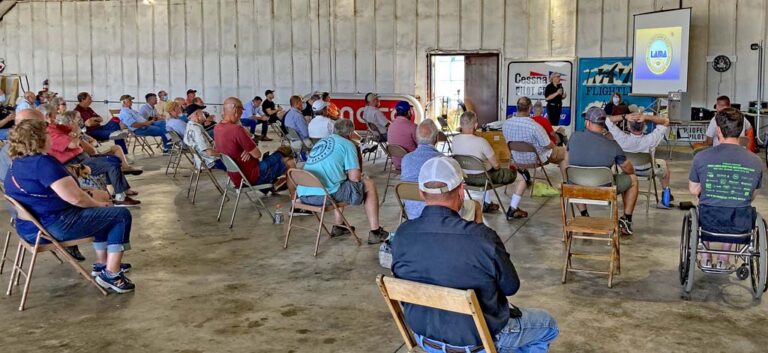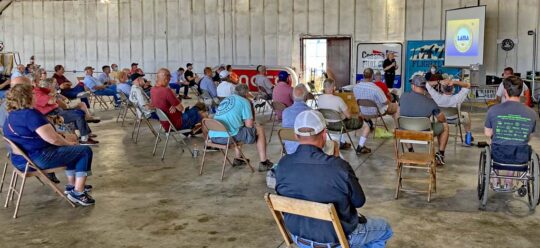 * As with AirVenture Oshkosh and Sun 'n Fun 2021, Videoman Dave was again denied entry, even after Homeland Security said media was deemed "essential." That judgement doesn't include YouTube, I guess, even though the popular app has far more viewers than mainstream news these days.
If this has any good side to it, perhaps it is that Dave can edit videos quickly if I can send them to him fast enough.