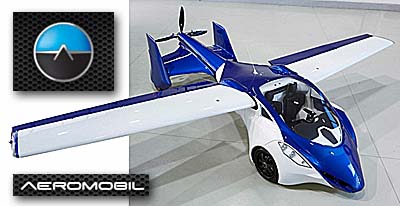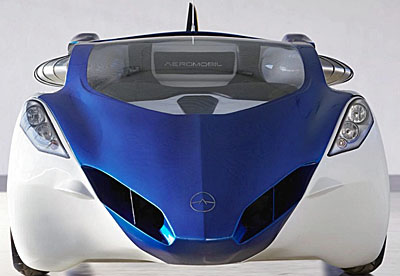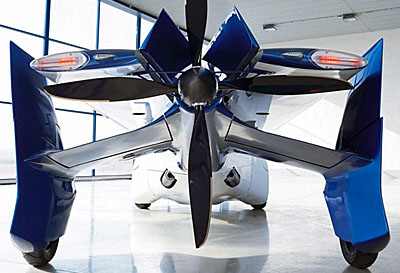 I have reported on Aeromobil before and we've tried to keep up with those MIT geniuses at Terrafugia and their Transition that basically reinvigorated the flying car or (as Terrafugia prefers) roadable airplane. However, saying Terrafugia reinvented the flying car is hardly fair to other producers, in this case Slovakia's Stefan Klein. At the Pioneers Festival — an entrepreneurship and future tech event held in Vienna, Austria at the end of October 2014 — Klein and his financial associate Juraj Vaculik unveiled their latest iteration of Aeromobil, specifically model 3.0. Beside a public showing, he demonstrated its flight capabilities to the public for the first time. Think what you will of Aeromobil or Transition, or for that matter, Maverick, but these ventures continue to attract attention and sufficient funding that it's likely we'll see some in the sky one day. How many you'll see is anyone's guess. Original Aerocar developer Molt Taylor once took the concept far enough to win CAA approval in 1956 yet the idea of combination airplane and car has yet to secure a market foothold.
Klein's Aeromobil had previously flown just a few feet off the ground. This is not a negative statement; most aviators know it makes sense for a new design to stay close to terra firma on initial flights. However, around the time of the Pioneers Festival the flying car went significantly aloft with a chase plane to record the flight. The video below shows the entire realm of flight.
Stefan Klein has devoted nearly a quarter century creating his flying car dream. He graduated from Slovak University of Technology in 1983, later studying at the Academy of Fine Arts and Design (AFAD) and the École des Beaux Arts et Design in Saint Étienne. Following his academic training, Klein became the head of the Department of Transport and Design at AFAD where he had responsibility for leading research projects for car companies including Audi, Volkswagen, and BMW. Klein reports logging 1,200 hours in powered aircraft, and like many Europeans, has even more time in gliders: 8,000 hours.
Even while he led developments for auto makers Klein tinkered with his flying car, starting with Aeromobil 1.0 in 1990. I earlier reported on Aeromobil 2.5, which was called "final prototype" before the 3.0 iteration that is aimed at production. Klein reported changes made from version 2.5 include the addition of avionics, an autopilot, and a parachute system as well as suspension upgrades designed to make take off and landing on rough terrain easier. The designer he has also "integrated some advanced technologies such as a variable angle of attack for the wings that significantly shortens takeoff requirements." However, Klein was reported saying further testing was required before final specifications are confirmed and Aeromobil can be put into production. As with Terrafugia's Transition, media reporters appear highly intrigued by a flying car concept that looks advanced and Aeromobil certainly does.
Aeromobil is powered by the same Rotax 912 aircraft engine that powers so many Light-Sport Aircraft. Besides the good reputation of Rotax, the engine also accommodates (even prefers) auto gasoline, which suits the driving function of a flying car. Like Transition, Aeromobil uses the engine to spin a rear-mounted propeller. As the photos show, one blade of the four-blade prop is perilously close to the ground where rocks and other FOD could cause damage though protecting it could be part of final design changes. In driving mode, a gearbox shifts power from the prop to the rear wheels, a necessary bit of engineering when the wings fold back along the tail boom. With wings swung back to drive mode, width is less than eight feet, which should fit into standard parking spaces. Additional (and still preliminary) specifications are shown below. The company did not speak to gross weight nor has the Slovak company announced any plans to sell its flying car in the USA, but if it can stay light enough the LSA category appears to be good fit.
TECHNICAL SPECIFICATIONS
Construction — Steel frame and carbon fuselage/body
Powerplant — Rotax 912 (flying and driving)
Length — 19.7 feet
Span — 27.3 feet (with "variable angle of attack to shorten take-off roll")
Width (wings folded) — 7.3 feet
Top Speed — 124 mph or 108 knots (flying) / 100 mph (driving)
Rotation Speed — 90 mph or 78 knots
Minimum Speed — 40 mph or 35 knots
Range — 430 miles or 374 nm (flying) / 540 miles (driving)
Fuel Consumption — 4 gph (flying) / 29.6 mph (driving)
Capacity — 2 seats
With four million views already, perhaps you have already have discovered this but as it is a slickly produced video that also shows Aeromobil doing a good bit of flying, I wanted to be sure you saw it.