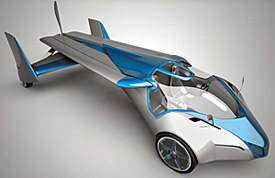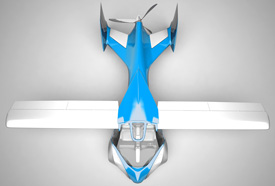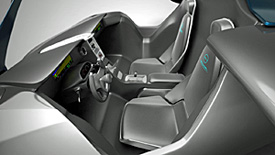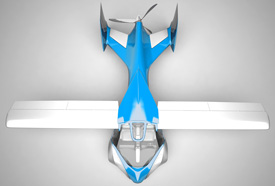 After watching the Terrafugia Transition (video) fly from on the main airshow runway at AirVenture 2013, many pilots began to view the LSA flying car as more than a media magnet. The project, which has indeed generated an amazing amount of mainstream media attention, proved itself to be a real aircraft that can indeed drive like a car. More recently the Massachusetts company amped up their game with a new model, TF-X, now in early design stage. Meanwhile, the Transition, also evolving as a design, garnered the attention of — and a $2.7 million investment from — DARPA, the U.S. government's Defense Advanced Research Products Agency. Where some once saw a novelty product only of interest to those intrigued by a "flying car," more began to view this as a genuine aircraft. However, Terrafugia isn't the only company pursuing such a unique machine.
One of my favorite quotes comes from Molt Taylor, the prime mover behind Aerocar, perhaps the first "practical" flying car and one that earned certification. Molt said, "An airplane will get you from one place you don't want to be to another place you don't want to be: the airport." To address the problem of what to do about transportation after you land your airplane somewhere, flying cars have long captivated minds. One of those is Stefan Klein. A European friend — and designer of several interesting aircraft including MD-3 SportRider and Shark — recently updated me on the Aeromobil. Jaro Dostal wrote, "A new version, Aeromobil III, made its first take-off. Although this roadable aircraft is still not in its final look, it is flying with power by the Rotax 912." Jaro continued, "Author, Doctor of Engineering, artist, pilot, and great enthusiast, Stefan Klein, works at the Academy of Fine Arts and Design as head of the Transport Design Department. He told me Aeromobil can be a LSA in its final version at a weight under 600 kilograms MTOW. I think it could be a great competitor of Terrafugia."
A artistic designer and engineer himself, Jaro is also practical and added that he is not certain this is a type of aircraft that every pilot will want. Indeed, I don't reveal this striking design to readers of ByDanJohnson.com with the claim that Aeromobil could be your next LSA. However, I find the European flying car's shape a thing of beauty and I believe many readers will enjoy contemplating it. The photo (top) shows it is real and the renderings describe a wonderful intersection of art and design, a worthy accomplishment from a man who focuses on such work. If you are moved by the sweeping lines and artistic form of this flying machine, I encourage you to go to the Aeromobil website and see an impressive driving-to-in-flight video. If it doesn't load correctly try clicking the logo at the top center of the page. The website hosting this video offers much more information on the background and design goals of Stefan Klein's Aeromobil. Enjoy!