Aero Friedrichshafen is over. At the beginning, show organizers said it was their biggest yet, measured by the number of exhibitors. Aero trails AirVenture Oshkosh in this measurement but only slightly. In other words, it's big …big enough that it's hard to see everything of interest.
In the past days, I've covered 16 aircraft that I found interesting and I had to skip many others. I simply did not have the hours needed to visit every exhibitor to hear their story, even if it might be a great one. The show is that rich a target environment for a journalist covering Light-Sport Aircraft, Sport Pilot kits, and ultralights.
So Many Airplanes,
Not Enough Hours…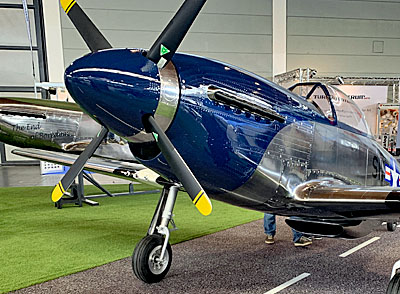 ScaleWings SW51 — When I reported this aircraft in 2018, the "Walter Mitty story" went on to become one of the most popular articles of the year on this website. On social media promotions it also attracted more attention than any other aircraft that year. A year later enthusiasm is still hot. Throngs around the aircraft at Aero reinforced that view. North American's P-51 and its distinctive shape has perhaps inspired more pilots than any other aircraft in history. Therefore, ScaleWings' intricately-detailed execution of a 70% scale replica of the iconic airplane draws admiring looks that few others can hope to match.
However, can they really manufacture this artistic work? Last year, I admit I wondered if the company would actually pull off the move to production. Originally known as the FK-51 because it was to be produced by FK Lightplanes' Poland facility, production ran into trouble. The Poland FK factory had various problems unrelated to this one design. Last year that older relationship was causing doubts about their sustained operation. The two went their separate ways.
In the last year, ScaleWings has made many changes, upgraded its staff, added test equipment, and brought in a top production man with a background in general aviation, according to front man, Christian von Kessel. Testing has continued using an impressive "strong back," a steel cage-type apparatus built to exert loads on an airframe to prove components and construction methods. The ScaleWings version of this is the most sophisticated I've seen. Work remains but this company is looking solid. Given the keen response to the airplane, if ScaleWings can enter steady production, they might sell all they can make.
To learn more, as I imagine many readers may wish to do, look at their brochure (PDF file).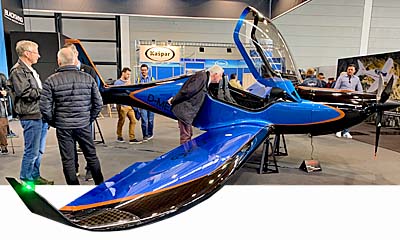 Blackwing 600RG — Sweden's success story in light aviation could be summed up in one company's name: Blackwing. Since it first debuted at Aero 2015 the sleek design from the Scandinavian company has drawn many admiring looks. Blackwing exhibits their retractable gear model (600RG) because regulations in most European countries have no speed limit and no ban on retractable gear when operating as European-type ultralights. Therefore many companies in the LSA-like space push speed as a primary selling tool and retractable models are part of this. Displaying his aircraft with gear retracted (photo) Blackwing Sweden Founder and CEO Niklas Anderberg presents his slippery aircraft in its best go-fast look.
Current FAA regulations forbid retractable gear except on seaplanes as part of the overall goal to keep these aircraft easier to operate. The original mantra was "simple aircraft in simple airspace." FAA could not know that the new LSA sector would become a worldwide phenomenon that would circle back to help simplify Part 23 (CS-23) certification methods.
As reported here several times LAMA has informed industry that significant changes are coming. Beside key regulation changes proposed by LAMA, champions like EAA have fought to expand the professional build-assist center concept. FAA has adjusted its oversight of this effort to support the idea and more accommodating rules are coming. Updated regulations can help companies like Blackwing sell aircraft that exceed the LSA speed limit until we see if FAA will expand the Light-Sport Aircraft category to permit higher speeds. Until then, as interest may express itself, Blackwing also offers a fixed gear version that could enter the U.S. market sooner.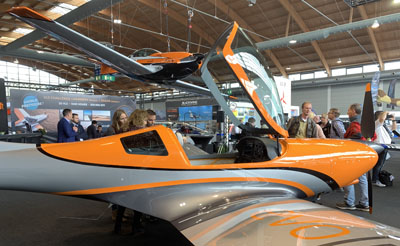 JMB Aircraft Update — "JMB Aircraft is run by two Belgium brothers," stated the company. "JMB Aircraft is the production company of the VL3, a plane designed by Vanessa Air and produced in the past by Aveko." Americans may already know this airplane although not from JMB and not called VL3. This is the Gobosh model once rebadged and sold in the USA with fixed gear and winglets. Back in 2007, Jean Marie and his brother represented Aveko models and became responsible for 85% of the producer's sales (outside the U.S). In 2012 they acquired Aveko and by 2015 had taken over production.
In recent years, JMB has done well. At their company party at Aero on Friday, Jean Marie gave a short talk where he provided some company data. "We bought the company seven years ago and we now employ 100 people in the Czech Republic. With dealers and other staff, JMB now is served by 150 people. Together they have built, sold, and delivered 320 VL3 aircraft, primarily in Europe with a few in other countries (two are in the USA registered under the Aveko brand). In 2018, JMB built 50 aircraft and Jean Marie said they were planning on 5.5 per month for 2019, or 66 aircraft. By any reasonable measure this is a good performance.
JMB does offer a fixed gear model but their website specifies, "Only for flight schools." As with Blackwing, since this Belgium-based company sells primarily in Europe where fast retractable are allowed, why would company leaders like Jean Marie want to show a slower model? JMB said VL3 Evolution can hit 160 knots with the Rotax 914 engine. They are seeking the right partner for America. Find our more about JMB Aircraft here.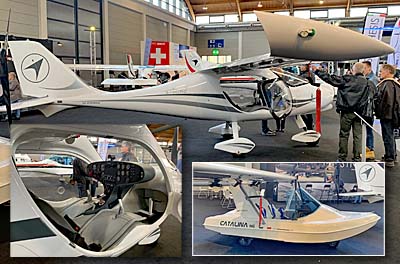 Fly Synthesis Synchro & Catalina — Fly Synthesis catches my eye every year at Aero. Causing that response is always their sharply raked Synchro that makes an art of looking fast while sitting still. Joining the speedy-looking aircraft was an entry fresh to my eyes. The Catalina NG presents a different view of amphibious LSA-style seaplanes. Despite having a flock of airplanes the brand is unknown in the USA, which reveals another way to show the size of the LSA-like market around the world. Fly Synthesis reports delivering more than 2,000 aircraft, none of which are in the USA.
The company stated, "The vast experience accumulated on composite materials in years of activity [in aviation] has allowed us to explore other fields, such as renewable energy (wind power), automotive, and nautical." They also do "research and development, design and prototyping in collaboration with other companies in fields not strictly related to aviation."
Despite their diversification, the Italian company offers quite a full line of aircraft beside the Synchro that always catches my eye. Indeed, Fly Synthesis offers: a high wing, Synchro; low wing, Texan; European ultralight-style, Storch; an open cockpit Rotax 582-powered ultralight, Wallaby; and a rather unique approach to seaplanes, Catalina. All these are in production now. Discontinued is the single seat ultralight, Kangaroo.
---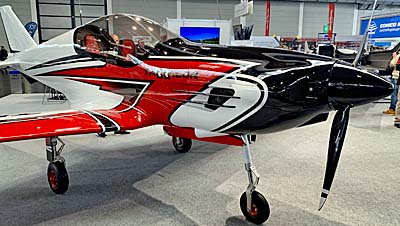 The stories from Aero — and more from Sun 'n Fun — will continue for a while longer. Selected aircraft may be featured in additional articles with more specific info to that airplane.
As soon I return home and as the travel schedule settles, I'll work on a few short (≈ 2 min.) videos to follow.
Thanks for following our Sun 'n Fun and Aero Friedrichshafen show coverage! —DJ