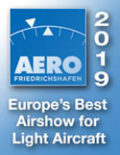 More from Aero as Day 3 closes. Because of the number on display — and because several readers asked — this post will focus on electric propulsion in two distinct forms. Whatever you think about electric as a means of lifting aircraft aloft, escaping its approach appears impossible. Experimentation is happening in all quarters. The following review is far from exhaustive; many other examples could be found at Aero Friedrichshafen 2019.
Most agree that batteries are the weak link in the chain and despite repeated promises of annual increases in energy density of 5-8%, it hasn't happened over ten years I've followed this fairly closely. That does not preclude certain effective uses, for example, local area primary flight training or aerobatic flying. Yet flying cross country on batteries remains somewhere in the future. Nonetheless, projects abound and solutions may be upon us. Here's what I saw today.
Hybrid Power from Tecnam, Rotax, and Siemens — I had no choice but to drop big names because these three powerhouses are joining forces on a hybrid system. This method, while requiring more hardware, offers cross country potential. A website describing this effort is based on its simple, if somewhat confusing abbreviation: H3PS.

Beside taking the lead in this investigation, funded by the "European Union Horizon 2020 research and innovation programme," Tecnam will provide a four seat P2010 aircraft, substituting the certified 180-horsepower Lycoming with a combination of 141-horsepower Rotax 915iS mated to a Siemens electric motor driving a common shaft.
This innovative, if somewhat more complicated approach, is intended for a specific mission. The pilot will take off with the electric motor doing what it does so well, providing a powerful torque to help lift the plane into the air. At cruise, the Rotax 915 will do the duty. Another innovation is that no generator is involved. H3PS officials said, "A high power generator is not needed; the e-motor itself works as a generator when requested" to recharge the batteries. "Batteries are not capable to ensure a long range/endurance flight. A hybrid-electric system is the only way to achieve short/mid terms results," the consortium noted.
Comco Ikarus Electric Hybrid — The largest seller of light aircraft in Germany is Comco Ikarus of C42 fame. This powerhouse of light aviation is now working with Toni Roth, a veteran supplier of electric power systems for very light aircraft.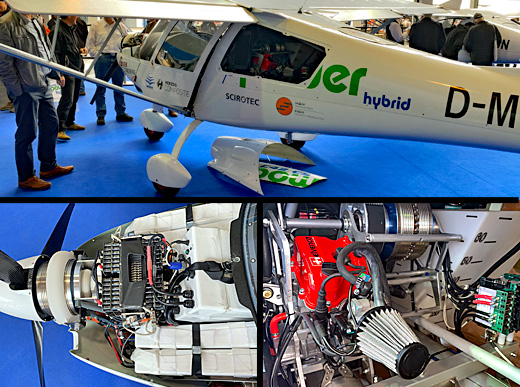 The big difference in this development compared to the H3PS project is that Toni flew the Comco Ikarus C-42 CS Elektro from his base near the factory to Aero. This hybrid is operating now. Technical information about the system was sparse on Toni's website, however, a German-language video (below) shows the aircraft operated essentially the same as its fossil fuel-powered counterparts.
When I spoke with Toni at the show. I recalled this man has has long experience with light trikes and hang glider propulsion systems based on electric power. He has gained valuable experience with these efforts and the results appear on his Comco C42C.
As an example of his state of development, the installation featured a cooling system but also a source of passenger comfort. A collar around the electric motor (white "doughnut" surrounding the motor) removes heat from the motor and channels it to the cabin. In the aft compartment, we saw a tidy installation of electric motor, generator, and a petrol fuel tank holding about 15 gallons.
Horten Wing Battery Capacity — Horten Wing's Chief Engineer Hans Heinen called it "paradoxical" regarding weight in the wings not affecting loading as you'd think about added mass (the same is true of wing tip avgas fuel tanks). Wing-borne weight simply is not like pounds added to the cabin of a conventional aircraft.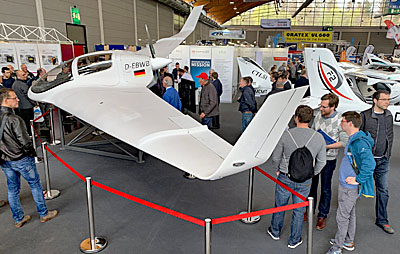 You may have already jumped to the point about those wings being exactly where the Horton aircraft can carry racks of batteries, perhaps enough to go some distance. The downside of batteries is their capital cost and a known limit to the number of cycles or recharges. The upsides are several: very low fuel cost, lower noise and vibration, high efficiency, far less maintenance, green appeal, and more.
Engineer Hans and CEO Bernhard Mattlener observed that an original plan was for the Horton HX-2 to be electric powered. While early development continues, a gasoline engine is presently doing the work but the design lends itself to electrification. Given the state of battery energy density, having the aircraft be very low drag greatly aids the eventual goal.
Bristell Energic H55 — One of the most successful startups of the last decade is BRM Aero, designer and producer of the sophisticated and smooth Bristell, available in tricycle gear, taildragger, and retractable. Their U.S. distributor Bristell USA had a strong year in 2018 and is planning for an increase in 2019. No question that this a sleek design, highly refined over its years in the game.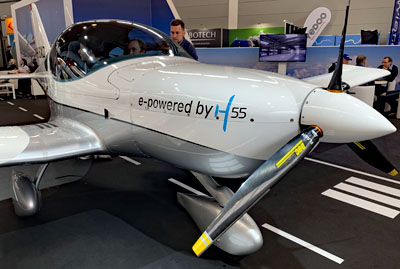 The company is now taking their smooth aircraft and powering it with an electric motor. They call the project B23 H55 Energic. The motor can deliver 90 kW (122 horsepower) for takeoff at 900 fpm and 65 kW (88 horsepower) for continuous cruise power at 125 mph. Onboard batteries can deliver one hour of endurance with a 20-minute reserve. Fully recharging will take only about 30 minutes. BRM estimates the cost of operation at $7/hour, less than the cost of one gallon of fuel at current European prices for avgas.
To repeat, this is far from a complete list of electric projects. Indeed, all of Hall A-7 at Aero Friedrichshafen was electric, with the giant Siemens company hosting a particularly large display. With multi-billion-euro companies like this involved — along with other giants of aviation and technology — it is clear that electric propulsion is on its way. How soon? What range is possible? What is the full cost …and saving? These and more questions remain to be answered but the technology is getting closer with every Aero. Look for more reporting on this at next Aero Friedrichshafen and in the months between.
Here's a flying video of the the Comco Ikarus C-42 CS Elektro: