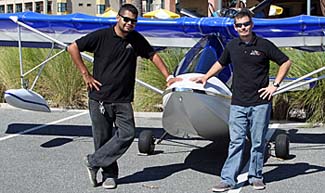 The city of Tavares, Florida ought to be feeling good about their effort to become their adopted name: America's Seaplane City (FA1). The city built a fine facility and seaplanes are using it. Yet the strongest measure of their success may be that the city, located about 45 minutes northwest of Orlando, has attracted not one but two seaplane manufacturers. I've written about Progressive Aerodyne and their SeaRey several times. We've done video with Aero Adventure since Alex Rolinski took over the operation. Recently, we were hosted by Alex Gutierrez as we paid a visit to their new factory following a laborious move from Rockledge, Florida to Tavares.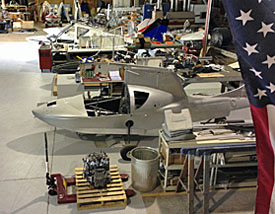 In 2013, this a tale of two men named Alex and a familiar brand in the light kit arena. The longtime friends got together in central Florida after Alex R purchased the rights, designs, and inventory of Aero Adventure. While Alex R continues his work in the banking business, he tapped his friend to manage the refreshed enterprise. In a sign of true friendship Alex G willingly departed the western USA to help his old buddy. Rolinski is a longtime pilot, an A&P mechanic, and did service in the Air Force as a Flight Engineer. Both men seem highly motivated and ready to do more with this long established company. Long ago, Aero Adventures (under a different company name in those days) created the Buccaneer one and two place ultralights. Steady evolution lead to the Aventura and the collection of old and new aircraft resembling the original makes one of the early success stories in what was then the ultralight industry. The company under various leaders built more than 1,000 airplanes.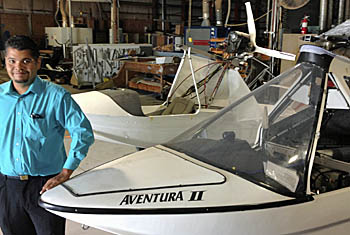 Of that fleet Alex Rolinski reported that more than 160 are the two place Aventura II versions that today form the heart of the business. However, he added and Alex Gutierrez reinforced that a single place model is also available and they expect to put more time into developing it. Why? Well … price is important to many potential buyers. So let's summarize. In the world of seaplanes expect to spend considerably more; 25% or more is not uncommon to go from a land plane to an amphibious float-equipped version. If you evaluate such aircraft, even in the LSA space (and it'll be a great deal more for a certified seaplane), prices begin at around $150,000. Yet here is Aero Adventure offering a two-place airframe kit for $25,000, with Rotax 582 engine for about $33,000. If you go whole hog with the Rotax 912 or Viking engine, you might lay out as much as $70,000 … less than half what you might otherwise spend. Of course this is not an ASTM-compliant LSA and you'll have to build the airplane. However, price-conscious buyers recognize these are more affordable choices for an airplane that boasts more than 20 years of history. Alex R and Alex G both indicated they will also pursue a Part 103-capable version, however, you may need to shop for an engine as the Rotax 447/503 they'd use is no longer in production (fortunately plenty of used engines are available; this will further restrain the cost to get airborne).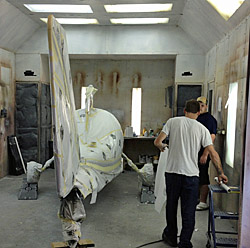 When we visited Aero Adventure, we were shown around by Business Manager Alex Gutierrez. Jumping into aviation to help his friend, I was impressed by his depth of knowledge in only a few months. Alex G helped with the move and though they still have work to sort out lots of parts, tooling, and details, their progress looked good. The factory floor had airplanes in for updates or maintenance and they benefit from their own paint booth (photo). With more than a thousand airplanes out in the field, Aero Adventure has a business foundation. Among their developments, they've fitted the Florida-based Viking engine (video) and have more plans to further the enterprise. Meanwhile, Alex G refines the inventory and is at work on marketing and other duties. Both young fellows, they've established a Facebook page to keep interested pilots and former customers advised. They also send out an informative newsletter; you can contact the company to sign up for this. We'll have more on Aero Adventure in Tavares; click back soon!