When they introduced Light-Sport Aircraft FAA prohibited use of a jet engine. Looking at the photos nearby you can see that this airplane cannot pass must as a LSA. Or, wait! That's no jet. It just pretended to be one at Aero Friedrichshafen 2016.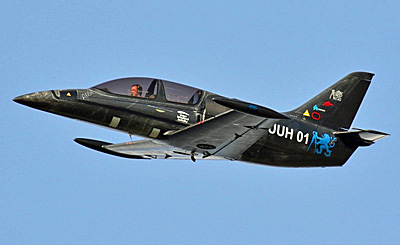 At my home airport (Spruce Creek Fly-in), I regularly see one or another full-size L-39 in various stages of being prepared for a new American owner. I was told that about 200 of these ex-Czech military jets are operating in the U.S. They are handsome, sleek, and fast-like-a-jet. Contrarily, the UL-39 is not as fast but neither should its cost of upkeep be anything close to a military jet.
We're getting a bit ahead of ourselves. The UL-39 on display was a wonderful proof-of-concept aircraft that managed to engage nearly a generation of students in aeronautical engineering disciplines at the Czech Technical University in Prague. Market plans remain a couple years away, though interest appeared strong for the many who examined it closely at the just-concluded German airshow.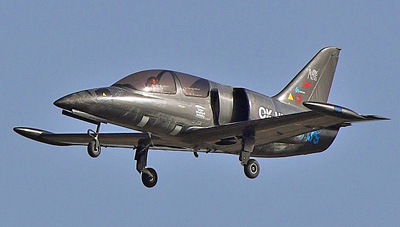 Albi UL-39 was reportedly 17 years in the making lead by Dr. Robert Theiner, whom I met alongside his creation. He and a team of students over these years created this unusual entry. While closely resembling an L-39, this edition is more affordable (projected around $225,000) — and operable — by recreational pilots when powered with a conventional gasoline reciprocating engine versus a turbine. Such engines alone can cost more than an entire Light-Sport Aircraft.
UL-39 uses a high-revving BMW SR1000RR motorcycle engine producing 193-horsepower to drive a 13-blade impeller nestled in the fuselage aft of the tandem-seated occupants. With Albi's retractable landing gear, the BMW powerplant can push the aircraft to speeds of 124 knots. Stall is a modest 35 knots. Top speed in level flight with maximum continuous power (Vh) is 140 knots. Therefore UL-39 is no slouch but neither is it an military-grade jet.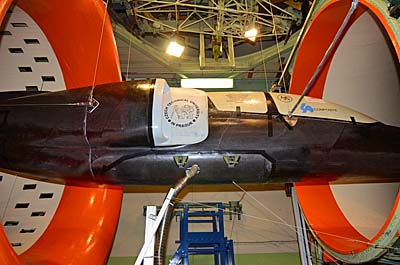 Thoroughly designed and tested Albi UL-39 could qualify as a Light-Sport Aircraft. Only minor adjustments would be needed. Fixing the gear in the down position — as required in the U.S. — would surely lower the current listed cruise of 124 knots. Weight can actually go up, perhaps allowing a more deluxe interior. Despite its larger look, UL-39 can make European Ultralight weight, said developers, meaning 472.5 kilograms (1,041.6 pound), which figure includes an airframe parachute that is mandatory in Germany). An LSA Albi UL-39 seems easily possible.
Created in a collaborative university setting with various partners involved, the bare fuselage and air inlet qualities of the design were tested in a wind tunnel (photo). As an engineering project, this was undoubtedly a fascinating project for groups of students and their faculty advisers.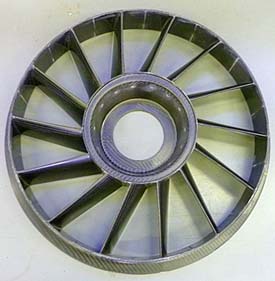 The carbon-fiber composite construction was done by LA Composite. Assembly of the pieces was achieved by Skyleader, a producer of Light-Sport Aircraft such as the Skyleader 600 (video) among several other designs. This ambitious LSA company also has an versatile full-motion flight simulator that can be made to function with a wide variety of aircraft designs.
As our photos show, the aircraft has successfully flown in the Czech Republic. No problems were reported though engineers say more work is needed to achieve a finished aircraft.
A video playing in the Skyleader space caught your attention partly by the high-pitched whine of its impeller spinning rapidly. It may not sound like a pure jet engine, but neither does it sound like a piston engine driving a conventional prop.
Albi UL-39 weighs only 772 pounds empty, holds 26 gallons of fuel that will give it a range of 300 miles (no doubt much further if they chose the coming Rotax 915).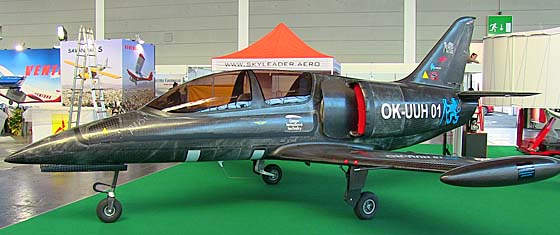 Skyleader, the marketing name for Jihlavan Airplanes, said that during construction, care was taken to assure compliance with CS-VLA, a certification system for Very Light Aircraft in the European Union that is recognized by FAA.
While UL-39 will not ready for market for a couple more years, one day those Walter Mitty jet jockey wannabes enthralled by the slippery lines of Albi. could have one of their own.
Join me at Aero 2016 for a live-during-the-show look at Albi UL-39…
---