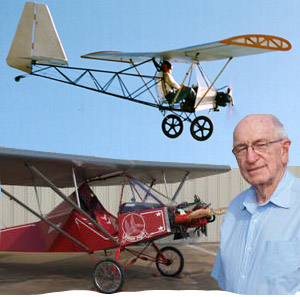 With good reason — that is, prices soaring past $100,000 for the most deluxe LSA — lots of recreational pilots are griping that the SP/LSA rule has priced them out of the market. To many, it seems all the carbon fiber, glass cockpit LSA airplanes are going to pilots selling out of their Bonanzas and Cessna 182s.
Others lament, "You can't buy a three axis Part 103 airplane that honestly stays within 103's tight limits." And most would probably agree that a Part 103 airplane with a four stroke engine is an impossibility. Well, that's just plain wrong.
If a simple, single-seat airplane will satisfy your flying interests, you can build Texas designer Leonard Milholland's Legal Eagle using his Better Half VW engine for less than $10,000 according to several who report completions. Yes, you have to scrounge parts and do the work yourself. But a growing support group of other builders seems ready to help. Check the FAQs for the Legal Eagle.