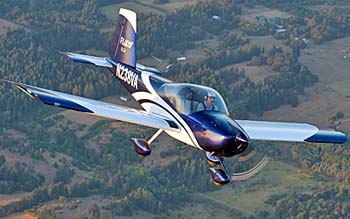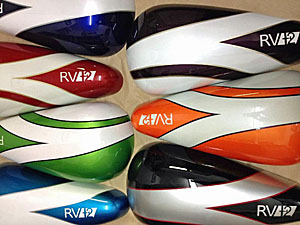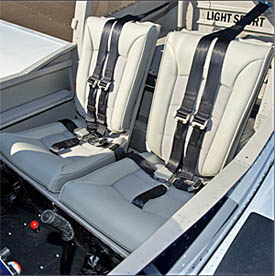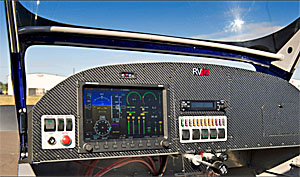 We've seen "legacy" general aviation builders depart the Light-Sport Aircraft scene. The reasons are varied but certainly this is highly competitive space with frequent innovations applied and clean-sheet designs emerging like clockwork (more than one per month for ten straight years!). Once a company becomes accustomed to the profits turbines and jets can generate, small piston aircraft looks like a lean market. However, as one major name exits another arrives. A year and a half ago at AOPA's last Palm Springs, California Summit, Van's Aircraft announced their entry to Special LSA through an arrangement with Synergy Air. It was something of a toe in the water for the large kit builder. To no one's surprise, they sold out immediately. After spinning up operations to build and deliver the first batch, Van's and Synergy evaluated and chose to continue onward with building ready-to-fly airplanes.
Dick VanGrunsven, founder of Van's Aircraft, Inc., and Wally Anderson, head of Synergy Air, recently announced that production of the RV-12 SLSA will continue in 2014. Well over 200 RV-12 kits have been shipped making it the most successful kit in the LSA sector. Many are already in the air. Yet some RV-12 pilots prefer a professionally built airplane. Although more than 8,500 RV kits have been completed the job is involved and time consuming. A homebuilder that selects the QuickBuild option, chooses a simple paint job, and installs basic instruments can create a flying aircraft faster than one that is highly customized but it's still many hours of work.
The first batch of fly-away RVs was built in Synergy Air's Eugene, Oregon facility during 2013. By the start of 2014, fourteen aircraft had been delivered, including two to Lane Community College's aviation program where they proved very popular with students and instructors. "We were interested to see where the market for an SLSA RV-12 might be," VanGrunsven said, "and we were delighted to find that that there were several. We delivered airplanes to private owners, flight schools and even one to Sporty's, who used it for their famous Sweepstakes airplane (video). With this success behind us, we've committed to another batch of airplanes for 2014 delivery."
The Oregon company indicated new RV-12s may be ordered in several colors (photo). Buyers may also choose from range of options, including ADS-B for free weather and traffic, wheel fairings, and a two-axis autopilot. Prices start at $115,000 (approximately the price where Cessna took orders for a thousand Skycatchers before raising it to $150,000). Standard equipment includes: Dynon SkyView EFIS; Rotax 912 ULS; day/night LED lighting; durable matte interior paint; ergonomically designed seats; upholstered interior; and, auxiliary input and 12-volt power outlet. For $123,000, Van's will add three-color premium paint, autopilot, ADS-B, and wheelpants.
Another RV-12 is scheduled to be delivered to its new owner at the Sebring LSA Expo on January 16, 2014. Before the customer flies it home, the newest RV-12 will be on display in Van's booth at Sebring throughout the show. Van's demonstrator airplane will also be on hand and we have arranged a video pilot report that you can view after editing. Representatives from both Synergy Air and Van's will be on hand and demo rides may be arranged, the company said. Get more RV-12 info direct from Van's or call 503-678-6545.