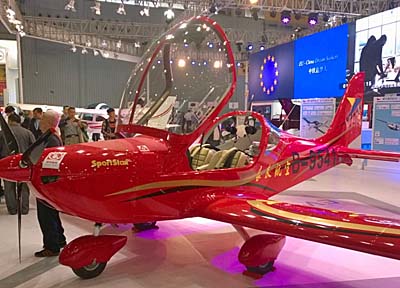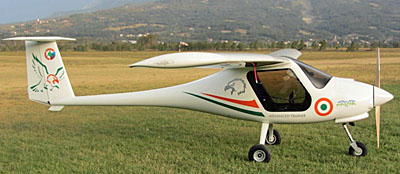 American readers of ByDanJohnson.com may be surprised to hear that more than a third of all visitors are from outside the United States. In a related fact, America has more pilots than any other country (very roughly half of the world aviator population) but more light aircraft are sold in other country by a ratio of around 10:1. These figures are fuzzy for a number of reasons but the point is that for LSA, the world is their market.
That statement is further proven by two recent successes.
Evektor reported it successfully passed the audit of the Civil Aviation Administration of China (CAAC) for production at the company's Kunovice, Czech Republic plant. "CAAC's audit team inspected the production facilities of Evektor-Aerotechnik focused on quality assurance, engineering and manufacturing, and quality inspections of fixed wing light sport aircraft," said Evektor.
This Czech company — the first to obtain FAA acceptance back in 2005 — was able to prove compliance with CAAC requirements for Light-Sport Aircraft, meaning Evektor is fully authorized by the CAAC for deliveries of SportStar SL aircraft to the Chinese market. While not required by Evektor's U.S. representatives, it represents further bragging rights about the design and its manufacturing processes.
"The Quality Management System audited by the CAAC of China [in concert] with the FAA and the European EASA Part 21 Design & Production Organization Approvals represents the continuous compliance of Evektor's Quality Management System with the highest general aviation quality standards and is the basis for the high quality of Evektor's aircraft," stated Jaromír Matu|ka, Quality Manager of Evektor-Aerotechnik.
Slovenian LSA builder Pipistrel claimed to have signed the largest single-point contract for delivery of 194 of their Virus SW models to the Indian Armed Forces. The model will be called SW80 Garud for use by the Indian military. Garud is a bird from Hindu mythology.
Pipistrel reportedly beat ten other competitors for the contract. The Garuds will be used to train cadets of India's Air Force, Navy and National Cadet Corps spread across 100 locations in the country. Deliveries are to begin in eight months with the contract specifying that Pipistrel must deliver all 194 aircraft within 30 months of the first. Upon learning of their victory, Team Pipistrel must have celebrated enthusiastically but nearly 200 aircraft over two and a half years is a serious order, especially as the contract stipulates spare engines, ground support equipment and tools, 10 years of product support, plus training for aircrew, instructors, and technical staff.
Garud aircraft will be powered by the 80 horsepower version of the Rotax 912 engine, which Pipistrel claims will provide a cruise speed of 133 knots with fuel consumption of only 3.6 gallons per hour. To achieve such speed and fuel economy infers an in-flight adjustable pitch prop. Garud is to be built for operation from semi-prepared surfaces and will include a ballistic parachute rescue system, digital avionics, energy-absorbing seats and a Kevlar-reinforced cockpit.
After two years of intense negotiation, some experts see challenges. One wrote, "Doing business with the Indian government, with all their red tape, bureaucracy and corruption makes for tough duty." Penalties for non-compliance may be substantial and our expert noted, "The Indian government will find areas of non-compliance. Further, he supposed Pipistrel had to cut their margins to earn the contract. Finally, "A contract for six or seven aircraft per month may soak up their production for other markets."
Congratulations to Evektor and Pipistrel for these accomplishments!