Long before "Mosaic" was a term anyone used*, one airplane stood out for its highly-original design, innovative features, and amazing versatility. Welcome to the once-wonderful world of MVP, the Most Versatile Plane. I am featuring this aircraft as part of an on-going series of our Top 50 Videos (of 1,500) on Dave Loveman's Light Sport and Ultralight Flyer YouTube channel.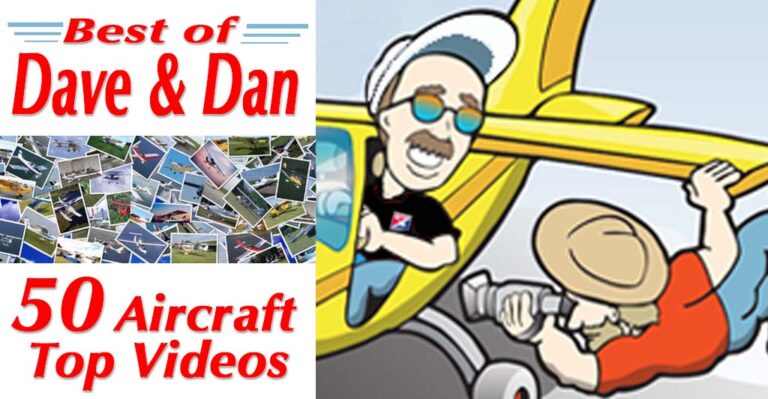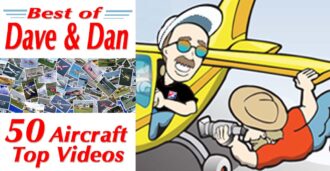 The bad news is… MVP never made it to market, a shame… yet despite heroic fund-raising efforts, sufficient support never materialized.
The good news… other designers observed what MVP offered. Around the time MVP was actively fund raising, Vickers Aircraft down under in New Zealand had begun work on their Wave that is now nearing market release. Icon's A5 was already mostly frozen for design but some European entries later showed innovations first promoted for MVP.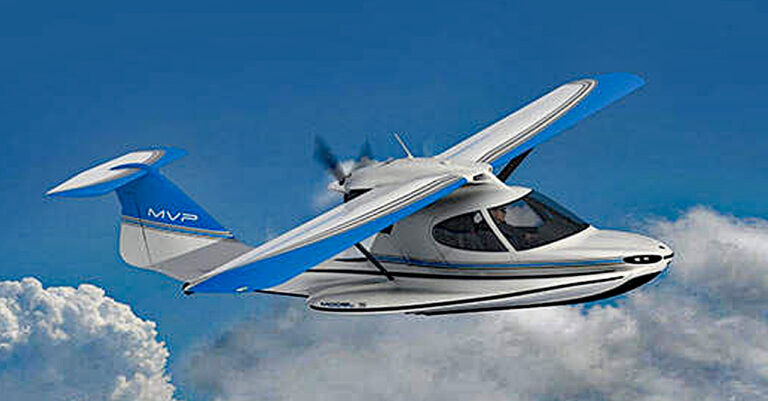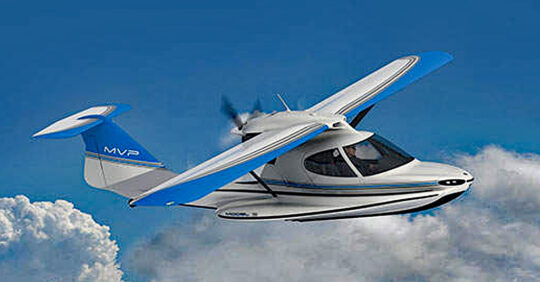 Developer Darrell Lynds scoured the world for investors. I went with him and other aviation pioneers to China in 2017 where Darrell worked non-stop trying to raise money. It was a time when many aircraft manufacturers went to China seeking investment (Icon and Cirrus come to mind, plus many others). Yet while more established companies raked in money, Darrell did not find enough to make the project a go. For all who think LSA manufacturers charge too much, MVP is an example of what must be done to get in the market — it ain't easy and failures are common.
"Astoundingly Feature Laden"
In 2014 excitement was high because LSA was celebrating its 10th Anniversary. In recognition of the new aviation sector, EAA provided a high-traffic location at AirVenture for a large display of aircraft, arranged by yours truly. Positioned up front where it was impossible to miss, MVP made a splash. The handsome prototype generated broad attention from the multitudes passing by. I could easily believe 100,000 people looked at MVP that week — huge!
With that level of introduction, you might think the work got easier for Darrel, his son Michael (pictured nearby), and the rest of their team. While thrusting MVP into the spotlight helped, it wasn't enough.
At Oshkosh 2014, MVP and it's minimum-letter web address — MVP.aero, no longer active — presented the "Most Versatile Plane" as the latest entry in the amphibious Light-Sport Aircraft market.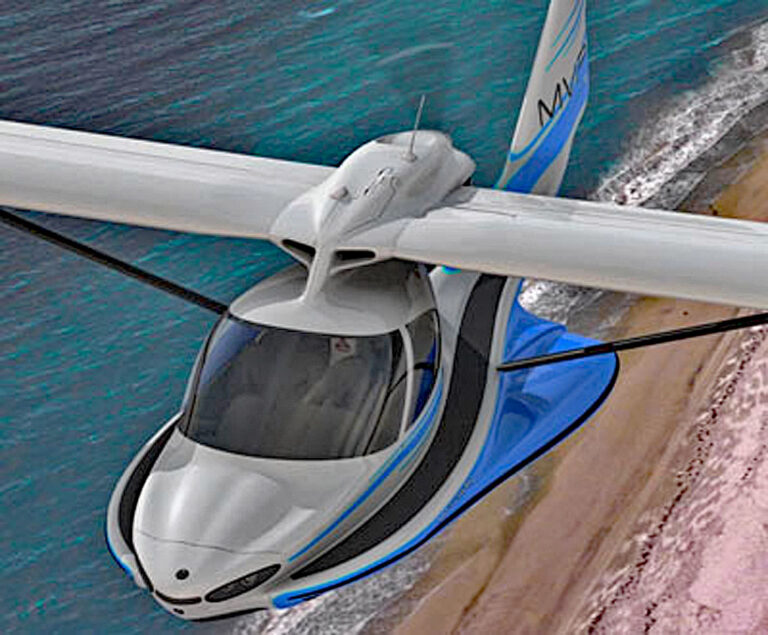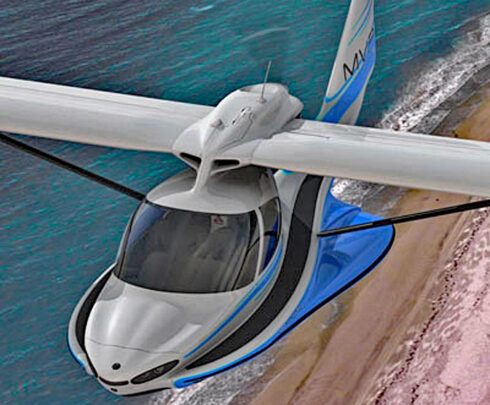 It was quite an engineering achievement, led by the extremely talented Mike Van Staagen, lead designer of the Cirrus Vision Jet.
Carbon fiber was used extensively and Mike took countless steps to hold down weight. This was noteworthy because at the time, Icon was lobbying hard for higher weight — ultimately granted by FAA in Mosaic. The MVP team thought they could offer multiple innovative features while remaining within LSA's 1,430 pound (650 kilogram) weight limit for LSA seaplanes.
Engineer Mike Van Staagen used design wizardry to achieve capabilities without adding weight, a holy grail of aircraft design.
"MVP does not put more features (and weight) on an already weight-restricted airplane. Instead the design invited a paradigm shift from traditional thinking," noted the company.
Their fresh approach is key to understanding how the factory could achieve goals set for MVP. "In the simplest of terms, MVP is not an amphibious airplane that has all of these new features added to it. Instead, it is a highly integrated collection of features, pieces and parts that become an airplane." In shorter terms, MVP was a clean-sheet design which could incorporate features as part of the overall design.
MVP colorfully stated, "Once the old adage, 'an airplane is 10,000 compromises flying in formation' had been fully abandoned, this new attitude began to reveal amazing opportunities, synergies, and relationships." If that sounds new-age-ish to you, check out the videos below as company officials point out MVP unique aspects.
"Ultimately, the new features become completely intertwined with the parts that make up the airplane," Darrell explained. "As a result the MVP delivers a diverse feature-set while also delivering a respectable useful load."
With Icon and Wave flying well above the 1,430 limit thanks to exemptions each earned, MVP looks definitive as an engineering achievement.
Singular MVP
Flanking both sides of the MVP are nose-to-tail "catwalks" that enable movement all over the MVP on the water. "You can preflight the engine, inspect the tail, and check the wing's aft mounted control surfaces," stated the company. "You can even access the aft fuselage to deploy and relax in a fitted hammock that stretches between the engine pylon and the tail."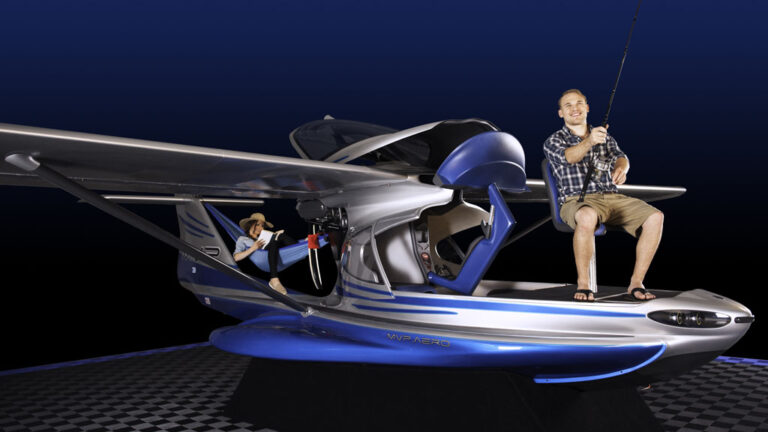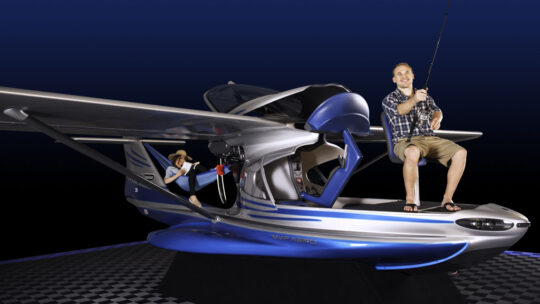 Perhaps MVP's most compelling feature is transforming into a versatile floating platform. What does this mean?
MVP's canopy hinges upwards and back on a 4-bar link to sit atop the engine pylon. This frees up the nose of the MVP to resemble the front of a classic bass-fishing boat. Yet even with the canopy open, MVP's engine can be operated to continue to shore or dock, or to motor along to the next cove or fishing spot.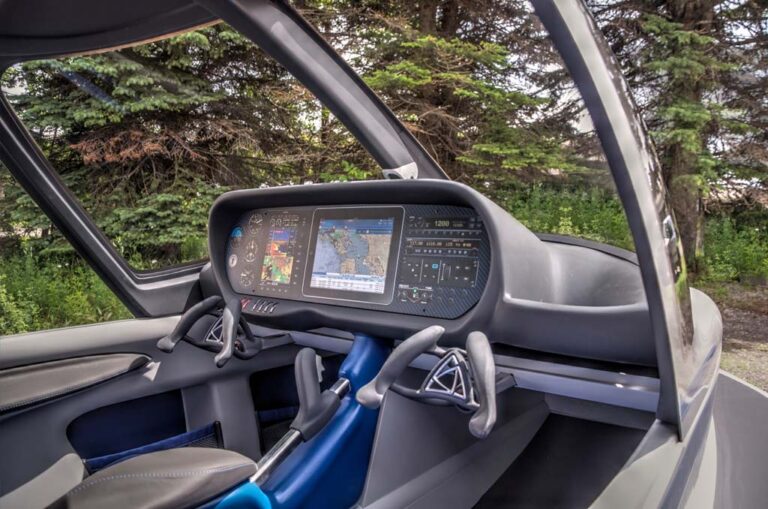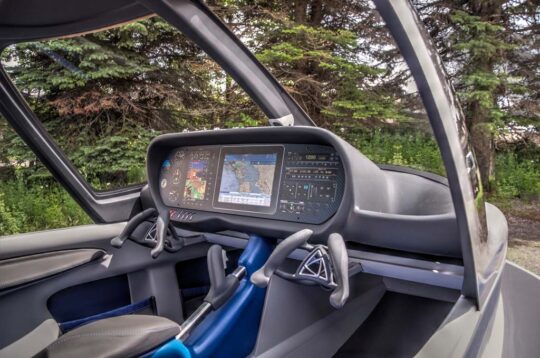 This unusual configuration also enables a passenger to step up onto the forward deck to assist in docking and beaching duties. Excellent stability of the hull keeps the MVP relatively flat as both occupants move about. To create the perfect fishing or observation perch, either seat can be repositioned onto a pedestal up on the forward deck (nearby image).
Going a step further, MVP's instrument panel is a self-contained pod that pivots up and out of the way, not only to help protect delicate electronics from dripping swim suits and flip flops, but also to provide a way to create a larger flat deck.
Four hinged folding panels called the "origami deck" stow atop the forward deck under the canopy and can be deployed in two halves to fully cover the seats of the cockpit, enabling a completely flat floor from the bow to the back of the baggage compartment. This floor is level whether floating on the water or parked on level ground.
Deck Chairs
MVP's rearrangeable deck was indeed versatile. "This amazingly big surface on a relatively little airplane is just large enough for two people to stretch out and sleep," MVP said at the time. "Deploying a fitted tent and inflating a fitted air mattress makes spending the night a delight (nearby image)."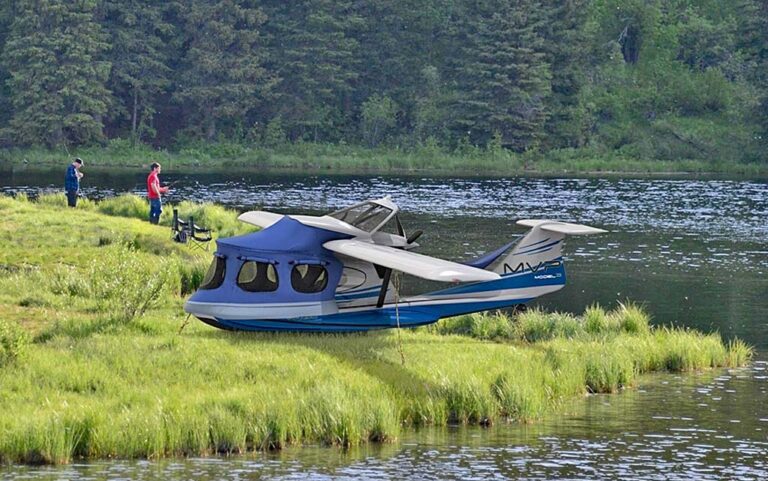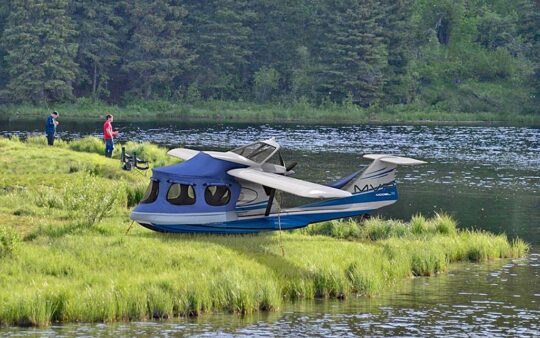 "Traveling from marina to marina on a big adventure couldn't be easier with the MVP's on-the-water folding wings," said MVP back in 2014. "Taxi up close and shut down the engine. Fold the wings and propel the MVP towards the slip using an on-board trolling motor. Also integrated within the bilge is a useful bow thruster to help make docking a breeze."
With all these features, you might expect compromises for flight and handling qualities of the MVP. "Nothing could be farther from the truth," boasted company officials. "MVP should prove to be a top performer and a joy to fly in its class. High-aspect ratio, high-lift wings, excellent stability, crisp controls, comfortable seats, and excellent visibility will all contribute to making the MVP a sheer joy to fly." They surely believed what they said and it's not impossible but we never got to find out.
Sadly, this fascinating flying machine never found the funding required and "by February 2022, the program had been cancelled," according to MVP's Wikipedia page.
Certainly, MVP ideas found their way into other designs and fortunately, pilots have many other amphibious choices.
TECHNICAL SPECIFICATIONS:
MVP LSA Seaplane
all information as originally supplied by developer
Length, wings extended — 23 feet 9 inchices (7.24 meters)
Length, wings folded — 26 feet 7 inches (8.1 meters)
Wingspan: 36 feet 0 inches (10.97 meters)
Wing Loading: 11 pounds per square foot (54 kilograms per square meter)
Width, wings folded: 8 feet 0 inches (2.44 meters)
Powerplant — Rotax 914 turbocharged
Power Output — 115 horsepower (86 kilowatts)
Fuel capacity: 26 US gallons (98 liters)
Cruise Speed, at sea level — 104 knots (120 miles per hour, 193 kilometers per hour)
Stall Speed, full flaps: 41 knots (47 miles per hour, 76 kilometers per hour)
Rate of Climb, at sea level: 1,000 feet per minute (5.1 meters per second)
ARTICLE LINKS:
MVP, all content on design on this website
Note: MVP.aero website is no longer functioning
All Dave Loveman videos in which I interview aircraft developers
* MVP was publicly released the same year, 2014, that LAMA started lobbying FAA to upgrade the SP/LSA regulation of a decade earlier. It was some years before the term "Mosaic" was coined. Nine years later, Mosaic is finally out.
Still need to comment on Mosaic?

— See these resources, on this website; comment window was extended by FAA to January 10, 2024


The most popular MVP video with 270,000 views features developer Darrell Lynd and Dan reviewing the Most Versatile Plane at EAA AirVenture Oshkosh 2014. This video ranked #9 in our Top 50 from around 1,000 produced. Our Top 50 Videos have been viewed more than 10 million times.
Want more? You got it…! This interview with company president Steve Pugh has wonderful renderings to show you what MVP could have been. This video generated another 84,000 views.
A promotional flyer distributed at Oshkosh showed the endorsement of several prominent individuals.