Since shortly after ByDanJohnson.com went live (on April Fool's Day 2004, just a few months before the LSA rule was released), one regular website feature has earned positive reviews. Our LSA market shares and ranking information was an instant hit with business people seeking data to use in running their LSA enterprises.
Before long, pilots and customers began to value the effort. Later, I discovered people in government agencies in the USA and other countries were following these reports. With that support and attention from other media outlets, our LSA Market Share reporting became a staple of this website. Oddly (it seemed to me), this was the only place you could find it.*
More and more of you have been asking about this data …and I am pleased to say it's coming back!
Our longtime data investigator, Jan Fridrich, got an offer he couldn't refuse to help China grow their nascent general aviation market and his time is now too committed to perform the tedious and time consuming survey of FAA's N-number database. The task is not just poring over records but interpreting results as you will see in the chart images.
With a huge, mighty thank you to Jan, we are now changing gears. I think you will genuinely like the new directions we can now take.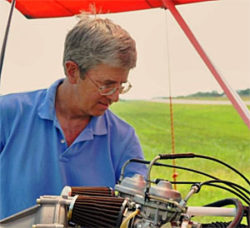 A while back with an article about the American gyroplane market, I introduced you to Steve Beste. A self-described "retired software engineer," Steve is well qualified to sift through FAA computer records to distill the information.
However, this will not merely be a data recovery effort. Not only has Steve used a professional approach to capturing this information, he has applied his technical skills to make the task somewhat easier going forward so we can be more consistent with this valuable reporting.
Even better, his methods will allow us to display this information through a program called Tableau that makes the consumption of such data far more visually interesting.
We'll still have our familiar chart but in trying to assemble that, it will go through some changes. I'll try my best to bridge the old and new in ways that still make sense to you and bring some continuity. We hope you will continue to enjoy as you have for so long. My deep appreciation goes to both Jan Fridrich and Steve Beste for giving superb assistance to make this possible.
* I don't know if everyone's email regularly offers worldwide LSA sales forecasts, but I see promotion for these reports frequently, two or three times every week. Because I publish such info, I wanted to see what they had. As it turned out they cost a lot (up to $3,000) so I declined. As more solicitations came in with hints of what was offered, I realized their forecasts were informed estimates and included companies that are inactive or only ever made a very small number of aircraft. I don't know their sources but I became suspect this was a fancy compilation of unreliable information. If anyone bought these reports or has seen them, I'd be most curious to hear any opinions about them. Until then, I'm ignoring their high prices and sticking with our own data, the accuracy of which we believe is very high.