A popular American childhood story called "The Little Engine that Could" relates to this article. The Merlin PSA (Personal Sport Aircraft) from Aeromarine-LSA is a modern single place airplane that does everything you want — well, other than carry two people — while remaining highly affordable.
Given that some Light-Sport Aircraft shoot past $200,000 (some even past $300,000!), Merlin looks very reasonably priced for the rest of us.
A large number of LSA enthusiasts have complained that present-day LSA have become way too expensive for their budgets. Back when we were still awaiting Light-Sport Aircraft many pilots thought LSA would cost $50-60,000 and it seems not many choices are available in that range. Some are, but most are quite a bit more costly. It's important to be accurate. Understand that $60,000 in 2002 — when people were speculating about the price of a LSA — is the same as $83,000 today, when you calculate the purchasing power of either number at those times.*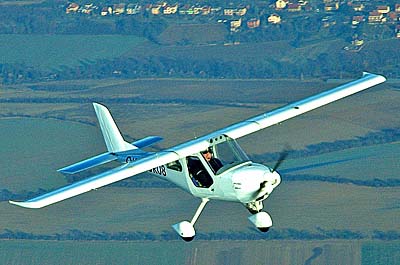 Now think of Merlin's price tag. It can be held to less than $50,000 today even with a four-stroke ASTM-compliant engine that provides an abundance of power for Merlin. That amount is approximately the same as $36,000 in 2002. Using the potent (and also ASTM-compliant) Rotax 582 and installing a panel basic means you can contain your out-of-pocket investment to a little more than $30,000 today (a shade over $21,000 back in 2002!).
These facts give Merlin highly affordable price points. As U.S. importer Chip Erwin has developed Merlin in multiple directions you can even consider electric propulsion. Such powerplants may be coming for LSA in general, but for an Experimental Amateur Built aircraft you can choose electric as soon as the hardware is available.
Build, Buddy, Build
Full disclosure. Merlin is a kit. It is not a Light-Sport Aircraft. You have to build it.
The good news is Merlin is a surprisingly fast-build kit. I have often stated that I am not a builder but to become a better educated journalist, I went to a location where Chip was helping a customer build his. I watched his effort and asked him many questions.
As Chip notes in the video below, Merlin comes in from the fabricator in Europe significantly assembled. See the nearby photos to see the state of build at the beginning of the kit assembly. It already looks like an airplane not merely a collection of many small parts and aluminum sheets. This level of completion is FAA approved; Merlin is ready to go on the 51% kit aircraft list.
I don't want to minimize the work effort as that could diminish the efforts of those who do the work. Indeed, plenty of details remain from what you see in the images. Yet the task is made much easier by one giant step provided by the Europeans.
By now many readers are familiar with the term matched-hole construction. This means the holes where a rivet will be secured are so accurately punched by CNC machinery that no jigs are needed. You line up the holes, drill to rivet size, pop in a rivet, and move to the next. Next comes precision-matched-hole where the holes are so perfect that no further drilling of pilot holes is needed. They are ready for the rivet as delivered.
Merlin goes a further step beyond. The holes already have special, colored rivets that hold the parts in place. A builder removes them, does the under-skin work as needed — wiring, linkages, fuel lines — and re-rivets. I watched some of this occur and it is fairly amazing as a process. I might even attempt it and I'm not a builder.
With dedication and especially with some professional assistance as is possible today, a builder can finish the project in as little as two weeks.
Is that work effort worth it, considering you can hold the price below the once-expected price of a LSA? Only you can answer that question but Erwin's Aeromarine-LSA company based in central Florida has brought affordability back into the picture.
Is a single seater enough for you? It very well may be considering airplanes are frequently flown solo. Learn even more in the following video recorded at EAA AirVenture Oshkosh 2018.
* The dollar amounts are generated using the U.S. government's Consumer Price Index.