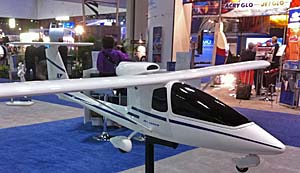 Strolling around 1,073 exhibitors at the National Business Aircraft Association's show in the Orlando Convention Center is something like walking on another planet, at least for a recreational / Light-Sport Aircraft enthusiast. The displays, while not as lavish as in years past, are elaborate and expensive; several were two-story-high affairs with lunch being served to jet buyers on the upper deck.
Surreal as it was, I found something surprising: quite a few of the people I talked to knew about Light-Sport and those that did relaxed their facial expression after hearing me identify my work as "fly for fun." I felt it brought out the joy of flight in people who mostly pursue aviation as business transport or working aircraft. Higher salaries do not equate to a higher passion for flight.
The one and only LSA I saw was the Sky Arrow, now from Magnaghi Aeronautica, and that Sky Arrow was just a model on a stand. Yet they showed this charm and simplicity clustered among complex displays of the landing gear legs they make for the airline industry. That a major aerospace supplier like Magnaghi is pursuing Light-Sport Aircraft speaks to the enduring quality of our enjoyment of flight. I visited only briefly with new Magnaghi friends but it's always pleasant to see familiar faces.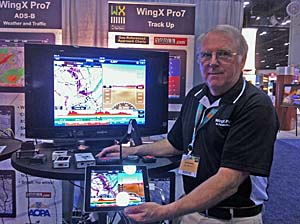 A dozen rows over — I found myself wishing I had a Segway to get around this enormous hall stuffed with more exhibitors than even AirVenture draws — I stumbled across a friend and fellow ultralighter, Jim Sweeney. These days, Jim is employed full time by the WingXPro developer, Hilton Goldstein. A true techy, Jim provides customer service to WingXPro users and in the few minutes we spoke, his iPhone rang a few times. Hilton's products work on the iPad and I'm telling you NBAA 2012 was covered up with iPads. Nearly every exhibitor featured the popular tablet either as a principal component of their products or as a means of presenting information. If I'd tried to count them all, I'd still be there doing it. Clearly, Hilton Software was right to pay for a booth.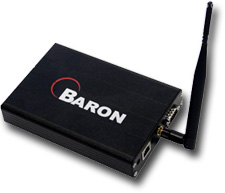 My main reason to attend NBAA #65 was to visit the folks at what most LSAers think of as "XM Weather." I got educated. XM is merely the delivery mechanism (a good one, but only the conduit) and it is the company that bills you for your in-flight weather… so it's the brand we all know. The source for that valuable info is a company called Baron that probably also supplies your local TV weather station with both data and possibly the weather antenna they use. Baron's team of top meteorologists and technicians do the heavy lifting behind the scenes so you can avoid thunder boomers painted on your EFIS. XM-Baron is confronting the ADS-B promise of "free" weather and I wanted to hear why pilots should still pay a monthly fee. I'll go into that in more detail in another post, but the simple explanation is that free weather is like free advice… generally worth about what you paid for it.