Welcome to the newest Special Light-Sport Aircraft, the recently unveiled (at Oshkosh 2019) Texas Aircraft Manufacturing Colt 100.
The all-metal, high wing, yoke-controlled aircraft enters our popular SLSA List at Number 151, a fitting number just days after the newest aircraft sector celebrated its 15th anniversary. FAA announced the regulation creating LSA in September 2004. The industry has gained approval for an average of 10 new aircraft designs every year for more than 15 years.
On September 24th, 2019, the company based in Hondo, Texas received its Special airworthiness certificate from FAA indicating the agency has reviewed the company's compliance with the full set of ASTM standards.
Earlier, Texas Aircraft had a grand reception detailed in this article with video.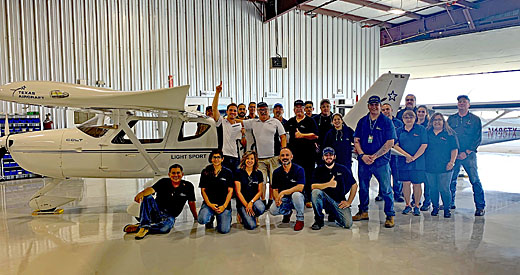 I toured the company's aircraft production facilities in Hondo and found them able to match other strong operations I have visited. The company has wisely hired outside talent as needed, for example, to gain their Special airworthiness certificate. It was clear to me that, although a lot of paper documentation had to be correct, this Brazilian-founded but Texas-operated company would have no trouble proving their compliance to all applicable standards.
Congratulations to CEO Matheus Grande, designer Caio Jordão, and their coworkers at Texas Aircraft for this success.
Flying High!
"Words cannot describe how it feels to have received the ASTM certification. The entire Texas Aircraft team has worked very long and hard to achieve this single goal," Texas Aircraft Manufacturing's co-founder, Matheus Grande said. "Receiving this document is truly a dream come true for everyone on our team. We are so proud and grateful, but the honor and glory of this achievement is to our God."
"After a very successful introduction at Oshkosh AirVenture 2019, we have continued to see increasing interest from prospective buyers as well as flight schools," Texas Aircraft Manufacturing's co-founder, Caio Jordão said. "We are extremely thankful that so many people continue to tell us how much they love, not only how the Colt looks, but how well it flies."
"The new-generation Colt delivers on everything that was promised when the LSA category was originally introduced – it's easy to fly, easy to maintain and priced to make the dream of personal aircraft ownership a reality for a wide variety of pilots," Grande said. 
The factory-built Colt Special Light Sport Aircraft (SLSA) is produced by Texas Aircraft at its Hondo, Texas production facility and is delivered to customers ready to fly. Because of its SLSA classification, the Colt can be maintained by either a licensed FAA mechanic or a technician holding a current FAA LSA maintenance rating. 
Texas Aircraft Specifications for Colt:
Engine Type — 100 horsepower Rotax 912 ULS
Propeller Type — Sterna composite, three-blade

 

Maximum Cruise Speed — 119 KIAS
Cruise Speed at 75% power — 105 knots
Stall Speed Clean — 44 knots
Stall Speed Full Flaps — 38 knots
Takeoff Distance (over 50 foot obstacle) — 1,085 feet
Landing Distance (over 50 foot obstacle) — 1,044 feet
Climb Rate (Vy) — 800 feet per minute
Service Ceiling — 14,500 feet
* All specifications are provided by the factory and are subject to change without notice. 
We will have a full-length Video Pilot Report on Colt 100 coming in a week or so. Editing is being completed as this is written. Meanwhile, here's a short video to hold you until the longer one is ready.