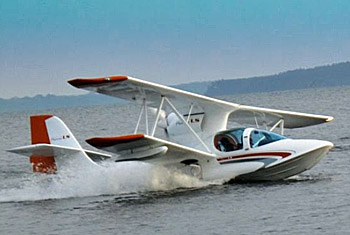 In the beginning … OK, a few years ago, FAA went around to a couple dozen LSA producers to evaluate the state of the then-new LSA industry. The agency teams did not conduct an audit, they emphasized. More intensive examinations, actual audits, followed in recent years. Last year the agency issued new guidance to help them and everyone else judge who really was and was not a manufacturer. If the need for such a definition surprises you, remember, the brave new world of Light-Sport Aircraft threw curves to government regulators, captains of industry, aircraft design geniuses, plus all we rank and file customers. Everyone learned a great deal as an entirely new sector of aviation was given birth … one, by the way, with a worldwide impact as more countries sign on to the ASTM standards method of assuring airworthiness. The LSA industry is now a few months away from its tenth birthday and the gears of production are beginning to mesh more smoothly than ever.
A CASE IN POINT: Just today, while I visited with importer Brian Boucher of Flight Light Sport Aviation, he received a call from FAA saying that a letter will go out in the next day or so confirming that Brazilian manufacturer Edra Aeronautica successfully completed their audit. One more step remains — a visit from an FAA MIDO ASI (Air Safety Inspector to those of you not intimate with the agency's abbreviation-coded titles) — to provide the final review of the first Super Petrel LS in the USA. After that, Brian will be able to offer ready-to-fly examples of the handsome biwinged amphibian. Following the ASI examination — presuming all goes well, as it should since FAA just microscoped the company via their in-Brazil audit — Super Petrel LS will become number 134 on our SLSA List. Although slightly premature, we already added it because we're like many others scrambling to depart for the Sebring LSA Expo to start Thursday this week. Congratulations to Edra and Brian!
It was almost exactly one year ago when I first wrote about this airplane, but that makes it sound like something new. The truth is, Petrel is quite an established name. Some 20 years ago, while I was working with BRS Parachutes, we became familiar with an earlier iteration of this design. The Super Petrel is significantly evolved from that more basic amphibian. The LS tag that now follows the name attests to the airplane's aim at the Light-Sport market. Two wings and amphibians aren't common but as you ponder what seaplanes need to accomplish, the idea makes plenty of sense. Getting off the water as quickly as possible is preferable because pounding through waves is hard on any water bird, certainly one built lightly to fit LSA parameters. Super Petrel wings have 161 square feet of area, giving a wing loading of only 8.2 pounds per square feet. More wing area provides more lift and the lower wing helps amplify ground effect. Sponsons can be securely fitted to the lower wing rather than on long tubes as is common. Finally, the biwing design allows a short 28 foot span, which helps in maneuvering the aircraft on water. More than 200 aircraft are reported flying in 22 countries.
Brian indicated he has potential customers waiting for Super Petrel LS to pass its audit and become available for sale. Those folks have but a short wait now. Meanwhile Brian and team are working furiously to prepare the roomy seaplane for the viewing pleasure of those headed to Sebring. If you're one of the lucky ones — especially if you can escape the "Polar Vortex" cold that recently descended on so much of America — look up Super Petrel LS at Sebring as you peruse all the great Light-Sport models you'll see on display. Remember Sebring is a great place for demo flights, so get your name on the schedule with the planes of your choice and get your smile cranked up and ready.