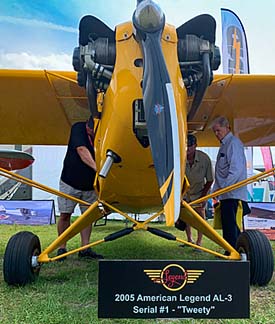 Sun 'n Fun is over. While staff, tent vendors and more have plenty of work to do, customers and vendors have all vacated the area, scattering off across the USA as they return to base.
Some have a new airplane. Numerous vendors reported solid sales during the show. Pilots liked what they saw and a good economy is powering activity. I will follow up with a show summary soon.
Following I have three more short stories. However, watch for dozens of new videos from Light Sport and Ultralight Flyer on YouTube and I will have further reporting from material gathered at Sun 'n Fun 2019.
MOAC — "Tweety" got mine and lots of well-deserved attention (photo), being the very first airplane American Legend produced, back in 2005. The original aircraft was on display at Sun 'n Fun. Since the company has since registered 226 aircraft, Tweety launched quite a good run.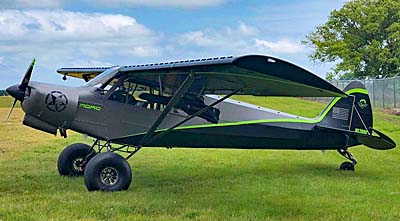 However, it was the Mother Of All Cubs that commandeered the focus of many show attendees visiting the American Legend exhibit. This variation on their theme has several wow factors.
A handsome young fellow sat in the airplane as I approached. He turned out to be Luke, son of American Legend boss, Darin Hart. I looked again to see he was seated in the third seat. A strut maintains structure in front of the third seat but it removes easily with quick pins. Luke scrambled out of the third seat easily. "It's actually easier than entering the front seat of MOAC," said Luke.
Those seats do more. They can fold forward and with some securing anchors, can haul a different payload. The seating ties in with a whole new "turtle deck" as Darin called it. Not your usual turtle deck, this six-foot-long opening runs from the trailing edge of the wing halfway to the tail. The turtle deck opens wide enough to allow an injured passenger to be loaded head first into MOAC.
For three persons or an air ambulance, MOAC has plenty of power to carry about 1,000 pounds of useful load thanks to the largest Titan X370 producing 195 horsepower. Darin said climb performance is so strong, he plans to enter three AOPA regional event STOL competitions and believes MOAC can do well. "It's pretty easy to manage the takeoff to win," Darin noted. "It's landing really short that demands high pilot skills,"
Sopwith Camel — Robert Baslee is one impressive creator of old-time replica WWI aircraft. Every year for 30 consecutive years Robert has brought a new design to Sun 'n Fun. For a movie studio shoot one of his replicas was designed, built, and delivered to the movie set just 30 days after the studio's request. Think about that!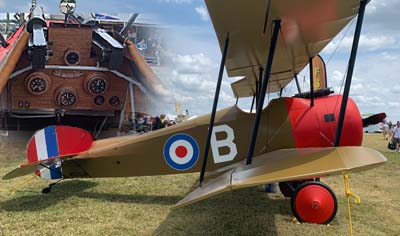 The movie people saw the precision of his replicas. These are vintage aircraft built as closely as possible to their original but using modern materials and techniques. Under the authentic looking exterior is a welded steel frame. Aerodrome supplies these elements for kit builders. Movie studios may stimulate a design, by Baslee's creations have also enabled a following that loves the vintage look.
Of course, the guns in front of the pilot were not real …but they looked it. British military engineers invented a mechanical system to stop the guns from firing when a propeller blade was passing in front of the barrel.
See their whole flock in this brochure (pdf); some are Part 103 ultralight compliant. Keep up with Aerodromes constant innovation on their Facebook page.
Father of Ultralights — John Moody is a figurehead in the ultralight aircraft world. Going back into the early 1970s, he was one of the very first to popularize what would later become known as ultralights. Because of his vision and his success at showcasing what such aircraft could do, he acquired the label "The Father of Ultralights."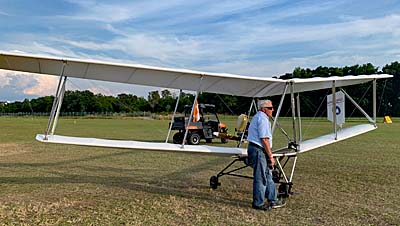 At Sun 'n Fun, as he has so often done, John flew an Easy Riser much like his original from 45 years ago. A mere 15 horsepower, shifting weight fore and aft to change pitch, no landing gear, no instrumentation needed.
John developed an airshow routine where, for example, an angry bill collector so badly wants to bring down John that he comes to the airfield with his shotgun. Bang! A shot is fired. Off drops one of John's wheels! Bang, bang! Two more are gone and John's plane no longer has any landing gear. How will he land, the crowd wonders? No problem, as he'd swoop down and smoothly touch down using only his legs. These days John uses his full-castoring undercarriage so he no longer needs to land on his feet.
Landing gear or legs, it is always inspiring to see John fly. He typically joins in when the powered paragliders fly at the end of the evening when winds calm.
Ah, Sun 'n Fun …where else can you see things like MOAC, a Sopwith Camel and end the day watching the world's light aircraft fly?