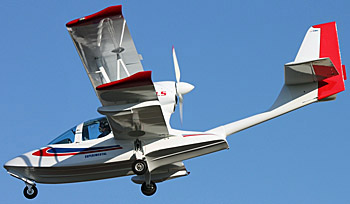 Winter has finally released its icy grip on the northern states that were so punished over the past few months. Here in the "Sunshine State" of Florida, it feels like summer. So what do pilots do in the summertime, in Florida? Go fly seaplanes, of course? What else? Indeed, quite a flock of seaplanes and floatplanes converged on the central Florida city of Tavares, about 45 minutes driving time northwest of Orlando. Appropriately, the area is known as "lakes district" for all the bodies of water. City leaders portray the Tavares as "America's Seaplane City" and to reinforce that, they have developed their lakefront to include a very welcoming seaplane base with bigger plans underway. On Saturday, April 26th more than 40 seaplanes flew in for the event. One of those was Edra Aeronautica's Super Petrel LS, one of the newest Special LSA in the fleet. My friend and Spruce Creek Fly-in neighbor, Brian Boucher, is the North American representative for this interesting seaplane and I finally got my first flight in it.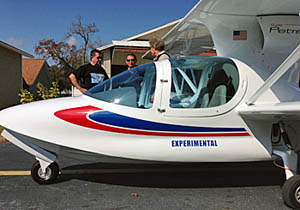 Super Petrel LS is a design said to be in its fifth generation. Indeed, I know of the model for more than 20 years. When I first discovered the seaplane, it was represented by a Canadian outfit. However, in 1997 aeronautical engineer and pilot Rodrigo Scoda founded Edra Aeronáutica, the present manufacturer based in Ipeúna, Brazil in the state of São Paulo where the company operates its own airfield (SDED). Super Petrel particularly distinguishes itself by its biplane design. Why use two wings? Seaplanes or floatplanes want to get off the water as quickly as possible. Many years ago a few hours in a Cessna 172 on floats taught me why and explained the steel bracing installed inside the cabin. When a seaplane runs long on water, it takes a pounding in anything but smooth water, which itself causes a "stickiness" or "surface tension." Leaving the surface faster prolongs airframe life and is why many seaplanes boast their short takeoff runs. Long wings can accomplish the same purpose but a long span can be more difficult to maneuver in beaching or docking situations. Two sets of wings generate additional lift yet do so with relatively short span. Another advantage is the sponson on each side can be secured to the wing structure without long support tubes as you see on other seaplanes. A downside is that Super Petrel's lower wing prevents docking. You'll either have to beach the aircraft or use a ramp — easy enough in many situations — or tie it to a water buoy and use a boat or get wet.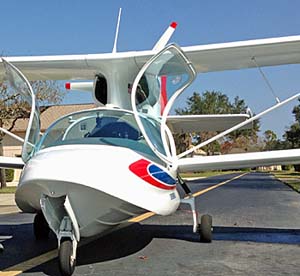 Petrel offers a wide cabin like many Light-Sport Aircraft, 45 inches to be specific. Certainly it was roomy for two average-sized fellows like Brian and myself. The seats were exceptionally comfortable, with the seat cushion extending to your knees in a graceful curve that is very supportive. Only the seat back moves, through three positions that you set before entering. Some occupants may need additional cushions for position or comfort and Brian told one fellow he was too tall to fit; the man said he stood 6 foot 6 inches. The doors swing 180 degrees forward (photo) and can be removed for flying off land, which I would absolutely do … being an old ultralight enthusiast. For choppy water operations, you'll probably want to keep them on as Super Petrel sits low in the water. However, the airplane also has a bilge pump if some water splashes in during takeoff. Indeed, the older version had only a summer windscreen and not a full enclosure. To accommodate moisture, Petrel's floor is hard surface. Brian's present Super Petrel has a mostly analog panel using a removable Garmin Aera for GPS and other digital functions. However, new models coming in will use Dynon's SkyView and can be configured in various ways. Although the model can handle 55 pounds of luggage, space to stow such gear is limited; fortunately, sport seaplanes are rarely used for long cross country flights where you need extra luggage.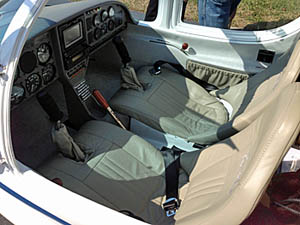 Let's cover some basic specifications: Span is just under 29 feet; wing area is 161 square feet; wing loading is 8.2 pounds per square feet; empty weight is 775 pounds, according to the factory, though this depends on what equipment the owner installs; gross weight is not 1,430 pounds as you might expect but 1,320 pounds; useful load is 545 pounds; Fuel capacity is 25 gallons; so, payload with full fuel is 395 pounds; cockpit width is 45 inches; water takeoff run is less than 400 feet, according to published specs; wheel takeoff on hard surface is 260 feet; cruise is about 90 knots; never exceed speed is 114 knots; stall is 35 knots; maximum endurance is five hours.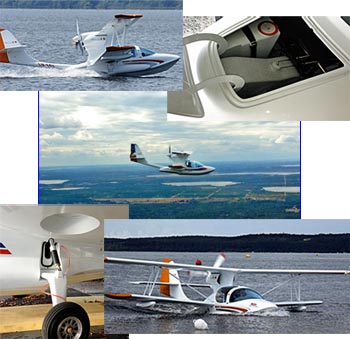 On the ground, Super Petrel exhibits good manners and one great trick. Thanks to a swiveling nosewheel and differential braking operated by heel pads, Brian showed the airplane can turn around on even a narrow taxiway, turning handily within its own wingspan. The airplane is loaded very lightly on the nosewheel facilitating this, but that means you need to consider loading before flight. With one lightweight occupant, a placard tells you how much water ballast to add in a compartment in the nose. A hatch opens to reveal the nosewheel retract cavity and a water tank for such ballasting. With two normal size persons on board this step is not necessary. On the water, Super Petrel was very comfortable. You can whiz around on step like a speedboat and the low wings dip a sponson in the water to keep you level though flight controls also work well. Super Petrel is simple with no flaps and no water rudder. To maneuver on water a modest prop blast over the tailplane directs you amply well. You can swing the doors forward to allow more airflow though you'll want to keep a hand on them when turning in windier conditions.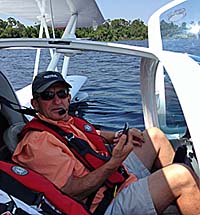 In flight Super Petrel has very cooperative handling with almost no need to use the rudder pedals. I way overused them at first and then realized most of flight controlling is done with the joystick. Stall is very slow and docile, a word that can be fairly used to describe overall handling qualities. Takeoff from land or water involves full power and some back pressure. Landings proved to be easier than expected. Contrary to some seaplanes you flare Super Petrel and meet the water with the nose higher. Porpoising occurs with most seaplanes but Petrel quiets this easily with some back pressure. Done properly, Petrel is easy to land and after only two previous trials my third was smooth. Visibility is very good as you sit forward of the wings and watching for traffic in the air or on the water found no obstructions. Petrel uses the Rotax 912 or 914 but Brian is excited about the potential of the new 912 iS Sport with its higher torque and power output. "That's a great combination for seaplanes," he added. Finally, price: Brian's business, Florida Light Sport Aviation, plans to sell Super Petrels for around $135,000, a figure that is competitive with most land LSA and significantly better priced than most seaplanes or floatplanes. Order time and support from Brazil is reasonable and Brian makes a great connection to Americans and Canadians. I thoroughly enjoyed flying Super Petrel LS and you might, too.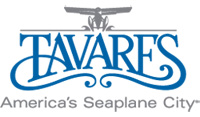 I flew with Brian to the City of Tavares, Florida Seaplane Fly-In. More than 40 aircraft splashed in for the event and good crowds enjoyed aerial contests to include grapefruit bomb drops and spot landings, all done close to the shore. A number of seaplanes and one helicopter participated with an immaculate Beaver on floats winning at both tasks. A very short video below paints a picture of the seaplane base.