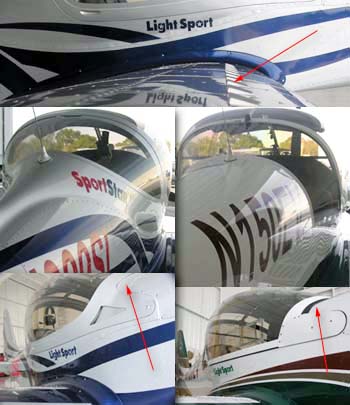 Evektor's SportStar became the first-ever Special Light-Sport Aircraft a little over four years ago, a distinction no one can ever take away from the Czech company. Yet that exclusive title has not encouraged the company to rest on their laurels. While Evektor has not re-certified their airplane (for example, like Flight Design and their CTLS, Remos and their GX, or TL Ultralight and their Sting S3), the design has nonetheless changed (photos). SportStar was also one of the first success stories gaining entry to the GA flight school market.
Now for Oshkosh 2009, Evektor will launch their Max model in two variations. Their SportStar Max BT ("Basic Trainer") is the entry model, fleet priced at $110,000. But flight schools that focus on instrument training may opt for the $155,000 Max IFR model which comes equipped with the certified Rotax 912S (different than the ASTM-compliant "ULS" version). The company declared, "The Max IFR is the first Light-Sport Aircraft that is Part 23 instrument compliant for IFR IMC* flight, and can be used to train students up to and including a Commercial [with] Instrument rating."
For personal use, SportStar has some enviable numbers to go with its cooperative handling. According to Josef Bostik, then-President of Evektor Aircraft, Inc., "Max can carry two persons in its 47-inch-wide cockpit plus a week's supply of baggage at 110 knots for nearly 800 miles non-stop."
*IMC is Instrument Meteorological Conditions or, colloquially, flying in the clouds.