After Sun 'n Fun 2022 ended, as pilots were flying home to bases across the USA, a couple aircraft stopped nearby at the DeLand Airport. As this is only a 25-minute drive from my office, I grabbed the chance to fly both the TL Sport Aircraft Stream and their high wing Sirius.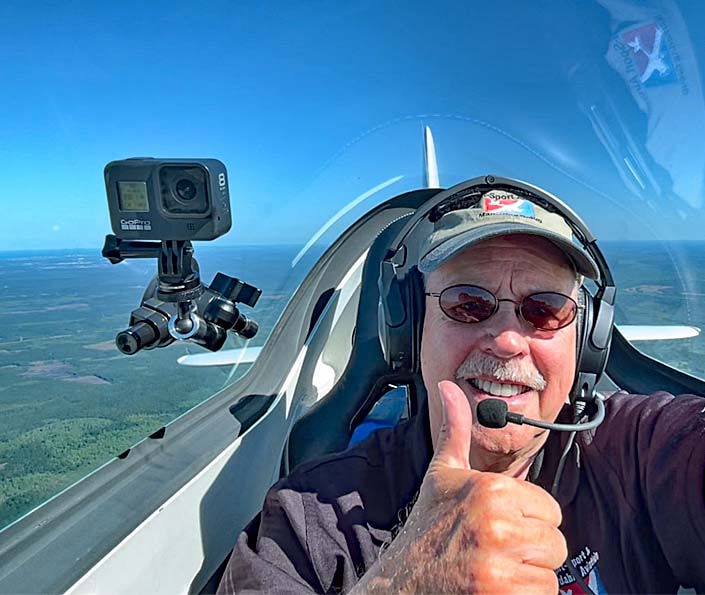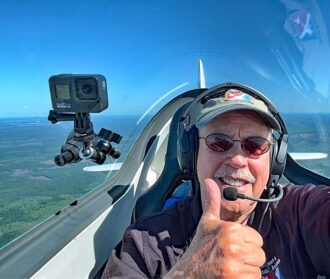 I captured video from multiple cameras for each aircraft; watch for our video pilot report soon. While the video is in editing, I will give a short review of the Stream. This was a new experience for me.
As flown, TL's Stream is in Experimental-Exhibition category. That will suffice for a few examples, but the future involving Mosaic may be inviting for Stream, so the model could get a leg up on some competitors by establishing a U.S. presence before Mosaic becomes the governing regulation.
Immersive Tandem
My demo pilot, TL Sport Aircraft boss Trey Murdaugh offered the front seat but I requested the aft seat so I could better observe his actions; it also helped record video. However, the aft seat offers full controls to allow an instructor to take over as needed. This is a retractable aircraft and a gear switch is available at both seats. The same for flaps and, of course, the prop and throttle controls.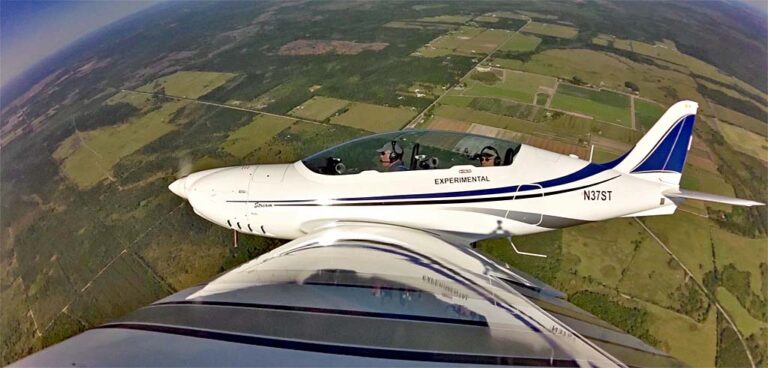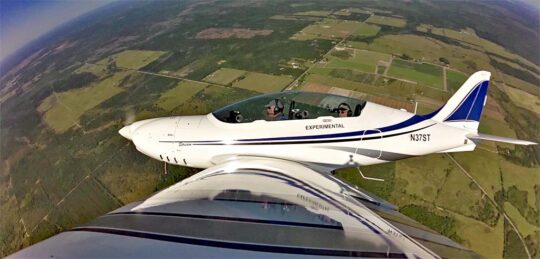 Up front instrumentation is larger and you do fly solo from the front. Yet in the back, I had a seven-inch Garmin touch screen that provided the same info in a smaller package. For example, the gear position shows in both locations… although, like most digital screens, it may take a while to pick out the data you want from all that is displayed.
The aft seat also has a full-featured joystick with buttons for elevator and aileron trim, push to talk and other functions. It has everything the front seat has so you can enjoy flying Stream from the back as much as the front.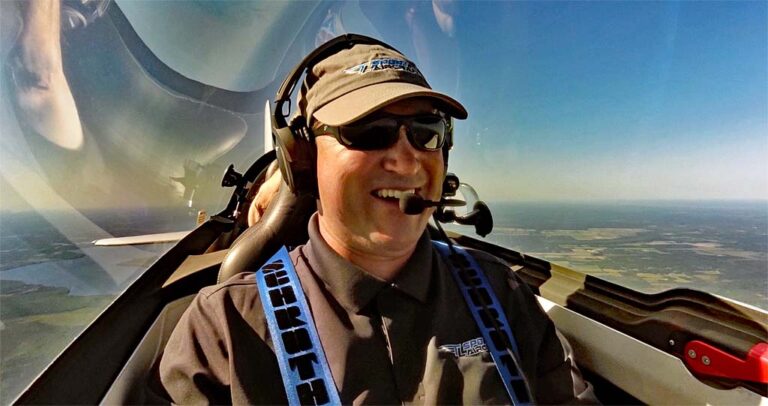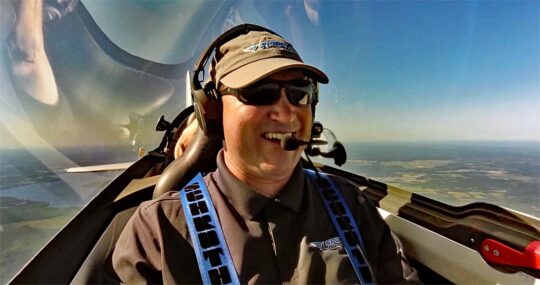 However, in one way the front proves superior, regarding runway visibility on approach to landing. With no flaps or with one notch deployed, I had no sight picture from the aft seat. However, with full flaps, I could easily keep an eye on the runway. An offset to the aft seat visibility looking forward is that you have an excellent straight down view that the front PIC seat lacks; the pilot up front is seated at the wing midpoint so downward visibility is restricted.
Stalls and Landings
You will probably not be surprised to learn that Stream has speedy ways. Using a 100-horsepower carbureted Rotax 912 ULS, Stream can easily generate speeds above 140 knots TAS. At higher altitudes it can achieve some pretty impressive true airspeeds as you might expect from an aircraft that has both retractable gear and in-flight adjustable prop.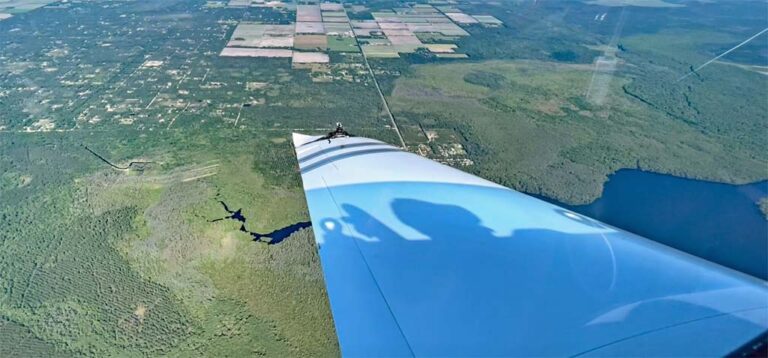 What you might be more surprised to learn is how gentle its stall characteristics are and how slow it can go on landing.
I asked Trey to demonstrate stalls and then did some myself and in every such trial Stream was as gentle in stall response as any aircraft in the LSA space. We were not particularly aggressive as this is a clean airplane and is unfamiliar to me, but we did several stalls and every one of them demonstrated extremely benign characteristics that resulted in virtually no nose drop stall break nor any wing wobble. This is remarkably convincing stability for any aircraft in the space but certainly one aimed at the performance end of the market.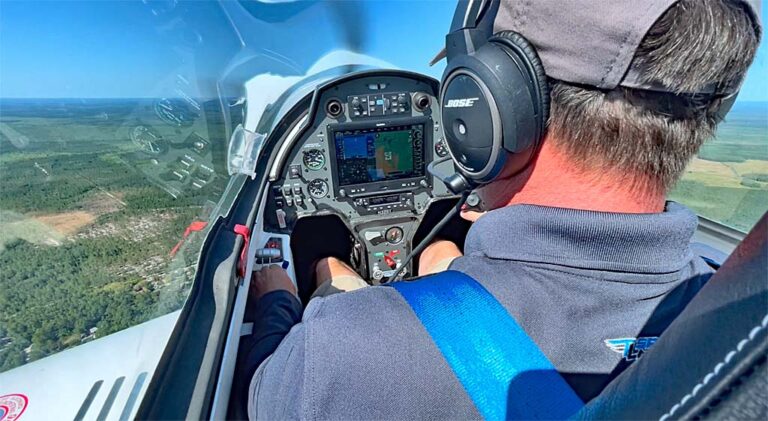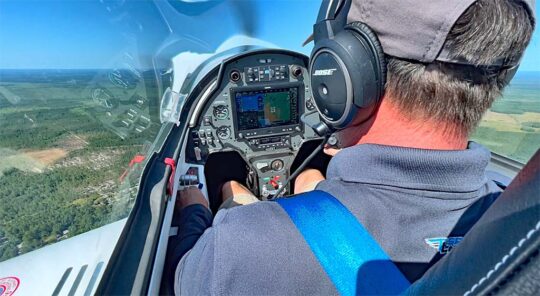 Since I mentioned the aircraft speeds along quite well, I rush to say I was rather amazed that Stream could slow down into the high-30s (knots) when flaps are deployed. From 39 knots indicated to 150 knots in cruise, we start to approach that magic 4:1 stall-to-cruise target that any designer likes to achieve (it's not an easy mark to hit).
As we came into land and as Trey put down the flaps, I mentioned above that the site picture improves for the aft seat when flaps are fully deployed. They go down 40°, Troy said, so these are some fairly deep flaps. On initial deployment, flaps look ordinary and rather small; in the aft seat I had a clear view of flap operations. Then I observed the Fowler flap construction as the flaps continued to deploy. That's when you see how effective this construction can be.
I readily admit I was taken by surprise at the very slow speeds we achieved on landing. Trey says 400 feet of ground roll is achievable and it's possible to land even shorter with skill and correct use of the controls. I would have doubted this was possible had I not seen the excellent stall characteristics and how slow Stream could fly.
Handling and Taxiing
After the stall regimen, I did my common Dutch roll coordination exercise. This showed that Stream is an airplane in which you lead with the rudder. On European designs this is common; we see it on many sailplanes that are rudder-dominated partly due to their very wide wingspans. After observing the control effects, it became pretty straightforward to do 30°-to-30° wing reversals while maintaining a straight longitudinal line (the goal of a properly done Dutch roll). I often rely on this coordination exercise to show me the basics of how an airplane flies.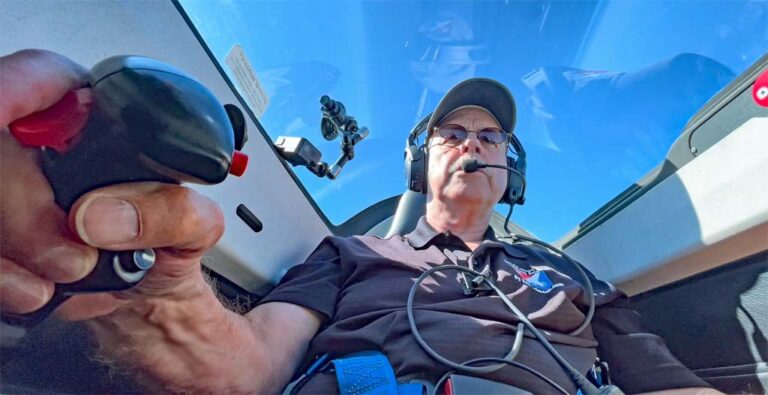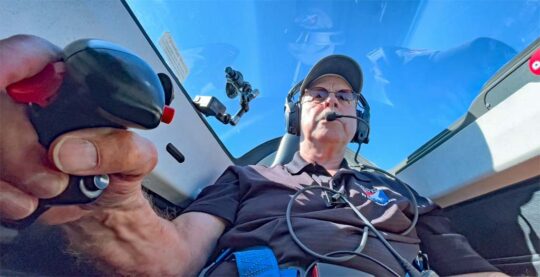 Then, through a series of turns, I discovered that Stream will hold its altitude very well without power or trim adjustments of any kind. Of course, using those controls will make handling even better I suspect, but stick pressures remained light and it was simply unnecessary to employ those controls in order to produce turns that maintained altitude and speed. These are wonderful characteristics for Stream to demonstrate.
Back on the ground I again took the controls and found taxi steering to be responsive, further amplified by directional braking that that assures maneuvering on a ramp will be easy.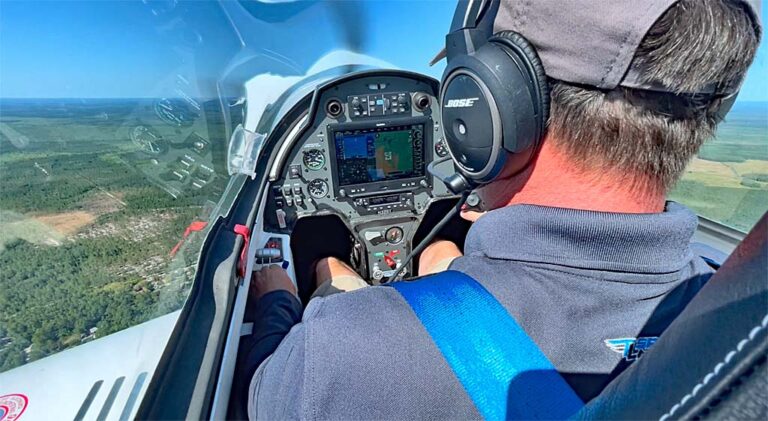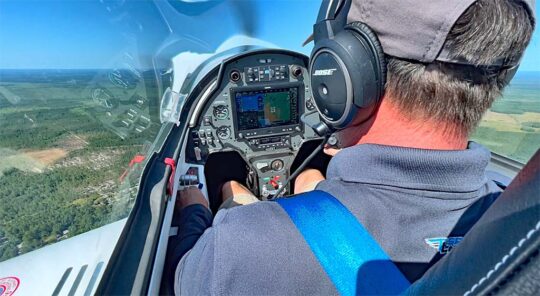 Back at the AeroSport South hangar (video) at DeLand — where Stream and Sirius were spending the night — TL Sport Aircraft has entered into a business relationship with U.S. BushCat representatives, Daniela and Jeremy Knoll. They will help represent the TL family of light aircraft.
After shutdown, Trey and I extricated ourselves from the Stream cockpit. It takes a bit more doing to get in and out of Stream than, for example, the very user-friendly, high-wing Sirius that I would fly next. If you have flexibility challenges, Stream may not be a particularly easy airplane to get in and out of, but once seated, the aircraft is comfortable and adequately roomy for a longer flight.
Especially as Mosaic arrives with its faster speeds, adjustable props, retractable gear and more, I can see a strong future for Stream in the United States.
Watch for more in our upcoming video that will offer many more details about the flight.
---
TL Ultralight Stream
TECHNICAL SPECIFICATIONS
all data supplied by the manufacturer or importer
Length — 22.25 feetm
Height — 8.15 feet
Wingspan — 29.5 feet
Wing area — 107.2 square feet
Cabin width — 22.6 inches
Never exceed speed — 180 knots
Minimum speed — 35 knots
Climb rate (at gross weight) — 1,170 feet per minute
Empty weight (may vary depending on optional equipment) — 655 pounds
Maximum take-off weight — 1,320 pounds
Useful Load — 665 pounds
Payload (with full fuel; before baggage) — 521 pounds
Minimum crew weight — 132 pounds
Maximum crew weight — 397 pounds
Maximum luggage weight — 33 pounds
Fuel consumption (at 75% maximum continuous power) — 4.3 gallons per hour
Fuel tank capacity — 23.8 gallons (39 gallons with auxiliary tanks)
Flying range — 870 statute miles