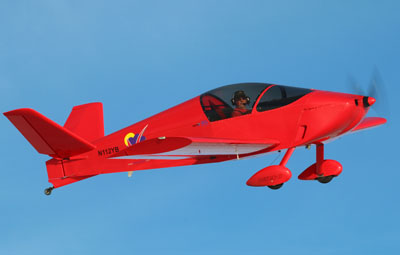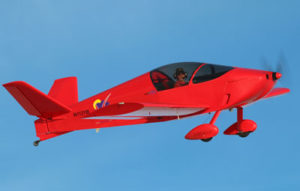 Pardon a little fun in the title. I recalled the line long ago attributed to Henry Ford, "You can have any color [Model T] you want as long as it's black."
Sonex Aircraft had so regularly brought bright yellow airplanes to airshows, folks could be excused for thinking that was the only color available. Of course, since the company sells kit aircraft, you can have whatever color you wallet can handle.
Why wouldn't you want a red one? The color works for Ferrari.
Indeed, the newest model from Sonex is not about the color at all. "We just wanted to separate the new B models from the earlier models," said General Manager, Mark Schaible. Changing up their airshow model paint job may stimulate people to look more closely… exactly the idea.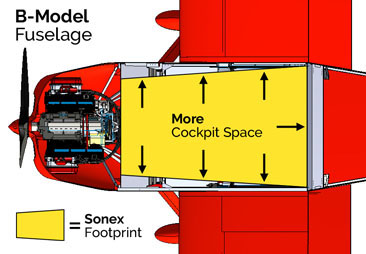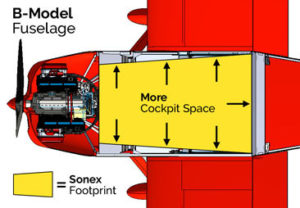 Sonex Aircraft debuted a new B-Model design for the Sonex and Waiex models earlier this year at Sun 'n Fun 2016. Specifically, the Oshkosh, Wisconsin-based kit manufacturer unveiled a tailwheel, AeroVee Turbo-powered version of their Waiex-B at a press event on opening day of this year's show in Lakeland, Florida.
Why a big debut for B-models?
Sonex designer and founder John Monnett explained, "It's what [customers] have been asking for! More of everything you want in a sport aircraft: More room and comfort, more panel space, more fuel, more engine choices, and more standard features combined with reduced build time and the same great Sonex and Waiex flight characteristics."
B-Models will completely replace the original model Sonex and Waiex in the Sonex Aircraft product lineup.
Getting More Specific…
• Sonex and Waiex B-Models have been enlarged by straightening the forward fuselage sides, changes that improved creature comfort,
• B-models enlarged the interior by offering more width and comfort at the shoulders, hips, knees, and feet,
• B-model seat backs have been moved aft, a seating geometry change that accommodates taller individuals,
• Staggered seating is available via upholstery seat back cushions. A center "Y-stick" offers dual controls with easier cockpit entry and roomier seating,
• Electric flaps reduce cockpit clutter and dual throttles are standard.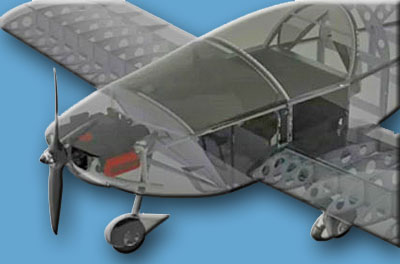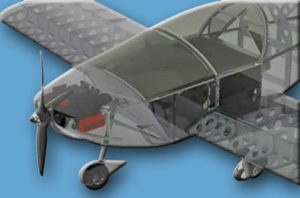 The Waiex-B on-display at Sun 'n Fun this spring featured an MGL Avionics iEFIS Explorer 8.5 [inch] dual-screen avionics suite, continuing the long-standing relationship between Sonex Aircraft and MGL. Dynon Avionics has also stepped up with their own B- Model package: a dual-screen Dynon SkyView Quick Panel with Advanced Flight Systems control module integration.
As they replace the earlier (yellow) Sonex and Waiex designs, B-Model kits will ship with more standard features and these points are different than the list above. In particular, these upgrades relate to the building project as Sonex sells only kit-built aircraft.
"B-model aircraft will require less build time, the company reported. "Assembled wing spars and machined angle components are now standard. Upgrades and accessories such as the AeroBrake hydraulic brakes, dual AeroConversions throttle quadrants, and AeroConversions trim system are now included," noted Sonex. "Build time improvements include more laser-cut, formed and machined parts, machined canopy bows for easier installation with a better fit, an easy-fitting horizontal-split cowl, and engine mounts that bolt quickly and accurately to the airframe.
All these changes represent a great time savings for a better result, certainly worthy of a new model description… hence: B-models. Sonex and Waiex B-Model kits were offered at an introductory price of $23,000. As always, check with the Oshkosh factory to learn the current deal but rest assured this company is not a budget buster.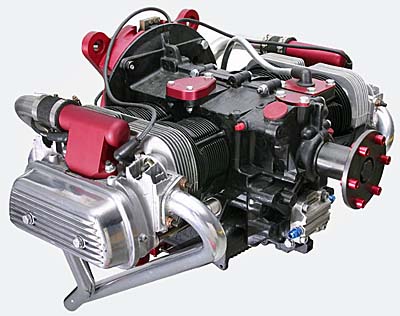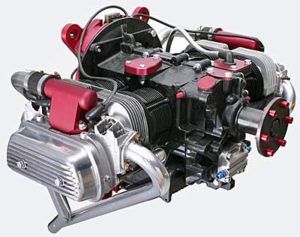 A further way to keep down the cost of your airborne Model-B is to choose the AeroVee engine. With Jabiru, Sonex is a rare company offering both airframe and engines and it is the only company I know that offers a kit airframe and kit engine.
AeroVee is a complete VW conversion engine kit package offered in 80 horsepower and turbocharged 100 horsepower versions, by AeroConversions, a product line of Sonex Aircraft. AeroVee engine kits continue the Sonex Aircraft tradition of simple, elegant design: a 2180 cubic centimeter Aero-Engine that can be run on 100LL avgas or mogas. "All of the supplied components are brand-new, zero-time parts," assured Sonex.
AeroVee engines come as a complete kit that you can assemble yourself in approximately 12 hours, with the aid of an AeroVee assembly and installation manual and an instructional DVD, along with free phone or email technical support. An AeroVee DVD is available for purchase separate from the engine kit for those that wish to preview the project.