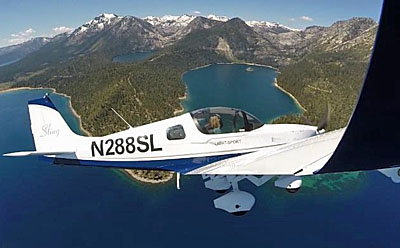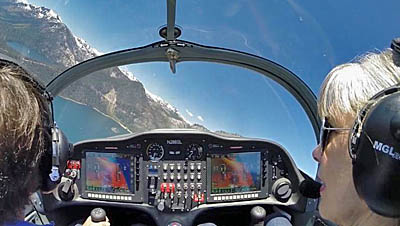 When you deliver an airplane to an accomplished video producer you are bound to get some great photos out of the deal. The images with this article show video impresario (and my longtime friend), Paul Hamilton, flying new Sling N288SL around beautiful Lake Tahoe not far from his home base in Nevada. Paul has been around light aviation for more years that he may be willing to admit. He has long promoted weight shift aircraft and was influential in developing early LSA training documents and videos in addition to making several video productions that were enjoyable to watch.
The Airplane Factory USA boss Matt Liknaitzky wrote, "It was another great showing for the Sling at Sun 'n Fun 2015 and our team has been busy ever since." Regarding the new delivery, he added, "In some recent exciting news, another Sling has stretched its wings! N288SL, a brand new Sling [powered by the fuel injected Rotax] 912iS, made the journey to its new home at Paul Hamilton's Sport Aviation Center at the Carson City Airport (KCXP). Paul, an industry leader and renowned Sport Pilot Examiner and Instructor, offers primary flight training for both Sport and Private Pilot Certification."
Paul confirmed the delivery to owner Patrick Huang of Top View Aviation, writing, "Sling has the best handling characteristics, modern glass panels, and convertible top to make this the best LSA airplane in its class. This is our primary airplane for Sport and Private training and FAA certification."
New Sling owner Patrick is also involved in establishing TAF Asia. Based in Taiwan, his operation in that part of the world recently took delivery of three aircraft with plans to assemble the Sling for the Asian market.
Paul runs a full-service operation with five full-time instructors in a location featuring excellent flying weather year 'round. He also has FAA Designated Pilot Examiners to make it easy for students or transitioning pilots to earn a Sport Pilot or Private Pilot license in airplanes or weight shift trikes. Those interested can also go on to become a Sport Pilot Certified Flight Instructor (CFIS) for either airplanes or trikes.
His Hamilton Pilot Training System is a very complete package with all you need to study for the certificates when not flying one of the Sport Aviation Center aircraft.
The Airplane Factory USA is based in southern California at the famous Torrence Airport (not far south of the main Los Angeles airport). A related enterprise offers the also South African line of MGL Avionics that you see in Slings, of course, but also in many other aircraft around the USA and the world.
TAF-USA has new and used Slings available for immediate delivery. For those contemplating a purchase but who don't want to wait months for delivery, this can be most welcome news. TAF said, "N232SL is a brand new Sling LSA, fitted with the 912iS fuel injected engine, autopilot and dual MGL iEFIS touchscreens. Parachute installation is optionally available as parachute cables are already in place." The LSA has the same color scheme and panel as the aircraft shown in photos accompanying this article. "The plane is fully registered and has its airworthiness certificate," said Matt, "She is ready for immediate delivery." If interested, send them an email.
The California importer also has a very well equipped Sling with 700 hours logged that probably won't last long. In addition to other desirable gear, this one is already fitted with an airframe parachute system.
The Airplane Factory is an ambitious lot. Not only do they offer the Special LSA Sling model, they can also deliver FAA-approved kit versions and those can include the company's four seat Sling 4 as well. As we are currently planning, I'll go up with Matt at AirVenture 2015 to see how their four seater flies.
TAF is the company whose founder, Mike Blyth, has flown around the world in both his Sling 2 and Sling 4 models, each of which globe-girdling expeditions followed some very long flights in weight shift aircraft. Beside being a successful airplane developer and manufacturer, Mike has shown great ability in producing videos of these adventures, my favorite of which is his South-to-South adventure of flying 27,000 miles from the Antarctic side of South America, up through North America, across the Atlantic and all the way back down through Europe and Africa to South Africa … the entire way unsupported by ground crew.
In my mind that shows not only great confidence in your aircraft and your capabilities but also a spirit of exploration few of us will ever duplicate. I won't be trying to emulate Mike but I enjoy following his flying feats.