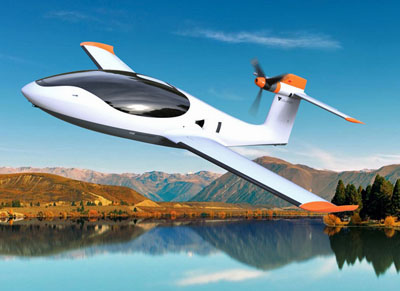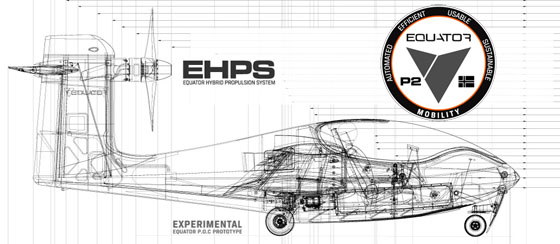 If you've been following exciting developments like the Airbus/Pipistrel/Cri-Cri English Channel crossing, or for that matter any of the electric airplane developments, you should know that the ideal electric-powered aircraft today are the very lightest weight machines.
However, another quality is just as important while we wait for scientists to significantly amp up the energy density of batteries. That quality is sleekness and I've been watching a Norwegian project from Equator Aircraft. Airplanes don't get much sleeker than this.
If it needed to be even more intriguing, consider that this project comes from a team that has also been involved with seaplanes, so how about a two-seat electric seaplane? OK, it isn't ready yet but this is one I will continue to follow closely. Following is some detail on this fascinating entry that again suggests the tip of the spear in LSA design seems intently focused on seaplanes.
Equator' Aircraft P2 Excursion (abbreviated EQP2) is envisioned as a performance hybrid amphibian aircraft. The group refers to EQP2's shape as a "continuous droplet shape," and a glance at the nearby renderings and images conveys the concept clearly. Another beauty of electric is that motors are much lighter than combustion engines so they've located a powerful, 66-pound electric engine in the tail.
Developers refer to a "float wing system which removes the need for bulky sponsons and other supporting geometries."Retractable gear is essential for water operation, of course, but also helps with in-flight slipperiness. If you thought the current second or third generations of LSA seaplanes like Icon's A5, Vickers' Wave, and MVP.aero's versatility entry look smooth, it appears EQP2 goes a step beyond.
Equator projects, "With the flaps extended the aircraft should reach a stall speed of 45 knots. "The float wing and small electric engine will leave the aircraft with less drag than other amphibs," said principal, Tomas Brødreskift, "[that will] hopefully yield a realistic 120 knot cruise. As you know most amphibs lag far behind this due to extra drag in the various [components] needed to produce a good seacraft."
P2 Excursion is a fully composite design. "Metals and other corrosive materials have been left out where possible," said Tomas. "Carbon Fiber reinforced epoxy is used extensively, with kevlar/carbon hybrid textiles used around the cabin area."
EQP2 was designed from the start to carry two people although they speak of a future option for four occupants and their history involves such larger seaplane concepts. The cabin appears to be particularly spacious with a 58-inch-wide cockpit that would make the industry's widest assuming the final machine sticks with current specifications.
"Much of the research done initially was focused on the situation when the aircraft is a boat with wings," reported Equator. Designers considered how occupants will get in and out without contortions, and how to maneuver the vehicle in the environments in which it can operate. "The result is an open cabin with waterproof surfaces. The pilot can exit and enter the plane over the nose, and over the railings."
Given a wide cabin area (see lower photos) the baggage area is also very large. "You´ll be able to store bulky luggage such as bikes, skis, etc," said Equator.
In at least one more way P2 Excursion is quite unique: it has no rudder pedals. "Yaw control is done through twisting the stick around the vertical axes, and is being developed as a FBW (Fly by Wire) feature on the plane." In my experience pilots often balk at non-conventional controls yet new ground sometimes needs to be plowed and Equator seems up to such a task.
A hybrid propulsion system being developed by Equator. They have named this "EHPS for Equator Hybrid Propulsion System" and it follows with much of the design that they are doing things differently than most other design organizations.
"EHPS is finally on final stages on a test bench in Germany," reported Tomas. The combustion engine will be from WankelSuperTec of Cottbus, Germany. EQP2's rotary engine can run on bio-diesel fuels and jet fuel "because our funding requires a bio-diesel sustainable option" clarified Tomas. The fuel tank holds 100 liters (26 gallons) that is projected to give a flying time of 5-6 hours.
The engine-specific project is being co-funded by Transnova, a public enterprise owned by the Norwegian Ministry of Petroleum and Energy with another company, Engiro, doing motor development work. Power output to the propeller is 100 kW (approximately 130 horsepower) and the generator motor will produce 57-60 kW (80 horsepower) of power to charge the batteries.
Light-Sport Aircraft are arguably the most innovative flying machines that regular folks can afford and it is exciting to see examples such as the P2 Excursion.