"Nynja lifts off after a ridiculously short ground roll and soars skyward at a precipitously steep angle. I can't help but grin. You can have a lot of fun with something like this," writes longtime aviation journalist, Dave Unwin. 
Welcome to our favorite British writer providing in his distinctive style thoughts about flying Skyranger's Nynja. Also thanks once again to talented photographer, Keith Wilson.

Why did I want this article even though Skyranger has no U.S. representation at present? With a base price in UK of $59,760, Nynja is affordable to many. Is it desirable? Dave helps you decide. —DJ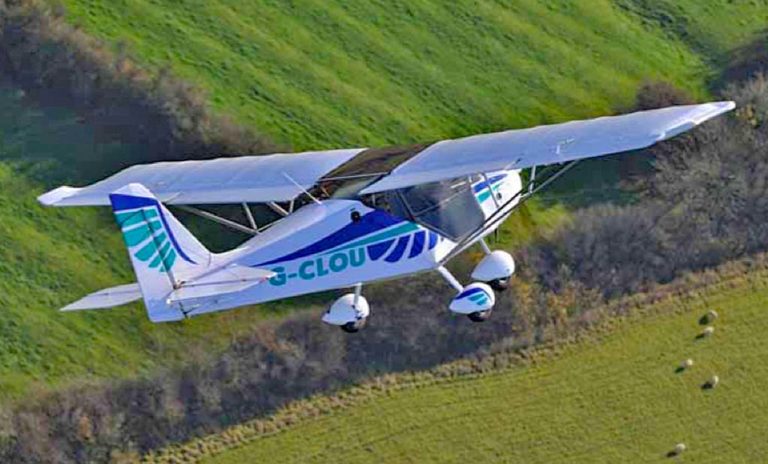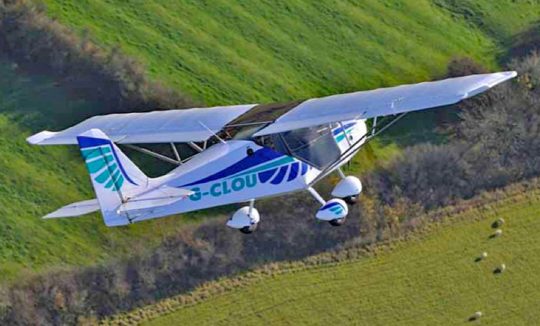 For far too long, the more bigoted aviators among us considered such an aircraft to be little more an overweight hang glider powered by a second-hand lawn mower engine and barely capable of flying fast enough to kill you. Noisy, slow, and smelly — they were considerably less than satisfactory. However, times change and this class of flying machine has changed more than most.
Designed by Frenchman Phillippe Prevot in the early '90s, the original Skyranger was an object lesson in KISS (Keep It Simple, Stupid). Prevot's intent was that anyone competent with basic tools could build it, as there was no bending, composites, or welding involved. It was to be covered in an equally simple material, Dacron sailcloth.
Easy to build, maintain and fly, more than 1,600 have been produced; nearly 300 are registered in England alone. Beside numerous minor improvements, fundamentally Skyranger has changed little: the ventral fin has been replaced by a taller fin and the wingspan has been reduced.
Now "Made in UK"
Since 2017, Britain's Flylight Airsports Ltd., has had the sole design rights and is now rightly considered the manufacturer. Owning the design rights also puts Flylight firmly in the pilot's seat regarding future developments. (It will also be helpful for FAA acceptance, if sought. —DJ)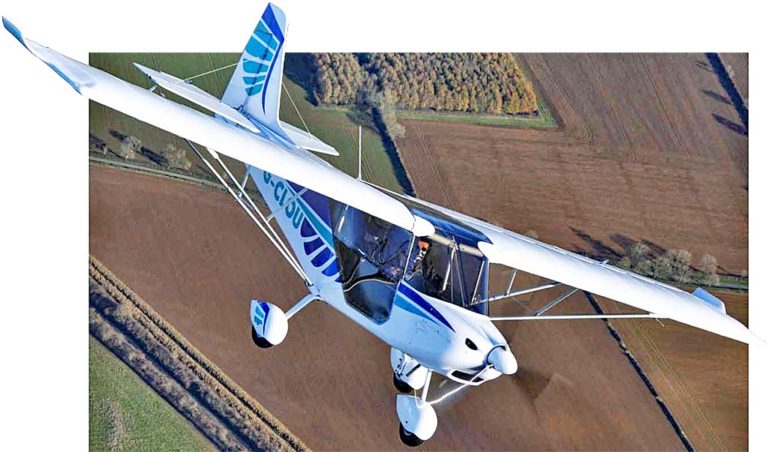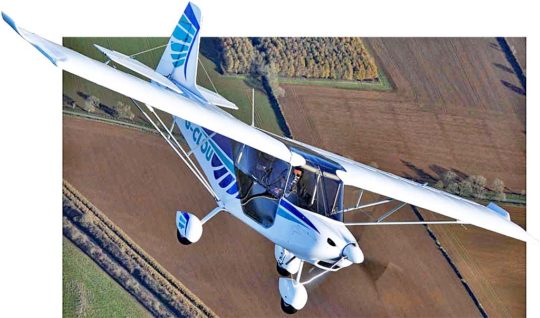 Flylight's main subcontractor is Aeros, based in Kiev, Ukraine. Aeros make some of the world's best hang gliders; they are experts in tube and fabric work. They've built Skyrangers for many years. Today, Nynjas are assembled in the UK.
Nynja's airframe is constructed primarily of straight, pin-jointed, aircraft-grade aluminum tubing, covered with a combination of non-structural composite sheets for the fuselage and pre-sewn polyester Xlam fabric for the wings and tailplane. An interesting feature (and one that flags up how speedy the Nynja is) is that the wings feature foam spacers that ensure the aerofoil retains its shape at higher speeds. All the primary controls are actuated by cables, as is the elevator trim. The tailplane is wire-braced and the strut-braced wings feature upswept winglets. An excellent option allows the wings to be folded back for ease of storage.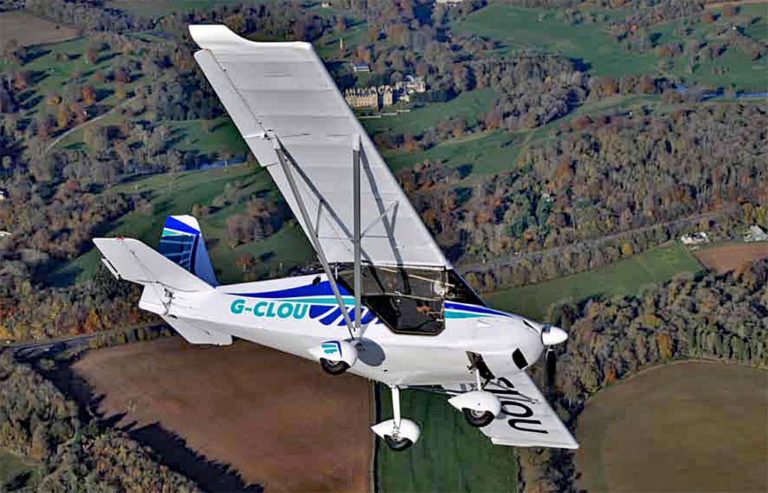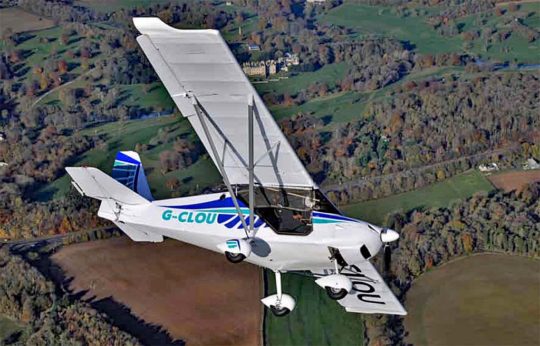 Earlier Skyrangers were powered by several different engines, including the Jabiru 2200, HKS and BMW R100, but these days the Rotax 912 is the engine of choice. Removing the cowling to inspect the engine requires the removal of a considerable number of screws, however, Flylight plans a new cowling that features generously-sized hinged doors.
The engine is fed from a pair of fuselage-mounted 8-gallon polyethylene fuel tanks behind the pilots' seats and linked by a balance pipe, with the single filler cap on the starboard side. The two tanks feed the engine from one outlet controlled by a single fuel valve. The engine is quite closely cowled and turns a composite two-blade ground adjustable Kiev propeller. My demonstrator Nynja was loaded with about every option except a BRS (which is also an option).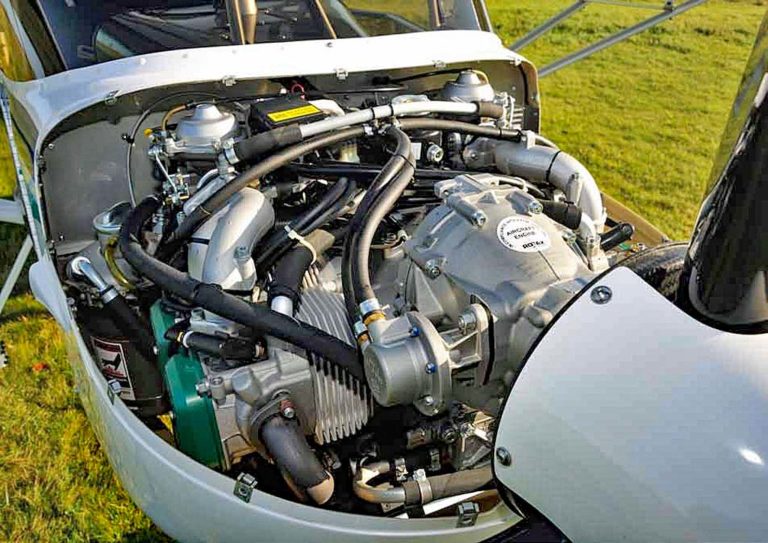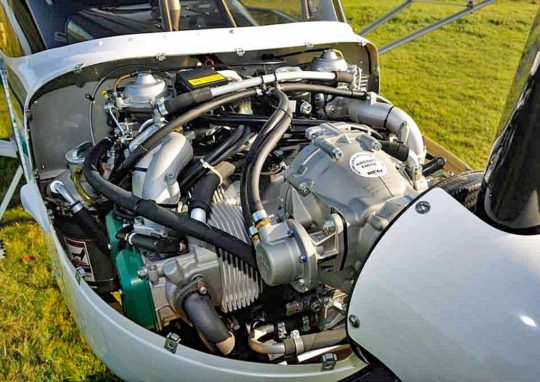 All three wheels feature snug fitting wheel pants. Nynja's main gear is supported by aluminium "half springs" bolted to a steel center tube and feature hydraulic Beringer disc brakes, while the nosewheel uses an oleo arrangement for shock absorption, and steers through the rudder pedals. Beringer wheels are another option.
Entry to the cockpit is excellent as the sills are low, although care must be taken not to bump the large throttles. The split doors are large but seemed overly complicated and I prefer the one-piece top-hinged doors (which I believe are an option). Up to 22 pounds can be carried in a small baggage bay behind the left seat.
Settling into the cockpit, the first thing that struck me was the width of the cabin. At 43 inches, Nynja is wider than a Cessna 172 and the extensive glazing actually made it feel even more spacious. Although there is no provision for adjusting the pedals, the seats can be moved.
Pitch and roll control is via a single joystick mounted between the seats while each pilot has his own throttle on the side of the instrument binnacle.
Nynja's trim lever and three-position flap lever are both located between the seats. The instrument panel has more than enough space built into a centrally-mounted structure with large stowage bins either side, an excellent feature. The panel has the flight instruments, tachometer and slip ball in front of the left seat and the oil pressure and temperature, coolant temperature and voltmeter on the panel's right. In the center, a mount for an iPad and a row of switches.
The Rotax started readily and a quick test of the brakes with a squeeze on the control column-mounted bicycle-type brake lever revealed they not only work, but work well. A neat little catch on the control column locks the lever for use as a parking brake. Nynja's nosewheel steering has a positive feel and a reasonably-small turning circle.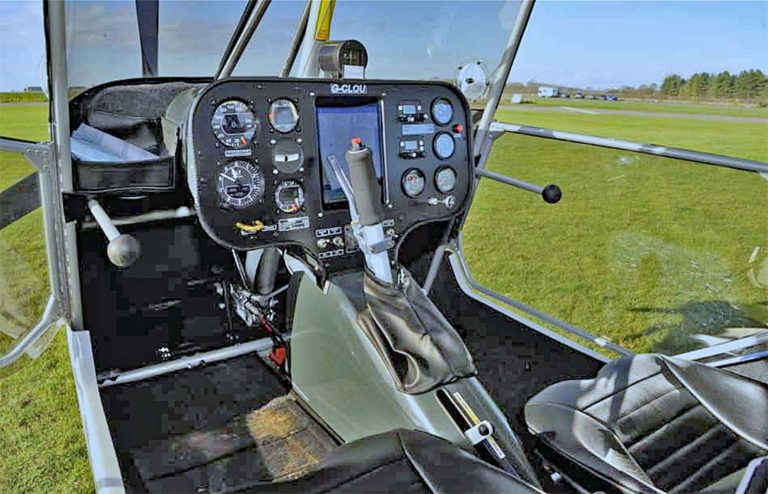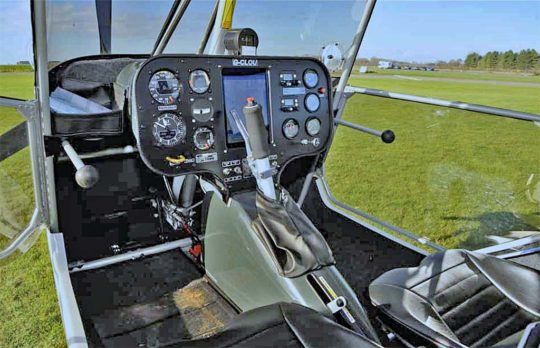 Rolling out onto the runway I opened the Rotax up to full power. With 13 gallons of fuel on board Nynja was right on the 992-pound gross weight. It was cool and I checked a slight crosswind from starboard.
With a power-to-weight ratio of less than ten pounds per horsepower, acceleration was excellent and after what seemed a ridiculously short ground roll, the Nynja literally leapt off the runway and clawed itself skyward at an impressively steep angle. With the VSI indicating in excess of 1,200 fpm and a relatively low forward speed of only 62 knots, we crossed the airfield boundary already at more than 1,000 feet. At such an aggressive climb, Nynja's nose was quite pitched up, greatly reducing the field of view, but even lowering it to more a cruise-climb attitude still produced about 700 feet per minute of climb at 80 knots and 5,000 rpm.
With light weight, plenty of power, and crisp controls joining up with Al and Keith in the EuroFox cameraship was easy; collecting the pictures in this article didn't take long.
Nynja Flight Qualities
Flying in close formation will show up any handling deficiencies from a qualitative perspective, but when I switch over to a more quantitative evaluation I soon discover the Nynja is nicely harmonized around all three axes. Expanding the envelope with some more energetic maneuvers confirms the controls are authoritative with agreeably light stick forces. Only small amounts of rudder are required to keep the slip-ball centred, and harmony of control is as it should be, with the ailerons being the lightest and the rudder the heaviest. Breakout forces are low.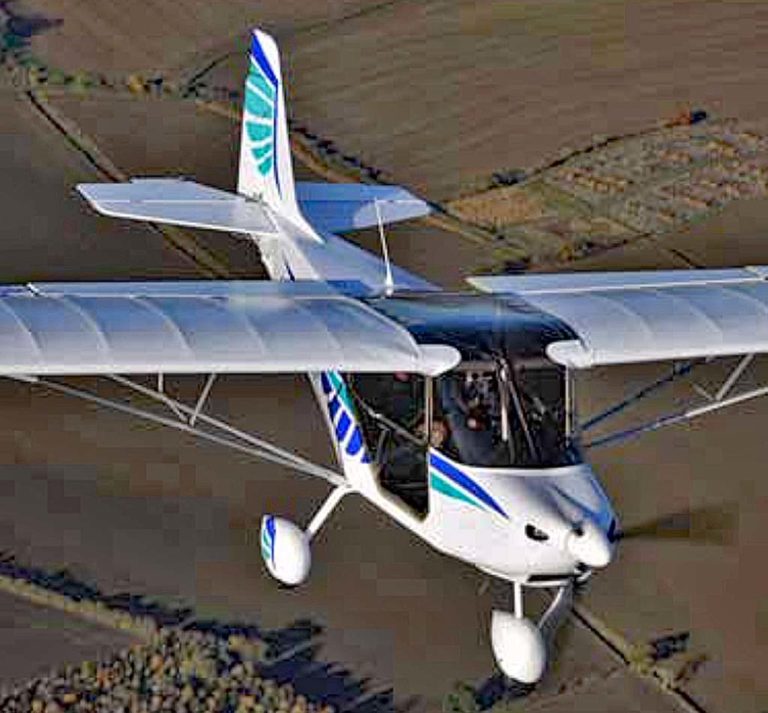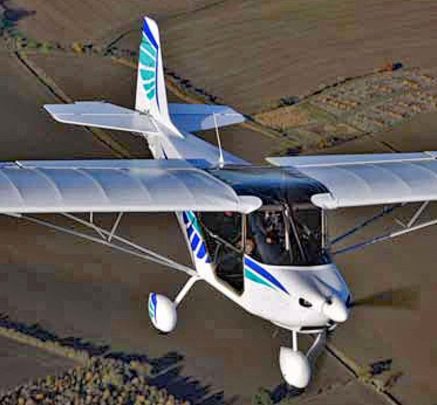 For a high wing aircraft, the visibility is quite good, although as is a feature of practically all-high wing aircraft, it is a tiny bit blind in the turn. Another nice touch is the transparent panel in the roof, as if the aircraft is rolled into a very tight turn it is possible to look through the roof. The controls all seemed quite nicely harmonised and authoritative. The roll rate in particular is distinctly sprightly, while both pitch and yaw control were equally effective. Trim is effective.
Moving on to an exploration of the stick-free stability around all three axes, I get the impression the Nynja is strongly positive longitudinally, weakly positive directionally, and neutral laterally.
Slowing down to explore the low speed side of the flight envelope revealed no disagreeable mannerisms. Indeed, with flaps down and carrying a reasonable amount of power the Nynja showed no desire to stall at all, but a more vigorous approach to the stall with the engine off produced a more positive break at about 33 knots, combined with a slight wing drop which was easily controlled by the rudder. I increase power for a look at a departure stall and, as expected, this maneuver provoked a slightly more vigorous response, although the ensuing stall was easily recovered from with minimal height loss. Flaps up, the stall is still less than 40.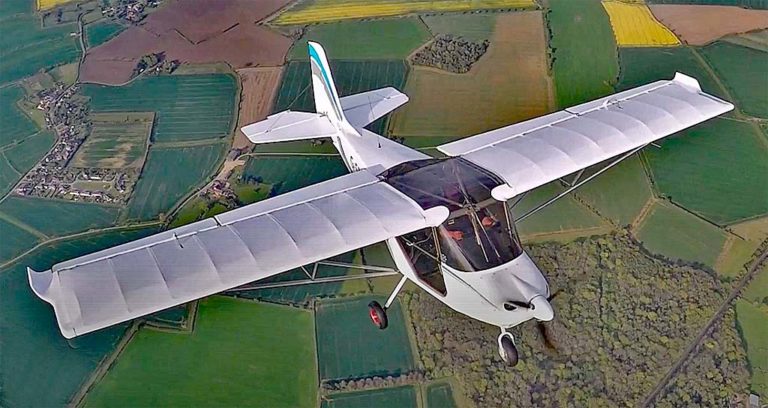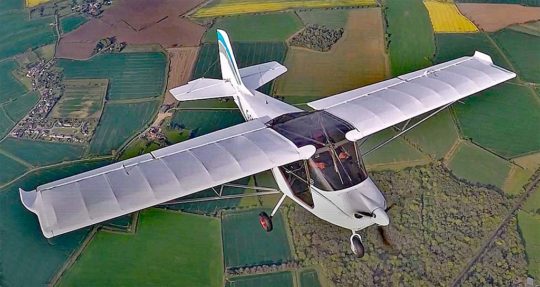 The claimed glide angle is a reasonable 9:1 at 55 knots, while minimum sink is modest at around 500 feet per minute at 45 knots.
Cruise is middle-of-the-range at 95 knots, achieved at 5,100 rpm, giving a true air speed of 101 knots at 3,000 feet with a fuel flow of about 4.75 gallons per hour, but the engine does sound somewhat frenetic. A much more comfortable cruise rpm is 4,000, which still gives an IAS of 70 knots (76 true) and a fuel flow of less than 2.6 gallons per hour and a still-air range of over 400 nautical miles, including Day-VFR reserves.
Touch Down!
Nynja is a fabulous machine for flying traffic patterns at your airport; Nynja's strong climbs gets you back up quickly for the next. I flew several variations: full flap, half flap, no flap, glide approaches, powered approaches, steep sideslips… the whole gamut, and each one was great fun. For the last I sat up a little straighter in my seat, held the brakes on against full power and was airborne in less time than it takes to read this sentence.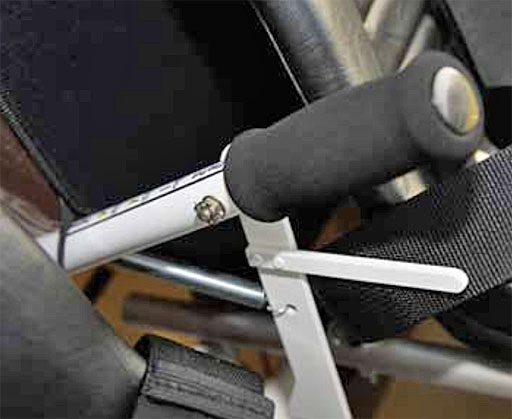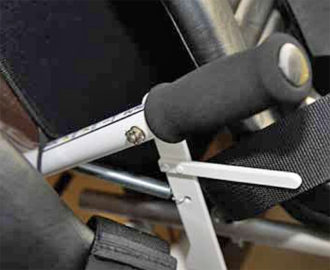 On approach to landing, I nailed the ASI's needle to 50 with just a smidgen of throttle and then chopped the power. After Nynja's main wheels touched firmly I lowered the nose and applied maximum braking; I actually locked the wheels up and we skidded momentarily on the damp grass. All total I used a little over 300 feet.
Overall, I thought the Nynja a great little aircraft that offers outstanding value for money. It is a lot of aircraft for the money.
What a cracking little aircraft! Fast, frugal and fun, the latest iteration of the seminal Skyranger might just be the best one yet.
TECHNICAL SPECIFICATIONS
Skyranger Nynja
More about Nynja
Length — 19.4 feet
Height — 7.9 feet
Wing Span — 29.2 feet
Wing Area — 138 square feet
Empty Weight — 573 pounds
Gross Weight — 992 pounds (see "Coming Later" below)
Useful Load — 419 pounds
Payload (calculated at full fuel) — 324 pounds (see "Coming Later" below)
Wing Loading — 7.2 pounds per square foot
Fuel Capacity — 15.9 U.S. gallons
Never-Exceed Speed — 132 knots
Cruise Speed — 90 knots
Stall Speed (flaps) — 32 knots
Climb Rate — 1,200 feet per minute
Takeoff over 50 foot obstacle — 920 feet
Landing Roll over 50 foot obstacle — 930 feet
---
---
COMING LATER…
Flylight Airsports said that with the increase in the allowed weight to 600 kilograms (the 1,320 pound LSA maximum at present) the company is looking at increasing Nynja's capabilities and feature set.
All indications are that the UK will transition during 2021 to a 600 kilogram microlight category, matching the global LSA standard. Details are still being worked out, but Flylight has been preparing for the change.
The LS model was initially approved at 500 kilograms (1,102 pounds), and work is ongoing for a higher gross weight. The wing has already been tested satisfactorily at 600 kilograms, and currently the last piece in the jigsaw for approval at the higher gross weight is a new main undercarriage.
Other future plans include a taildragger version, different engine options, and electric propulsion.