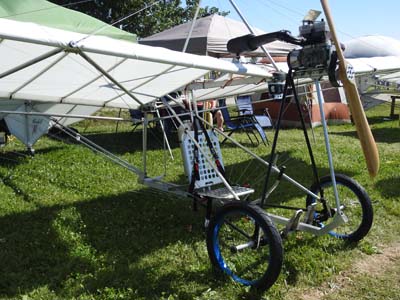 Update 8/17/17: See our video interview at EAA AirVenture Oshkosh 2017 on this aircraft (at bottom). —DJ
The aircraft you see in the photos is called "A Tribute to Alberto Santos Dumont." Do you know who that is?
In my conversations with a few other pilots, almost everyone knew the name ("vaguely") but not one remembered what that person did. Since the 24 Bis (that's what they call the example you see in the images) is a tribute to Alberto, let's take a second to recall his history.
Santos Dumont was a prolific aircraft designer working from 1898 to 1920. The first year was when he made his first balloon ascension, in Paris, on July 4th. Only six years later, not even three years after the Wright Brothers' famous Kitty Hawk flight, Alberto flew his 14 Bis on November 12th, 1906. This flight won him the accolade "first person to fly in Europe."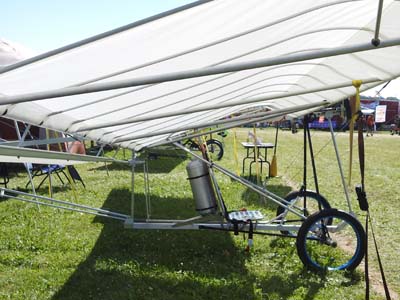 His first production aircraft weighed in at 242 pounds. Sound familiar? Maybe that's where FAA conjured the 254 pound empty weight of Part 103 aircraft, a category created 76 years later, in 1982.
On January 4th, 1910, Santos Dumont broke a flying wire and crashed. He never flew again. History doesn't record if his mishap was in a 19 Bis, or the 20, 21, or 22.
The Winchester Skonkwerks Ultralight Research and Development Facility — let's shorten that to Skonkwerks — represents a team from Larsen, Wisconsin. Skonkwerks honored Alberto by first building a 23 Bis and later the 24 Bis you see in nearby images taken at AirVenture Oshkosh 2017. The group describes itself as a "loosely knit organization of friends, flyers, and fanatics… tinkerers, builders, and bullsh###rs. We are engineers, designers, and dreamers hanging out in a little hangar screwing stuff together and making it fly."
The Plane that Never Was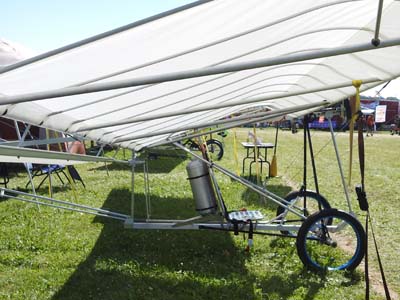 Lee Fischer was the founder of this group of tinkerers that formed after he first showed a highly modified Robertson B1-RD. So much interest was shown in the Demoiselle style of aircraft that he decided to build a 23 Bis. At AirVenture 2015, his friend Mark Solper hinted that it would be "great project to build a pair of 'evolved' Demoiselles for a subsequent AirVenture." This suggestion led to the 24 Bis you see here.
Mark, Lee, and the whole merry band machined and welded the airframe and sewed Dacron wings, all the while learning both new skills and an appreciation for what Santos Dumont and his associates had done more than a hundred years earlier.
"You're not going to fly it, are you," Mark remembered his friends asking him? He did. Successfully. The aircraft you see was flown into Oshkosh. After flying airplanes from transport aircraft to ultralights and including a stint with FAA, Mark appears to be having the time of his life with this unusual winged contraption. He now serves on EAA's Ultralight & Light-Sport Aircraft Council.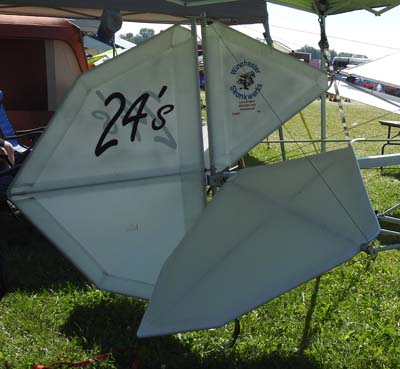 Skonkwerks is an honoring nod to the famed Lockheed Martin Skunkworks, the latter becoming a term widely used in a generic sense to denote a group within an organization given a high degree of autonomy to work on advanced, sometimes secret projects. The Winchester Skonkwerks uses the name "in jest to project an aura of something outside of the norm being worked on, developed, or flown while staying in touch with meager roots."
With this article you see no website or phone numbers. This aircraft is not for sale but is certainly worthy of you traipsing down to Oshkosh's Fun Fly Zone (i.e., the Ultralight Area) to see for yourself.
Meanwhile, here's a few facts you might enjoy:
Weight — 240 pounds
Wing Span — 32 feet
Wing Area — 192 square feet
Never Exceed Speed — 45-50 mph
Stall Speed — 14-16
Engine — Rotax 447
Build Time — December 21, 2014 through June 21, 2015
Here's our video interview with Lee Fisher at Oshkosh. He's a funny fellow with a great project.
For lots more videos, please visit — and support! — Ultralight News…