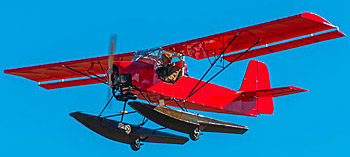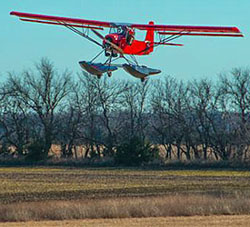 It seems like we discuss seaplanes (the boat hull variety of airplanes) more than floatplanes (land planes with floats added). Rare are any of these a single seater and one that might fit in Part 103 for ultralight vehicles (meaning no pilot license, no medical, and no N-numbers are required). Yet some like the flexibility afforded by removable floatation. Many buyers seek lower price tags and most pilots tend to fly solo more than with passengers (even when four or more seats are available). So, perhaps you should consider Belite Aircraft airplanes especially now that ever-inventive developer James Wiebe has transformed his single seater into an amphibious floatplane called SeaLite. The new model is getting closer to delivery. "The first flight of our amphibious, carbon fiber, float-equipped aircraft falls on 110th anniversary of Wright Brother's first flight," said James about his voyage aloft on December 17th.
"Although today's test flight was from a conventional grass runway, the expanded test plan will soon demonstrate takeoff and landing operations from water as well," clarified Weibe. SeaLite is designed to legally fly from water or land under U.S. FAR 103 regulations. The amphibian is a design variation of Belite's UltraCub aircraft. With almost every part of this aircraft designed in the aviation capitol of Wichita, Kansas, Belite employs "technically advanced features" to stay within the tight weight constraints of Part 103. Wing spars, floats, and other elements of the aircraft are built with carbon fiber while the fuselage is largely aluminum. Each basic wing panel weighs only 20 pounds; each individual carbon fiber float also weighs about 20 pounds, Belite said. (Updated) Learn about SeaLite in our video shot at AirVenture 2013 before the first flight had occurred.
Belite Aircraft CEO Wiebe was at the controls for the first flight. "I was pleased with this test flight," he reported. "[SeaLite] demonstrated the performance and utility possible with a single place amphibious aircraft. The ground roll was very short, the climb rate was impressive, and the landing manners were easy and benign." As flown on December 17, SeaLite features a custom lightweight instrument panel with a full range of conventional instruments. Belite said SeaLite "was developed in direct response to customer request." The first one will be delivered to an individual in the upper Midwest early in 2014. With its amphib floats, SeaLite is priced at $60,000 in kit form. With straight (water only) floats the price moderates to $50,000. Wheel-equipped Belite UltraCubs airframes start below $20,000.