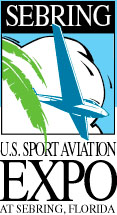 Sebring Sport Aviation Expo 2019 — I'm here. Where are you? Weather looks good for the opening tomorrow here in Sebring, Florida, where temperatures were in the mid 70s (23 C). Blue skies prevailed although the air was bumpy according to several who flew airplanes in for display.
While a good many airplanes are already here, an equal number were still not on the grounds at 6 PM, so some hustling will have to occur. …and it will!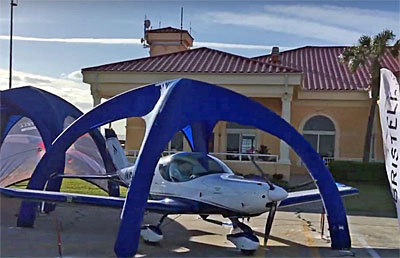 I attend seven or eight airshows every year. I've done this for many years. I'm here to assure you that the night before opening, the place is utter pandemonium with no possible hope in sight of having everyone in position and ready for business by morning. It can't happen. …yet it does!
One of the most marvelous transformations to be seen is a lonely expanse of concrete ramp turning into a colorful, energetic, ultimately cool place to hang out, look at lots of pretty airplanes of all kinds, talk flying to your old pals and new friends, catch a forum, participate in a work shop, take a demo flight if you're in the market — heck, take several flights. That's one of the main reasons people come to events like Sebring and the main reason vendors are here with their shiny airplanes. It's a match made in heaven and you're invited!
Here's an early glance. Come on down to Sebring Expo 2019 and see how much it changes by morning.