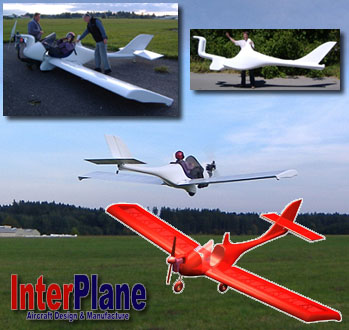 Even though FAA has said Part 103 will not be changed, many pilots see few fixed wing airplane choices truly meeting the definition.
Some trikes and powered parachutes can manage it but many lament, "Yeah, but no three-axis designs." If you agree, be prepared to eat your words. Here comes Interplane's ZJ Viera.
The brand-new composite design is no dream. It's gone through a proof-of-concept stage and is now flying as a preproduction prototype. Those attending Sebring Expo 2008 can visit importer LSA America's display.
Does it genuinely make weight, the toughest part of F.A.R. Part 103? Based on factory info…YES, and by a generous margin!…thanks to modern materials and simple design.
Will ZJ be affordable? "Yes," says former Interplane owner Ralph Mandarino. The company priced a basic ready-to-fly monowheel ZJ at $19,800. They're flying it with the Hirth F33 but as it appears well under the max empty weight of 254 pounds, ZJ engineer and Interplane CEO Marek Ivanov could investigate other engines including four-stroke or electric. ZJ does not require ASTM certification, pilot license, or vehicle registration with FAA. Given the modern look, lack of government interference and a modest price tag, Interplane could have a winner.