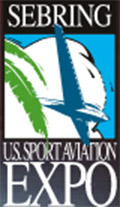 This year's LSA bash in Sebring which starts next Thursday, 17 January and runs through the weekend looks to be far and away the best ever. Jana Filip and crew have been working hard all year to make this a top professional event.
Lots of new things in addition to the usual comfy, cozy gathering that's LSA-only include a twilight airshow (can you spell Patty Wagstaff?), Seaplane Pilot's Association Seaplane Base at Lake Jackson, Model Airplane Contest, a fully restored American Airlines DC-3 on display, and…oh yeah…tons of top LSA demos for you to get up close and personal with. Here's some hot points:
• 80+ inside exhibitors; • 80+ outside exhibitors • 20,000+ attendance expected • keynote speeches by Randy Babbitt (former FAA head) and Patty Wagstaff • lots of new product rollouts including at least a couple LSA I've heard about through the grapevine. • …and the 3rd annual Bahamas flyout for four days of island fun, mon.
Some thoughts: I'll be flying over to the Bahamas too this year, at last after hoping to for five years now, in a rented Breezer belonging to Randy Wildman, after a 5-hour transition checkout. The German-made Breezer II, one of the first LSA I flew at the beginning of my Light Sport days with the magazine, is a lovely, solid, GA-style low winger that Mike Zidziunas, who got the whole LSA Bahama flight thing going in the first place, teaches in and sells out of his new Lakeland Linder Regional Airport (KLAL) in Florida. That's the site of course for Spring's annual Sun 'n Fun airshow.
More to come as I prep for the show, including planned demo flights on the RV-12, Pipistrel motorglider, Flight Design CTLS on floats, and a few other goodies I'm still lining up.