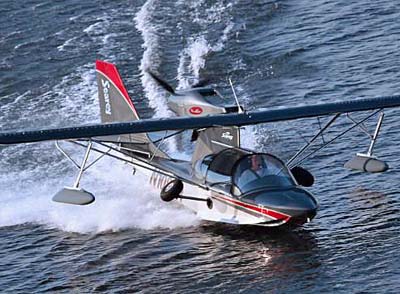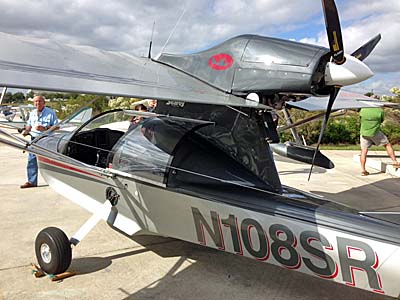 While some beautiful looking LSA seaplanes have captured lots of attention — here I am thinking of Icon's vigorously promoted A5, the unusually capable MVP, the highly innovative Wave, and Finland's ATOL … all of which have some fascinating features — all but one of these share one feature: you can't get one yet. ATOL is preparing to deliver but A5, MVP, and Wave are all still works in progress. It takes time to develop a new aircraft but today if you want a ready-to-fly seaplane in the USA, you have basically three choices: SeaMax, Super Petrel LS, and Searey. Of those, Super Petrel has airplanes in stock in the USA and ready for delivery.
Searey stands along in my view as an LSA seaplane you can buy today and receive in a reasonable timeframe. It is also the only American-made LSA seaplane you can get today. It is available as a kit (more than 600 sold and more than 500 flying) and that gives the company a strong, reliable track record for those considering purchase. It is also, along with Super Petrel, very reasonably priced. What's reasonable? Well, a new price in the mid-$150,000 range is considered a good value by many seaplane owners. If that sounds like a lot to some readers, you should check the cost of other fixed wing, three-axis seaplanes … some are breathtakingly more expensive. Weight shift floatplane choices and some simpler float-equipped aircraft also have good price points.
However, if you are still thinking you'd prefer one of these boat-hulled flying machines that offer choices of land or water operation, $150,000 may seem an insurmountable barrier. Progressive Aerodyne has sought out a solution and recently secured a financing program for their Searey models.
"We are excited to announce the availability of financing for Searey Elite and Searey Searey Sport SLSA aircraft," announced Progressive Aerodyne. The central Florida manufacturer has partnered with NAFCO, an affiliate of Pilot Bank, to provide loans amounting to 85% of the value of a Searey for a period of up to 20 years for qualified applicants. Progressive Aerodyne reports that NAFCO has been approving and servicing general aviation loans for over 20 years. "We are excited about the partnership," said Progressive Aerodyne. "Make your dream of owning a Searey a reality today."
Progressive Aerodyne did not break out specific numbers of such a loan. That information could vary considerably depending on numerous factors. However, just for the sake of illustration, here's a back-of-the-napkin estimate: Assuming a price of $150,000 (contact the factory an exact quote), an 85% loan means borrowing $127,500. Let's also assume a full 20-year loan period and assume a 7% interest rate. That means a buyer would put down $22,500 at the start and have payments of $989 per month. As with buying a house, you'll pay a good deal in interest over the loan period but, due to inflation, the value of money will be less in 20 years. So the payments, in theory, should be easier to make toward the end of the loan.
A well-maintained Searey should easily last 20 years and for most owners, even the Rotax engine will likely still have time left before overhaul in such a loan period. However you feel about borrowing to own your airplane, Progressive Aerodyne and NAFCO are offering a way to have a brand-new ready to fly LSA seaplane in the near future for $22,500 and a thousand dollars a month. That certainly puts such an aircraft within reach of many more buyers.