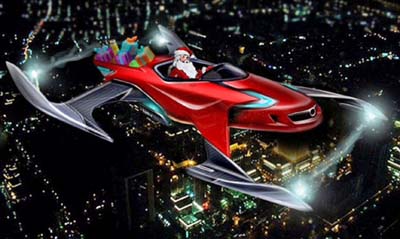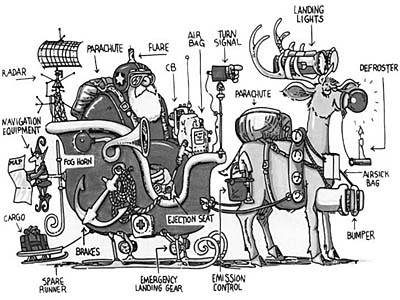 As we near Christmas time and as children around the globe await the arrival that busy flyer, Santa Claus, did you ever wonder how the big man in the red flight suit manages the effort, specifically how he preflights the sleigh and controls his "engines?"
So far as we know, he only flies the reindeer-powered sleigh once a year. How do you maintain your flying skills with a single flight per year? OK, he probably flies locally around the North Pole doing touch and goes but apparently no one ever sees it happen. A better guess is that, like any good pilot, he reviews his Sleigh Pilot Operating Handbook before getting into his busy season.
You didn't really think it was some magical occurrence, did you? Come on … you're a pilot, no doubt a very good one. Would you go fly your airplane — or for that matter, your sleigh, assuming you were some rather chubby but jolly fellow with a snowy white beard — without first giving your sleigh a thorough check? Then, what about your powerplants? Do you think those reindeer are going to perform the task of delivering billions of Christmas presents without proper maintenance? I don't think so.
How would you solve this problem? Well, of course, you'd refer to your Sleigh Mk II POH. Fine, I'm having a bit of fun for the Christmas holidays but a good friend at my home airport named Joe Friend (yes, that name is real) sent me a Sleigh Flight Manual and I was amused enough by it to make it a Christmas Eve post. I hope you will have some fun reading it.
Officially this 1947 document — hey, the Sleigh Mk I and Mk II have been around for a long, long time — is labeled "Pilot's and Flight Engineer's Notes." First, let's review selected portions of what is available.
An overall description of the Sleigh Mk II may be useful for those not used to unorthodox aircraft.
INTRODUCTION: Santa Sleigh Mk II is an eight engine transport, powered by magic reindeer engines.
FUEL SYSTEM: Mk II is equipped with eight fuel tanks, each connected to one engine. Particular care must be taken during refueling to guarantee equal tank filling for each engine. Not following this procedure can have catastrophic consequences including a petulant loss of engine during take-off or cruise plus weight and balance problems.
AIRCRAFT CONTROL: An automatic pilot is available. Heading entry is based on detection of a ground beacon signal labeled IHBN or, "I have been nice." Before engaging the autopilot, verify all engines appear to be performing nominally. One unhappy engine can upset the flight and delay cargo delivery.
ENGINE CONTROLS: Engines are voice controlled. (Voice control seems very advanced for 1947, doesn't it? One wonders if one of the reindeer's offspring was named Siri.)
Having reviewed the POH general terms, you will want to carefully read certain checklists.
HANDLING
Pre-flight checklist
Starting the engines and warming up
Testing the engines and output
Take-off, assuring all engines are running contentedly
Climbing, staying aware of vital cargo security
General Flying … remember this an all-night flight
Diving … don't do it!
Approach and landing
After landing
PRE-FLIGHT CHECKLIST
Reindeer full
Rudolph's nose pre-heating
Inspect reindeer hooves
Check cargo loading by Elves
Pat on the back for each reindeer
Give additional cookie and milk to reindeer during warming up
Kiss Mrs. Claus goodbye
NOTE: Particular attention should be paid to engine exhaust. Any suspect leaks can become unpleasant to the Sleigh pilot and may trigger engine shutdown.
Finally before aligning the sleigh on the snow-covered runway up near the North Pole, a few more comments from the Sleigh manual should be reviewed. Remember, it's going to be a very long night covering tens of thousands of miles and involving some very short roof landings.
DIVING: Engaging the Sleigh Mk II in a dive is forbidden under all circumstances. Exceeding the maneuvering speed with the cargo load of presents for millions of kids can have direct consequences on cargo wrapping and bow security. Also, remember children expect to hear reindeer's bells not a Stuka diving horn.
APPROACH & LANDING: Particular attention should be paid to the landings, especially on slippery and highly angled rooftops. Weight and balance are considerably modified as the night continues and Sleigh handling can become tricky. Sideslips are never advised. No automatic landing should be attempted without reindeer identified as Rudolph performing well. For difficult take-offs additional cookies supplied to the reindeer engines can be helpful.
AFTER LANDING: Immediate care must be given to the reindeer engines. Particular attention must be paid to hooves. No Elves should touch them before checking the reindeer hooves to assure temperature is below 140 degrees Fahrenheit.
Joe Friend added one additional recollection: "Back in the day, FAA decided to give Santa his multi-"engine" check ride. After the briefing, hitching up the reindeer, and preflight, Santa was sitting in the sled and the FAA inspector walked up carrying a rifle.
Santa asked, "What's that for?"
The FAA inspector replied, "Hey, it's a check ride — I want you to remember you could lose one on takeoff."
Here's hoping you have no engine-outs on Christmas Eve and wishing you and yours a warm and wonderful Christmas with your loved ones!