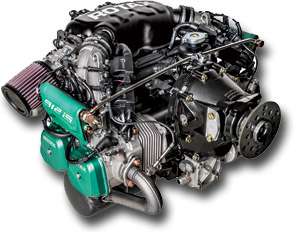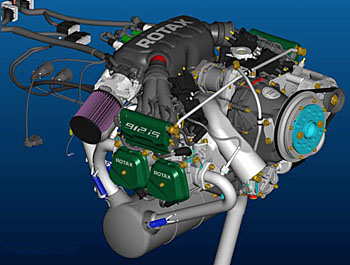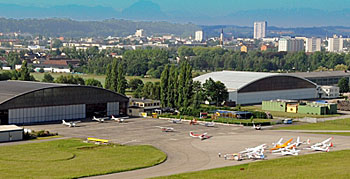 At Sun 'n Fun 2014, Rotax Aircraft Engine manager Christian Mundigler noted the occasion of the 25th anniversary of the four cylinder 9-series engine family including 80-horsepower 912 UL, 100-horsepower 912 ULS, 115-horsepower turbocharged 914, and fuel injected 912 iS. In further celebration he also announced the worldwide introduction of the new 912 iS Sport. "The new model delivers an improved takeoff performance that results in a better climb rate and shorter takeoff run even if the aircraft is equipped with a fixed pitch propeller," said Christian. He proudly stated the marketing line: "Stronger. Faster. Higher." Using a redesigned aluminum airbox atop the 912 iS unveiled two years ago, air intake is improved to boost engine torque. Visible differences are slight compared to last year's 912 iS but the new airbox stands 27 millimeters (1.06 inch) compared to the lower profile plastic airbox manufactured over the last two years. A larger airbox allows more air to mix with fuel delivering more torque. New software further supports the upgraded engine with longer engine intake runners and slightly repositioned ignition coils. The company has worked closely — and secretly — with major manufacturers to assure the slightly higher airbox will still fit within already-designed engine cowls.
What about those 100 or so 912 iS engines already in the USA before this change? Don't worry owners; Rotax has a solid offer. The Austrian company will make upgrade kits available as a retrofit for 912 iS owners. Rotax expects to achieve ASTM compliance and issue a service bulletin in May this year so it can proceed with the upgrade offer. As a demonstration of their readiness, Rotax arranged for a Kitfox with the new engine to be displayed in front of the Rotax exhibit at Sun 'n Fun. Kitfox Aircraft proprietor John McBean said he was very satisfied with the new powerplant after taking it on a 8-hour "lunch flight" to the Florida Keys following its installation at Lockwood Aircraft in Sebring. Christian said the company will offer the engine for the same price as the previous 912 iS through the end of October; details are available through distributors. For current owners of the 912 iS, Rotax will provide the airbox kit for free until the end of October, so owners need only pay labor costs. The job can be done in one day. After October 2014, the manufacturer suggested retail price for the airbox kit will be about $1,750.
Some engine experts observed that when the 912 iS engine was introduced, they were very happy with its lower fuel consumption and reduced pollution, yet some pilots could sense slightly lower performance compared to carbureted versions. The lower torque of the 912 iS engine — 119 newton meters at 5000 rpm versus 129 for the 912 ULS — affected heavier aircraft, seaplanes, or aircraft operated at higher density altitudes. Kitfox boss McBean, who operates in the higher elevation of Idaho, is pleased for the added torque at common operating revolutions. "We've always liked the 912 iS engine, and this new higher torque iS Sport will give us the extra boost we want," he stated. In addition to a new airbox and new controlling software, changes are made to the reduction drive to allow it to handle the increased output.
To properly celebrate the 25th anniversary of the 9-series engines plus production of 50,000 912/914 engines, Rotax BRP will host a fly-in on June 5 to 7, 2014 at the Weisse Moewe airfield in Wels, Austria (northeast of Salzburg and west of Munich, Germany). I am pleased to be headed to this second company fly-in where the engine manufacturer will offer flights with the latest Rotax aircraft engine models plus a chance to test ride in a Can-Am Spyder Roadster. Expected are more than 100 Rotax pilots enthusiasts from all over Europe and beyond plus dealers of the company's products. Those attending will have a chance to visit the Rotax factory to see where the engines are developed and produced. Several events are planned for attendees The modern factory employs more than 1,100 people.