The first-ever inaugural event of the DeLand starts tomorrow, November 3rd and runs through the 4th and 5th (THursday, Friday, Saturday).I hope you are planning to attend. The exhibitor spaces are full sold and several aircraft were in place by Wednesday afternoon before the show. C'mon down and check out the newest event in light recreational aviation.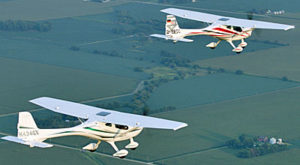 After a major setback in 2014, Remos found and secured solid financial support for their light aircraft manufacturing enterprise. See the earlier story here but the great news is that Remos AG is now back and better than ever. This year at AirVenture 2016, I flew with marketing guru Patrick Holland-Moritz in the new Remos GXiS. As you can read here, I found the new model a joy to fly with the best implementation yet doe Rotax's fuel injected and upgraded 912 iS Sport powerplant. Patrick coined the term "smartification" to describe their approach and I love his new word.
As the German producer continues to reinvigorate their business, they are also securing new dealers to represent them both in the USA and overseas. Remos was founded in the mid-1990s. Today, Remos produces the Remos GX alongside the top-of-the-line GXiS. More than 100 Remos LSA are flying in the U.S., with some 450 operating worldwide. About 50 people work for Remos today.
Remos recently announced a new dealer in the United States. SimplyFly is supporting the German manufacturer with an innovative approach of how to bring people into aviation. The company is based at Aurora airport, just a 40-minutes car ride from downtown Chicago, Illinois.
When David Spano and Tony Sabos established SimplyFly six years ago in 2010, their goal was to provide flight training under the banner of Power Sports. They wanted to focus on growing sport aviation by targeting the general public. What is their approach?


"Around 15 percent of those who take the Discovery Flight go on to become Sport Pilots or Private Pilots," said Remos on behalf of SimplyFly. That is an impressive conversion rate after a single introductory flight. "All of the training is done in Remos aircraft," said Patrick. SimplyFly has four Remos models for this purpose and of course, the Illinois company — with an densely populated major metropolitan market a short drive away — is also a dealer able to sell new aircraft like GXiS.
At their fair, mall, and festival displays, "SimplyFly works to correct false perceptions and present flying as an attainable sport. They don't sell aviation as a mode of transportation, they sell fun," exclaimed Patrick!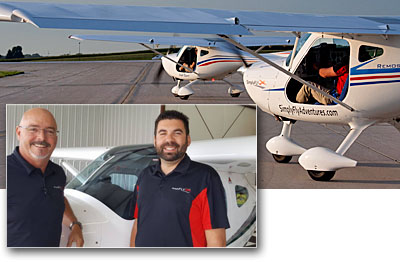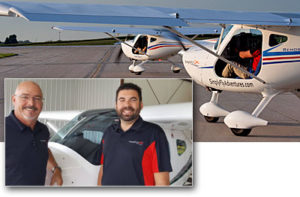 Based at Aurora Municipal Airport (KARR) west of Chicago SimplyFly offers a Sport Pilot certificate for $6,400 and the Private Pilot for $9,600. This is no bare-bones training. The dealership and flight school includes 40 hours of flying for Sport Pilot training — 20 is the bare minimum according to FAA regs — or 60 hours for the Private. Both courses include ground school.
"Almost all our students pass their check ride in less than the allotted time," said David.
"Once they start on a certificate, we encourage them to fly at least twice a week. We credit some of this success to the forgiving flight characteristics of the Remos GXiS." They report students become comfortable very quickly.
Flight training in Remos aircraft has worked out so well the partners moved up to become dealers so they can offer sales and service.
The second Remos dealer in North America after the German company's reorganization, SimplyFly is part of the Remos expansion as the European manufacturer rebuilds a global presence for their Light-Sport Aircraft. SimplyFly has plans of its own to expand to other major metropolitan areas.