I don't really know when the Leon family sleeps. They must, of course, but their steady output of high-quality, reasonably-priced products that pilots need must make for many long workdays.
Recently, our friend Jim Moore of AOPA wrote about Levil's BOM (Broadcasting Outer Module — and here's our video about that). BOM is an innovative, self-powered device that you merely hang on the wing and without further installation, it offers a wide variety of information to an iPad or Android tablets (several of them at once), transforming these relatively-low-cost consumer devices into full-blown ADAHRS instrument panels. Pilots flying Type Certified Cessnas and other GA aircraft love this solution as it is effective and cheap, and does not violate their airplane's Type Certificate. BOM offers LSA and Experimental Amateur Built pilots a way to keep their investment far lower while largely keeping up with our most deluxe Light-Sport Aircraft running Dynon, Garmin, or MGL's fine panel-mounted instruments.
Now, Enter Beacon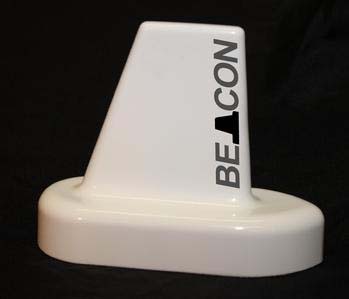 BOM and other Levil products are great and have seen great acceptance by LSA and EAB pilots. Yet every airplane owner has an FAA mandate to follow: ADS-B Out. If you want to fly into many kinds of airspace by 2020 you must have some device to work with FAA's long gestating NextGen airspace control system.
Adding ADS-B Out can be very costly, anywhere from a few thousand dollars to potentially many thousands on more complex, certified aircraft. Conventionally-certified airplane owners have little choice but to invest more, however, LSA and EAB pilots now have a new solution at the best price I've heard. Consider Levil's Beacon.
The video below features Levil's Ananda Leon explaining the concept of Beacon. She also gives some Levil history and speaks to her own significant capabilities including creating software that makes these little devices do their magic for you.
Beacon is a largely self-contained solution. That's excellent as the cost of adding ADS-B Out capability involves both hardware purchase and installation expense or effort.
Most ADS-B Out devices are some kind of box installed in the cockpit. That box must then be "plumbed" to gather data from other devices or boxes and then connected to an antenna located outside the cockpit. No wonder the cost can run into the thousands.
No matter the expense, FAA is demanding you install this or stay out of airspace you may wish to enter.
Beacon is a welcome light in this darkened space. Presently priced at $1,395 retail, the small antenna has all the elements needed to perform its function. You only need to bring power to it and connect it to a GPS antenna (which you probably already have on your LSA or EAB). All the hardware pieces are contained in this small antenna, and I watched its production to see this is carefully built to withstand the rigors of weather, vibration, and time.
Beacon has an internal GPS chip and all the other hardware elements needed to supply ADS-B Out to FAA remote towers so other airplanes and ATC can "see" you — just as you can presently see them with the ADS-B In capability you may already have.
I admire this family-run business of Levil. Founder Ruben Leon left Venezuela before things got to their present, depressing state. He walked away from a business, leaving it to employees, escaping the troubled country to make his way in America.
Restarting from scratch, it appears Reuben and Levil Aviation are succeeding grandly but what's important to you is their fine products at great prices. Check out Beacon to address the requirement for ADS-B Out without having to mortgage your house to afford it. Thanks Levil!