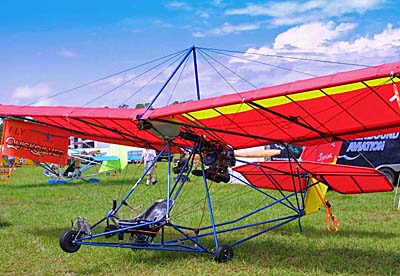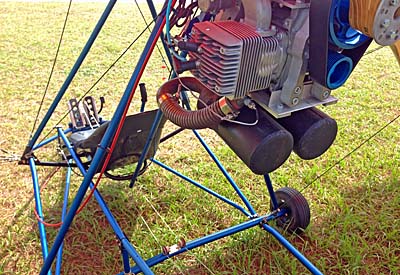 You could say 15,000 aircraft buyers can't be wrong and you'd be right. Quicksilver, in several various corporate iterations, has indeed sold 15,000 aircraft kits for its whole line including what they call the MX series and the GT series. Going back to the early 1980s — or even earlier when the company was a hang glider producer under the namer Eipper Formance — the company has made so many models I could nearly fill a post with the names, so I won't try to list them all. Suffice it to say this is one of the most prolific airplane companies since the Wright brothers first flew.
Today, the line up includes the aircraft in the nearby photos called Sprint. It's a single seater, now positioned as the MX-103. As the company notes on their slickly upgraded website, "[We are] launching the MX 103 a legal ultralight with 50 horsepower engine for $18,900 fully assembled." They note that MX 103 is based on the MX Sprint that has a long track record of safety and ruggedness in an open air flying machine.
So, here's another Part 103 ultralight we saw at Sun 'n Fun 2015 that sells for less than $20,000. Maybe even the naysayers (those that claim aircraft can't really legally meet Part 103) will grudgingly admit you might make a proper weight shift trike or powered parachute that can stay in the parameters but, "You can't do it with a three-axis airplane or if you can it will have such a weak engine a buyer will want more power and that will push it out of Part 103 weight."
Man, if I had a dollar for every time I heard that … I could probably buy an MX 103.
Sprint has long been able to meet the confining weight limit of Part 103 — 254 pounds empty or 278 pounds with a parachute plus another 50 pounds allowed for floats. This presumes the buyer didn't load the aircraft with options. Admittedly some of those Part 103-eligible vehicles did indeed have a less powerful engine and the doubters might be right that you'd want something that could give a more robust climb rate.
With the Hirth F23 powering the MX 103, I say that problem is solved, and how!
Hirth has long offered a line of engines that Part 103 producers have used. One of the most popular is the F33, a single cylinder engine that can be supplied with electric starting. It is so light, a Part 103 aircraft can still accommodate the battery and wiring to allow push-button starting. However, it only offers 28 horsepower and while that works, it isn't particularly energetic.
With Hirth's F23, all that changes. This twin cylinder two-stroke engine offers a far beefier 50 horsepower and on a lightweight single seater like Sprint, that yields literally awesome performance. Two cylinders also ensures greater smoothness, even though Hirth engines have a reputation for smooth operation. Especially on the lightest aircraft, lower vibration is exceedingly welcome.
Quicksilver Aeronautics the factory based in Temecula, California, worked with the F23 but couldn't get it where they wanted it. So, Heavenbound Aviation's Andy Humphrey jumped in and, working with longtime Hirth U.S. representative Matt Dandar, managed to solve the installation problems. What visitors to Sun 'n Fun saw at Air-Tech Inc., display was the aircraft in the photos that I'm told is working beautifully. Congratulations to Andy and Matt! I'll bet Quicksilver is thrilled.
Although Matt had worked with Quicksilver for some months, the challenges remained and new Quicksilver dealer Andy arranged to have the aircraft brought to his location in Ohio, conveniently closer to Matt's shop, and the two of them wrenched on the issues.
The Hirth F23 only weighs 71 pounds (77 pounds with electric starting), said Matt, helping to keep Sprint within parameters even without an emergency parachute. Using a 'chute should allow electric starting as the parachute systems generally weigh a few pounds less than the weight FAA calculates for it.
The installation was problematical as F23 has opposed cylinders and dual exhausts. On our new video, Matt explains gives more detail but basically they solved the problem by inverting the cylinders putting the carbs on top and exhausts on the bottom.
Andy was the brains behind the motor mount parts that allowed the engine to be mounted underneath the wing — making upper wing surface airflow that much cleaner. We saw this configuration last year but the engine was on top and that simply wasn't the best. Now it's working great, Andy and Matt agreed. How great?
I wondered how a lightweight Part 103 airplane performs with 50 horsepower? When I asked, Andy smiled broadly and said ground roll is 25-35 feet. Whoa! Talk about your short field take off airplane; only a helicopter can beat that. Andy added that stalls come at only 16 mph (a mere 14 knots). Given Quicksilver's long reputation for this model and its wonderful safety record, here's an airplane almost anyone can afford and everyone can enjoy.
Heavenbound will build Max 103 for you and Andy said you can buy an RTF machine for less than $20 Grand!
Andy reported that one pilot with experience in Quicksilver who flew this Max 103 was hesitant to even use full power. That's a major difference from most Part 103 three axis airplanes and this adds a reason why the 103 sector appears to be reenergized. Thanks to Andy and Matt for sleuthing the problems and making for a wonderful new Part 103 entry.