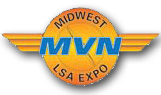 Coming up soon — September 8-9-10, 2016 — is the Midwest LSA Expo. Videoman Dave and I will be present to report on around 50 aircraft on display. I hope you can join us. Get more info: Midwest LSA Expo.
Many times I've written that Quicksilver is arguably THE most successful seller of kit aircraft in the world. Some aviators might retort, "No way! Van's Aircraft is the largest kit builder." In total kits, at least portions of kits, that's surely true. Van's reports more than 20,000 tail kit-type deliveries have been made. Even more impressively, their completions — aircraft fully built and registered with an N or other number — now exceed 9,460 and I would never take away from their success with multiple designs nor would I diminish their highly-regarded business integrity.
Nonetheless, with Quicksilver having delivered more than 15,000 full kits, the vast majority of which were built and flown, they may be the most successful deliverer of complete aircraft kits in history. Assembling a Quicksilver kit takes around 80 hours and some adept folks can do it in a week. Putting together a Van's RV-series aircraft takes a longer committment, sometimes years.
Van's continues to be a thriving force in aviation. Their contract company, Synergy Air, continues to build fully-built RV-12 LSA. Some 65 ready-to-fly aircraft were registered as of the end of 2015 and the Oregon company is moving up the charts
The Quicksilver story is not as satisfying, regretfully.
Recently I got a long "post mortem" letter from Will Escutia, the CEO of Quicksilver Aeronautics, the last company to own the iconic brand. The letter is too long to reprint here (nor did Will intend I do that), however, I can pull a few items that may be of interest.
"We launched an effort and obtained relatively quickly the 'compliant seal' of the FAA showing that all the kits met the 51% rule," said Will. "Dealers had complained that without it, the customer was not really certain that they could obtain the registration as Experimental Amateur Built once complete and therefore the dealers lost sales.
"We launched a worldwide campaign to increase the number of dealers … generating interest in 20 countries. We were able to sign new dealers in California, New York, China, El Salvador, South Africa, and France. At that moment we had dealers on every continent."
He continued, "An 18-month effort that cost between $200,000 and $250,000 ended in the successful unveiling of the Sport 2SE. The aircraft was nicely equipped, strengthened, and new sharp looking wing designs were used for the first time. The ready-to-fly price was set at $40,000 although in practice we gave significant discounts." Unfortunately, sales were not as vigorous as a study had lead them to believe. I can imagine several reasons for that.
None of these and other efforts moved the needle enough. Will faults difficulty in buyers obtaining credit or insurance, regulations that are too burdensome, and the large number of used aircraft of all kinds on the market. At this point efforts are ongoing to find a manufacturer who could integrate Quicksilver SLSA production into their existing business. "We are trying to make it work," Will concluded.
However, the really great news for the legions of Quicksilver fans is that the most solid of all Quicksilver supporters is now the owner of all the essential hardware and replacement parts for this very successful set of designs. In addition, Gene "Bever" Borne has long and very successfully been a supplier of components of his own.
The video below will tell Bever's story and it should bring immense relief to all who love flying Quicksilver …including your faithful author; I have flown every Quicksilver model except the Super and enjoyed every minute. If having a bit of fun in the air without spending a fortune is of interest to you, I encourage you to contact Air Tech and see what they can do for you. If nothing else, Bever or his son Ken will bring a smile to your face with their Louisiana-style sense of humor. I enjoy talking to these fellows and bet you will, too. The video below adds dimension.