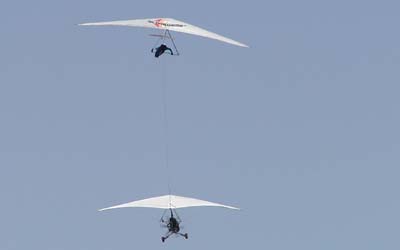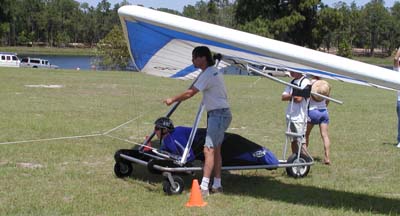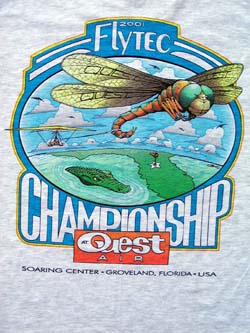 Like any of the Olympic sports, a world-class hang gliding championship brings together pilots so good that the rest of us can only imagine performing as well. Two hang gliding contests clustered right after Sun 'n Fun draw the best of the best, and 2001 was a banner year for top talent.
This year the Wallaby Open and a contest at nearby Quest Air switched positions with the Quest meet coming first this year. The highest-ranking world pilots flew both week-long competitions.
Cross-Country Tasks
Some power pilots believe that hang glider pilots jump from mountains and slide into the valley. That may have been true 25 years ago, but today, meet organizers routinely call for racing flights from 50 to well over 100 miles.
In daily events called tasks, competing pilots are out on the course trying to make goal. As many as 100 gliders are pursuing the destination as furiously as the lift will allow. On good days with plentiful lift, hang glider pilots can race long periods in a nearly straight line. On days with more intermittent or scattered soaring conditions, they spend longer circling in lift before striking out for distance. Cross-country racing becomes a highly disciplined piloting activity that combines with an athletic challenge even greater than competition aerobatic flying.
Courses can be straight-line goals that stretch out to the horizon, often exceeding 100 miles in length. In such one-way flying, tailwinds may be a big help to faster times.
Meet directors may also call triangle tasks where at least some of the flying will be done into headwinds. Each task can require 2-5 hours of flying, almost exclusively in the prone position.
To qualify as a valid contest, the organizers must complete five or more days in a week with such all-out racing. Given such demanding flying day after day, only a limited number of pilots in the world are capable of winning. As in Formula One car racing, perhaps a dozen competitors are the ones to beat.
Developing a Reputation
In the last few years, Florida has become a focal point for top competitions in the world of hang gliding. Revved up by the timing after April's Sun 'n Fun fly-in (which originally helped draw ultralight towplanes into the area), the Wallaby Open at Wallaby Ranch has established itself as the place to race.
Formerly, hang gliding competitions were national contests in the summer months, and they were held at mountain launch sites. All of that is changing fast. Now the season opens in spring in the Florida flat- lands, and the world attends.
A second event began several years later, and combining two major meets within 30 miles of each another in a weather-friendly state like Florida works like a magnet. The proximity of airshows and tourist attractions plus easy accommodations and travel also help.
This year the event at Quest was the Flytec Championships, named after its lead sponsor, high-tech soaring instrument seller Flytec USA. As it happens, the owner of Flytec is also running the operation at Quest, making for a harmonious marriage. Quest is located some 27 miles north of Wallaby Ranch. Both airparks are within a few miles of Disney World: one west, one to the south.
The Flytec team performed admirably. While meet director Steve Kroop admits that these contests can always be improved, he beamed as he recounted one safe, furious session where a fleet of 14 ultralight tugs launched 127 gliders in 46 minutes! "To go any faster would be silly," he says, but he hopes to make the experience even smoother for the world hotshots next time.
Between Wallaby and Quest is well-known Seminole gliderport, and the three facilities prove that central Florida offers superb soaring. The phenomenon that permits this is the Florida Ridge, a convergence of east coast and west coast sea breezes that meet in the middle of the state. Opposing winds have nowhere to go but up, forming an invisible ridge line that can carry hang gliders thousands of feet aloft.
World-Class Events
Flytec presented more than $10,000 in cash prizes plus other goodies. Wallaby offered a similar amount and also boasts a full-time cook who prepared meals for all competitors, crews and visitors.
More than 100 pilots competed in each event, which makes for challenging logistics. Well over 100 gliders with 35-foot spans, plus a dozen tug ultralights and several hundred ground vehicles and campers fill even the large spaces at Quest and Wallaby.
In the field of pilots registered, about half were international contestants hailing from Brazil, Australia, Ukraine, England, France, Austria, Canada, Argentina, Columbia, Switzerland, Poland, and the Czech Republic. At Quest, 57% were Americans, and only 47% represented Team USA at Wallaby.
Austrians Manfred Ruhmer and Gerold Heinrichs set a blazing trail for the others, finishing first and second in both meets. Ruhmer, the lead pilot for Italy's Icaro brand, is the reigning world champion, and he hung onto his title convincingly. American Paris Williams took fourth place in both meets against the best in the world.
Globalized Hang Gliding
The world's top manufacturers were also well represented at the twin Florida contests. America's clear leader is Wills Wing. Flown by Williams and several others, Wills managed to place four pilots in the top 10 when results are combined. The Australian brand, Moyes Delta Wing, had the most entries (32% overall) and placed eight gliders in the top 10 of the combined meets. Italy's Icaro brand had six, and Ukraine's Aeros placed two in the top ranks. France's La Mouette brand, England's Avian, and Germany's A.I.R. and Flight Designs companies were also represented.
It's no wonder the brands compete as hard as the pilots fly. Winning contests helps sell gliders to the wider recreational pilot community. Since only 1% compete, the main reason to sponsor pilots and refine wings to win races is to build the brand, just as with auto racing. Let the games begin!
If observing this exciting action interests you, contact Quest or Wallaby and get prepared for even hotter flying in April of 2002. KP
FOR MORE INFORMATION, contact Quest Air/Flytec Championship at 6548 Groveland Airport Road, Groveland, FL 34736; call 352/429-0213; fax 352/429-4846; e-mail questair@sundial.net; web www.questairforce.com.
Wallaby Ranch/Wallaby Open is at 1805 Dean Still Road, Davenport, FL 33837; call/fax 862/424-0070; e-mail fly@wallaby.com; web www.Wallaby.com.
Published in Kitplanes Magazine