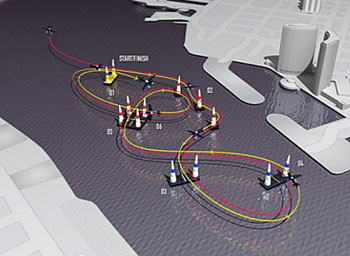 In aviation, one of our most noteworthy events is the Reno Air Races. Sadly, that longtime and much storied race series has an uncertain future due to leadership challenges and rising costs. While those organizers sort that out, here comes busy LSA entrepreneur Doc' Bailey, who seems never to sit still for long. Doc' is the man behind Renegade Light Sport Aircraft, builder of the Falcon (more on that at the end), the installation of Lycoming O-233 engine on various aircraft, the importer of the B.O.T. Super Cruiser and the D-Motor engine, and a participant in training wounded U.S. soldiers in hand-controlled Light-Sport Aircraft. His latest push is for SPAR, the Sport Pilot Air Races. Create a mental picture of the Red Bull Air Races but flown in powerful LSA or light kits and you'll get the basic idea (albeit without the fantastic ad budget). SPAR organizers say the basic idea is a single aircraft being timed while running through a closed course (see nearby diagram).
"Sport Planes will explode through a series of twists and turns between, around these exciting obstacles we call 'Pylons'," Doc' reported. "These are real LSA Sport Planes; all the planes are set up to be completely stock and completely equal in every respect. SPAR is designed so that no pilot has the advantage of a superior aircraft over another pilot." Simply the idea is to lets pilot skills compete. Doc' plans both monoplane and biplane categories and more distinctions as the plan progresses. "We will use fuel quantities and ballast to ensure the aircraft and pilots will all weigh in equally. This ensures that no pilot, plane, or team has a weight advantage over another competitor." Renegade's Mizzourah Tail Dragger is one likely entry as is their new Lil' Rascal. Both are Lycoming powered; Doc' is a big fan of the U.S. powerplant.
Another new entry is SPA's Panther, a hot single place made for aerobatics (video). The idea according to Doc' is, "Each aircraft will race against four of its siblings to form a division of totally equal racers. Then for the grand finale each division winner will race for the grand champion at the end of the day. Spectators will find out who's the best pilot for all the divisions." Such closed course air racing, as made famous worldwide by the high performance teams flying in the Red Bull events, are very suitable for TV as the aircraft can generally be kept in sight at all times much like oval track auto racing. Bailey reported, "First to be involved was Patty Wagstaff, the 'First Lady of Aerobatics.' We are proud and honored to have Patty involved with the SPAR Circuit." Doc' has been forming a board with interest from other air racing experts. We shot a video with Doc' on the SPAR concept and will post that on our LSA Video pages as soon as it is edited and uploaded.
And now … from the If-You-Can-Believe-This Department: Renegade Light Sport Aircraft received a "cease and desist" letter from Dassault Falcon, maker of high end business jets, called, wait for it … Falcon, in models 2000S to 7X. Seems they're concerned that customers or the public might see the little two-seater LSA Falcon and confuse it with a $25-50 million bizjet. While I recognize and respect the value of a brand that seems a bit of a stretch to me. Corporate counsels have to justify their executive pay, I suppose, and so Doc' is resigned to the likelihood of having to change the name of his low wing composite LSA. He said the company (and its predecessor) has used the name Falcon for several years without a challenge. Evidently they just popped up on the radar of the big French company. Meanwhile, Doc' continues like all entrepreneurs and forges on ahead. Good luck, Doc' … both with the rebranding effort and with SPAR. The latter appears to offer a promise to gain more publicity for Light-Sport Aircraft.