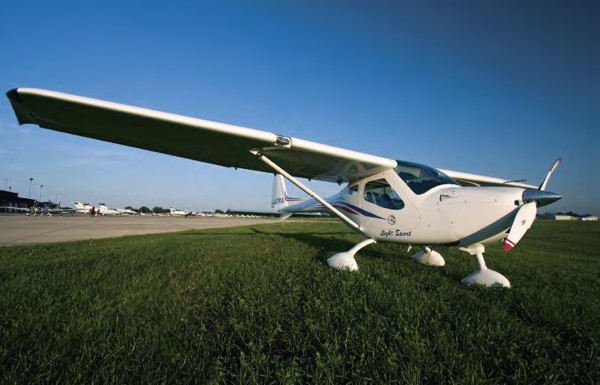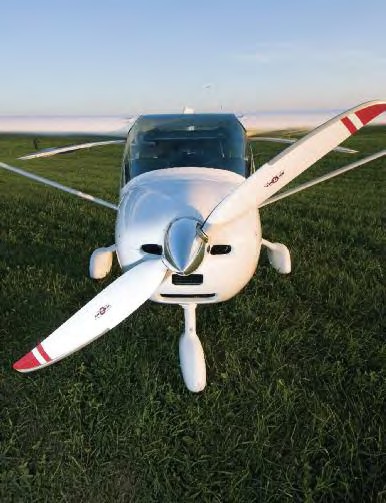 New Remos GX Rises
An LSA that was 10 years in
the making may aptly be
called a "mature design"
within this nascent sector
of piston aircraft. A few others
share a similarly "ripe, old" heritage,
but most are far newer than the trusty GA
models in which many of us learned the
art of flying.
Designed by engineer Lorenz Kreitmayr,
the first Remos G-3 took to the air
in 1997 (10 years before the upgraded GX
first flew). In 2008, N447RA, the first GX,
arrived in the States for the big summer
flyfest in Oshkosh, and that's where I had
a chance to update my Remos experience
(previously earned in the G-3). Assisting
and educating me were two Remos reps:
National Technical Service Manager Cris
Ferguson and Managing Director of Sales
and Marketing Michael Meirer.
What's The Difference?
While G-3 sold more than 250 copies,
performing well for European pilots for
years, the arrival of the U.S. LSA market
spurred fresh development. After a proper
gestation period, the GX landed in America
in time for EAA AirVenture 2008.
Ferguson clarified the differences
between G-3 and GX, explaining that the
new arrival bears a clear lineage, but is a
genuinely different airplane. Whereas G-
3 had parts fabricated in Poland, all components
of the GX are made in Germany.
Foremost in the new features is a
replacement of G-3's partially fabriccovered
wing; GX uses an all-carbon-fiber
construction. "Remos engineers built new
test fixtures and sandbagged the wing to
destruction," Ferguson explained. "The
first wing was overbuilt and held 15,000
pounds of static weight; it was lightened
because the wing was much stronger than
it needed to be." Among the refinements,
Remos built a landing light smoothly into
each wing's leading edge.
The wing strut shed its former jury
strut, and the main structure is now a
larger-diameter chrome tube that's faired
for aerodynamic and cosmetic reasons.
Remos also replaced the plain flap with
a slotted one to increase lift efficiency.
GX's fuselage is also built of carbon
fiber. Remos added a dorsal fin that straddles
the fuselage as it joins the vertical
stabilizer. On the smaller ventral fin, a fixedposition
tailwheel acting as a landing skid
has been converted to a tiedown. (Wing
tiedowns will also be added, though they
weren't installed on the article aircraft.)
The older G-3 model had a very visible
seam where the fuselage boom's left
and right halves were joined. GX uses a
two-inch, nearly invisible lap seam that's
glued to the opposite component; the
new method looks more polished, though
it can hardly be any stronger.
"The interior structure-the number of
bulkheads-was also beefed up," added
Ferguson. "But the airplanes weigh the
same, which is really amazing. The visible
things-like the cowlings, the firewall
and such structures-use the same design
as the G-3." The trim surface on the left
side of the elevator is now a seamless
construction with nylon providing the
hinge action.
The GX continues to use the Rotax
912S powerplant common among LSA,
but Remos has replaced the earlier Woodcomp
propeller with a ground-adjustable
Sensenich prop with a nickel leading edge.
At this writing, Remos was set to introduce
a further-revised GX at the Sebring
U.S. Sport Aviation Expo in January.
Changes to the new interior include new
panel-surface materials, two-tone paint
scheme, "wall-to-wall" floor carpeting,
door padding and optional two-tone leather
seats. The updated interior is complemented
by fresh exterior paint schemes
and a three-blade Neuform prop (standard
with the Aviator II package; optional
on the Explorer and Aviation I packages).
Cabin Classiness
In its 46.8-inch-wide cockpit-now Kevlarreinforced
for increased occupant safety-
GX uses Dynon EFIS-D100 and EMS-D120
glass instruments with Garmin radios,
transponder, GPS and avionics switch
panel. For GX, Dynon provides an angleof-
attack indicator with an audible warning
that can be heard through headsets.
Contrary to most producers, Remos stacks
both Dynon screens in front of the pilot
with the analog gauges facing the right
seat. For repair service, the GX panel is
composed of four segments that can be
easily removed.
GX retains G-3's dual throttles so
both pilots can keep their right hand on
the joystick while operating the power
with their left. "We have a baggage area
aft of the pilot's seat that's large enough
to accommodate a full-sized golf bag,"
boasted Ferguson. To access this baggage
area, the pilot seat must be
removed, thus in-flight access isn't possible.
A hat rack area, however, permits
occupants to carry a few things that can
be reached while aloft, and map pockets
are built into the doors. When seated
in the cabin, it's easiest to reach under
your leg to find the large door handle.
The seats offer a three-position adjustment,
although you must do this while
still outside the aircraft. Additionally,
fresh-air vents are complemented by
window vents that pull back and then
push out on an angle.
The attach point for the shoulder belt
was moved to a stronger bulkhead location,
and the seat belts are constructed
with strategically placed cords that substitute
as gust locks for the joystick.
On Wings Of Carbon
"Remos engineers started with the basic
aerodynamic design of the airplane,"
explained Ferguson about the decision
to replace fabric covering with a solid surface.
"The entire wing is completely different:
it's now an all-carbon-fiber structure.
The wing has a different
taper ratio
and has approximately
one less
meter of span.
"GX flies so
much better than
the G-3," Ferguson
added. "You
can't knock the G-
3, as it was a good
design, but it's like
a kite, very lightly
loaded, and you
never used flaps
in higher-wind
landings. GX has
a heavier wing loading and penetrates
better." That's one way of saying it was
changed to suit the American piloting
experience. Later this year, Remos will
offer all-new landing gear (made of chromoly
steel, which the company says is
much sturdier) and easily removable
wheel pants that can fit oversized tires.
"Roll rate is better and landing characteristics
are better. In all, GX is a major
improvement," Ferguson asserted.
For landing, Ferguson advised using
40 degrees of flaps in normal conditions,
15 degrees if it's a windy day. We used
the smaller deployment on a pleasant
summer day in Oshkosh. Our arrival over
the runway was planned at 55 mph.
I used 3,800 rpm abeam the numbers,
adding 15 degrees of flaps once below 80
mph. You have to give the slippery GX
time to slow down; it doesn't happen automatically.
If needed, as you closely monitor
your speed, GX can perform a deep
slip. Ferguson explained that the lower
the speed and/or the higher the bank angle,
the greater the descent rate.
Many European pilots start their training
in sailplanes, so long-gliding aircraft
are consistent with their experience. The
Remos G-3's glide angle was a flat 17:1
and its sink rate was 400 fpm. To better
match the American pilot experience, GX
was designed to land in a shorter distance
with steeper approaches; glide ratio
is 10:1 and sink rate is 700 fpm.
We did a performance takeoff on one
of our takeoff-and-landing examinations.
Lowering 15 degrees of flaps, you add
full throttle while applying full brakes.
This achieves ground break in less than
200 feet, though a normal-procedure
launch requires about 500 feet.
As I maneuvered the GX aloft, I found
that throughout steep turns, the updated
Remos felt very solid and secure. The
handling is light enough to keep physical
effort low, but it doesn't surprise you
with too-fast responses.
Power-off stalls were nonevents with
the Dynon showing speeds down into the
high 30s before a
mild stall break
occurred. Accelerated
stalls, slowed
to full aft stick at
40 degrees of bank,
automatically
rolled to level in
both directions.
If you're so
inclined, you can
open GX's doors
when you're flying
under 65 mph, but
you can remove the
doors and operate
the aircraft up to 90
mph. Are you up for a little breeze on
your knees?
When you've wrapped up your day
of flying, you can take advantage of a
feature rare to GA aircraft: folding wings.
This can help lower costs with less hangar
space or the use of a trailer for storage.
Gee Whiz GX
Priced at $116,500, the basic Remos GX
includes standard flight instruments, a
VSI, a Garmin SL 40 radio and a Garmin
transponder. GX comes standard with a
night VFR package including position lights
and a strobe light atop the tail.
The loaded version-which comes
with a $135,500 price tag-includes goodies
such as the dual-screen Dynon EFISD100
and EMS-D120, Garmin SL 40,
Garmin SL 30 NAV/COM, HSI expansion
module and removable Garmin 496 GPS.
Those who don't want all-glass may
select electric-powered analog gauges.
You can also add an autopilot, an airframe
parachute, leather seats and an
upgraded transponder. If you opt for a
parachute system, it will be mounted
centrally between the seats on a bulkhead
behind the cabin area.
At this writing, the Remos GX is ranked
#5 in U.S. LSA sales. Seek out a Remos
dealer and make your own evaluation.
Visit www.remos.com.
Published in Plane & Pilot
| | |
| --- | --- |
| Seating | 2 side-by-side |
| Empty weight | 670 pounds |
| Gross weight | 1320 pounds |
| Wingspan | 30 ft. 6 in. |
| Wing area | 118 square feet |
| Wing loading | 11.2 pounds/sq ft. |
| Useful Load | 650 pounds |
| Length | 21 ft. 3 in. |
| Payload (with full fuel) | 518 pounds |
| Cabin Interior | 46.8 inch |
| Height | 7 ft. 5 in. |
| Fuel Capacity | 22 gallons |
| Standard engine | Rotax 912S |
| Prop Diameter | Sensenich |
| Power | 100@SL |
| Power loading | 13.2 lbs/hp |
| Stall Speed (Flaps) | 38 knots/44 mph |
| Never exceed speed | 134 knots/154 mph |
| Rate of climb at gross | 1050 fpm |
| Takeoff distance at gross | 730 feet |
| Landing distance at gross | 760 feet |
| Range (powered) | 857 miles (estimated) |
| Fuel Consumption | 2.3 gph (estimated) |