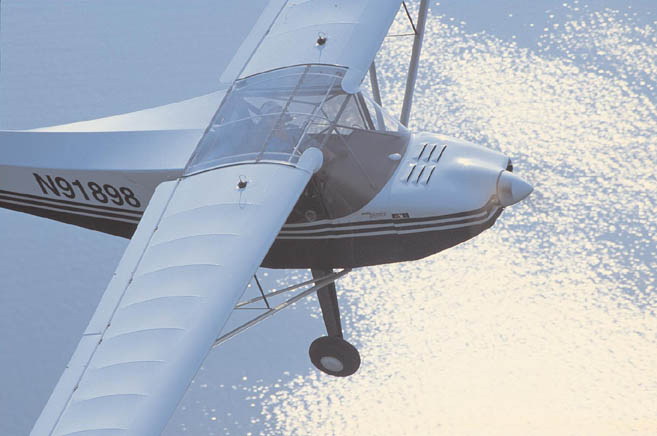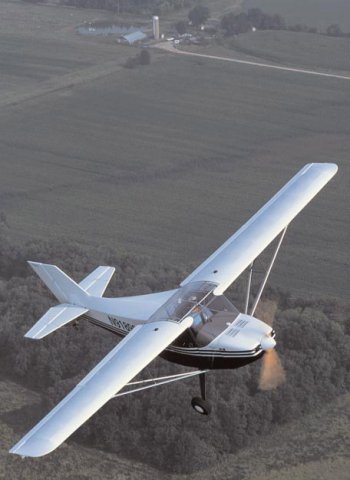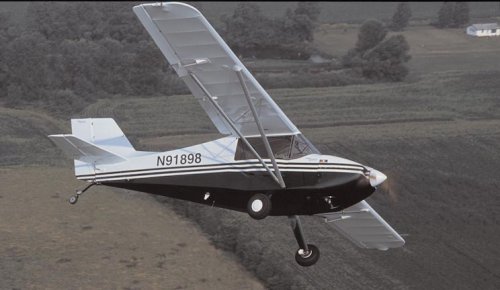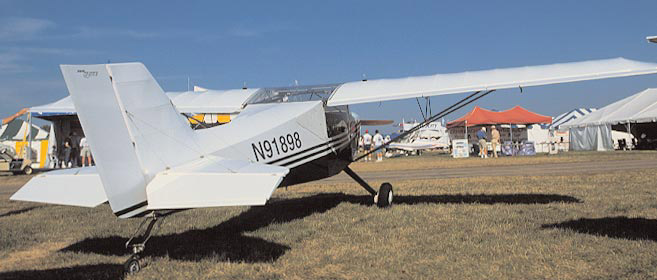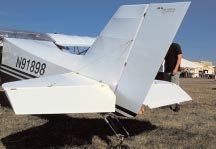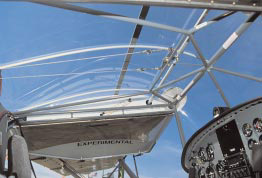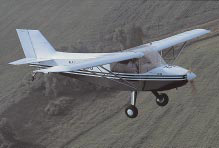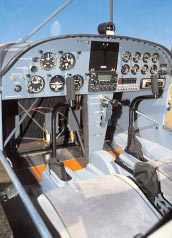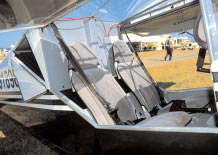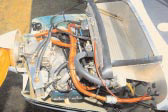 As the dawn of the sport pilot rule changes approaches,
Kansas-based RANS Inc. is one of the
most successful kit aircraft manufacturers in the
light aviation industry.
Randy Schlitter, RANS' boss and founder, is now a seasoned
veteran of the kit airplane business. Over his
years in business, he has created several popular aircraft
designs that have found favor in the United
States, Europe, and about 50 other countries around
the globe.
Of the broad RANS line, the one model that has most revved up
buyers is the S-6S Coyote II. Despite competition from hundreds of
other aircraft, the Coyote line has sold an impressive fleet of 1,500 aircraft. The single-place version, S-4/5, first
flew 20 years ago and has also sold reasonably
well, but it is the Coyote II that
has become the single most successful
RANS design.
The two-place Coyote II is available in
two models—the S6-S and the S-6ES.
Both models offer side-by-side seating
and a choice of tricycle or tailwheel landing
gear, and both will accept engines in
the 47- to 110-hp range.
The S-6ES II, the second generation S-
6, was introduced in April 1990, with an
extended wingspan over the original S-6,
which was introduced in 1988. The ES
model features ultralight-like Dacron covering
and comes in three different
wingspan options.
S-6S II, dubbed the Super Six, was introduced
in 1993 and features standard
aircraft covering. While more labor intensive
and heavier with the added
weight of paint, the doped covers
promise longer life and offer slicker surfaces
than the Dacron (although Dacron
treated with Mylar can be very competitive).
It is this aircraft that's captured the
most attention.
A Little Tweaking
After two decades in the business,
Randy is too savvy an aviation entrepreneur
to radically overhaul the Coyote. In
the traveling I am privileged to do, I see
RANS Coyotes at many airports and airparks
in many countries. I've also seen
several copies of the design, a sure sign
the aircraft is perceived to be what customers
want.
But, anyone who knows Randy knows
he's constantly refining his aircraft to improve
the designs and increase his
factory's productivity. In his refinement
of the S-6S, Randy altered the upper tail
fuselage deck of the Coyote II. This had
been a flat surface that Randy admits gave
builders some challenges during assembly,
especially in the jig building to ensure
a square fit. As part of this modification,
RANS also increased the S-6S II's tail surface
area.
RANS also changed the Coyote II's
main aft fuselage so it is now a razorback,
resembling its single-seat sibling, the S-
4/5, and giving it more flowing lines.
Randy indicates this change, along with
more pre-drilled junctions, makes it easier
to jig accurately.
RANS also cleaned up the Coyote II's
belly. The flat area under the cockpit transitions
more smoothly to the tail cone,
which improves airflow movement across
the tail.
Another popular feature for kit buyers
is RANS' folding-wing option. For about
$500, an older Coyote II can be retrofit
with the new option. The retrofit kit will
include several new hardware parts that
allow "one person to fold the wings in a
matter of minutes," according to RANS.
Buyers of new kits can order folding
wings as an optional accessory.
No Wonder It's Popular
Before you enter the S-6S Coyote II,
you'll appreciate how the seats fold forward
to give access to the cargo area. That
space behind the seats can hold 50
pounds of gear, and it can be accessed
while aloft. The cargo area is a fabric
pouch running the width of the airplane,
and it's about 1-foot deep from front to
rear, allowing some bulkier items to be
carried with you. RANS also provides a
compartment outside of the cabin that
can accommodate up to 30 pounds of
cargo. Its door is located directly aft of the
cockpit.
While the folding seats aid access to
rear storage areas, easily moved seat cushions
allow closer inspection of vital
components like control linkages.
About a decade ago, RANS invested in
equipment to make molded plastic panels.
Today's Coyotes reflect extensive use
of molded plastic interior panels. These
smooth panels hide the guts of the airplane
(cable or push/pull linkages, wires,
and support members), creating a modern
appearance, but sometimes they hide
important parts from easy inspection.
Sitting in the Coyote II, especially the
taildragger version, most pilots will find
forward visibility has been improved by
the airplane's flatter deck angle. I found
flight visibility to be enhanced by the big
door windows and the overhead skylight.
With no detail left out of its continuous
redesigning, RANS also changed
ordinary components like rudder pedals.
Newer Coyotes have a little angled portion
at the base of the rudder pedals that
allows your feet to sense position before
operating the brakes. Since they now tilt
forward like Cessna aircraft pedals—
combined with a nosewheel-disconnect
feature—I felt the rudder pedals were
quite intuitive to operate in flight,
though I found them on the stiff side
while taxiing.
Stable Flight Characteristics
Despite the structural design changes,
the S-6S II's flight characteristics were
largely left the same with only minor improvements.
One of the most notable
affects rudder control as mentioned
above. All wheels had large fairings on
them, and Randy reported getting the
same cruise speed with 200 rpm less
power, thanks partly to the wheelpants.
Of course, correctly shaped fairings
should help a plane slip through the air,
but this result is diluted when a large
nosewheel fairing turns sideways. This
happens on many planes when the rudder
pedals are employed to coordinate a
turn. Now, like a few high-end general
aviation airplanes, the S-6S does something
about that sideways nosewheel
fairing.
The Coyote II's nosewheel drops down
on liftoff, and its fork centers itself in a
cam that keeps the wheel pointing forward.
When you work the rudder pedals
in flight, the nosewheel and its fairing
stay fixed. Consequently, the rudder
pedal feel is better because you aren't
pushing harder to deflect the nosewheel
with its large wheelpant. In the past,
Schlitter says the tail had to work harder
just to offset the turbulence created from
the large, sideways wheelpant. Thus the
enlarged tail area of the new Coyote can
be employed to improve flight characteristics
rather than simply offset the effect
of the nosewheel fairing. On landing, the
weight of the aircraft pushes the nosewheel
fork back into the steering cam,
giving the pilot nosewheel steering control
again.
Like the folding-wing option, RANS is
also offering a retrofit kit for the dropdown
nosewheel. The "Nosewheel
Disconnect System" kit is available for
about $200.
Always Something New
To be honest, I couldn't tell much difference
in control feel because of the larger tail surfaces. However, over many
years and many pilot reports, I have become
a supporter of large tails. Many
designers feel you just about can't have
too large a tail. Airplanes with big tail
feathers seem to be more stable and more
controllable, a great combination any pilot
can enjoy.
Nonetheless, I really liked the nosewheel
disconnect feature. I found the
rudder pedals were rather stiff on the
ground, but as soon as you lift off and the
nosewheel slips down, the pedal pressure
gets lighter, resulting in better overall coordination.
The S-6S Coyote II, with standard
wing, 1,010-pound gross weight, and
100-hp Rotax 912S engine, has lively
speeds for takeoff and landing, just as
we've found in European-built fiberglass
light-sport aircraft (LSA). Seventy-five
mph is a good speed for approach and
takeoff, but you can slow down to 70 or
even 65 mph, I found. Sixty mph is starting
to get too slow.
Many genuine ultralights use 50 mph
for approach, and that number often has
a generous margin of safety. The Coyote
II's numbers translate to longer approaches
and longer ground rolls—which
many LSA will exhibit—but these faster
speeds are helpful in crosswinds when
more speed and control are valuable.
Higher speeds and the crisper controls
that accompany faster speeds guarantee
that the Coyote II has plenty of control
authority.
The Coyote's faster speeds don't hurt
its overall performance, and those speeds
are what many are waiting for in LSA. But
the slightly lighter Coyote II has some advantages
over heavier fiberglass LSAs with
smaller wing areas. Randy says his Coyote
II has a glide ratio of about 9-to-1, which
can be crudely estimated by the amount
of float in ground effect. Even with power
at idle thrust from well out on approach, I
floated well down the runway.
Such an evaluation of glide angle isn't
scientific, but I did measure sink rate on
several occasions, seeing 300 to 500-600
fpm with overall average as low as 400-
450 fpm. I found this a good
improvement over several fiberglass LSAs
that use heavier weights and smaller
wings to assure faster cruise speeds.
Randy recommended that I use two
notches of flaps for normal takeoffs and
landings, and indeed this produced good
results. A third notch of flaps is available
for use on the shortest or softest field, and
it adds perceptibly to drag. Because of
Randy's advice, I never tried a takeoff or
landing without flaps. Given the speeds
of the Coyote II with flaps, I suspect
speeds might rise unnecessarily high
without flaps. Flaps change stall characteristics
considerably, confirming their
value.
Stalls with no flaps had a pronounced
though easily controlled drop of the
nose. When two notches of flaps were
added, the stalls became benign. Because
you are advised to use two notches for
takeoff or landing, the incidence of a departure
or approach stall should pose few
problems. Stalls fell modestly to one side
or the other, but none was consistent,
and the problem raised by this is minor.
Leaving Well Enough Alone
The venerable S-6S Coyote II has
long enjoyed market success, and it became
a major influence on light
aviation when the two-seater complemented
the older and onetime Part
103-eligible single-seat Coyote S-4/5.
Outside of the United States, the S-6
Coyote II line is likely the most popular
light plane in the world, while Van's RV
series of aircraft obviously captures that
title in the United States.
As we see more and more fiberglass
LSAs from abroad, it is obvious that Coyote —without changing what it is
today—will continue to have great appeal.
If you have a pilot certificate and
valid medical, you have no reason to wait
for the SP/LSA rule changes to become
law before you start building or flying.
Even given the refinements mentioned
in this article, RANS mostly left
well enough alone with its highly successful
Coyote II series. Under the
51-percent rule, Randy and the rest of his
company's engineers can continue to
tweak Coyote to make it even better…and
the same will be possible under LSA rules
as long as the developer tests to industry
standards and employs accepted quality
control procedures. The complications
and costs associated with making changes
to Part 23-certificated aircraft won't apply
to LSA.
While we await LSA, RANS remains a
major veteran player in the light aircraft
industry because models like Coyote II
and its regular improvements still have
enormous appeal. Whether the company
jumps on the LSA bandwagon or not,
Randy Schlitter and his Kansas staff still
have plenty of tricks up their sleeve.
Their quick-build kits are some of the
most refined in the industry while still
being completely 51-percent compliant.
As Randy says, "Customers have given us
their wish list for quick-build kits, and
we've tried to give them what they want
while still being legal. Our '12 Easy
Pieces' kit for the S-6S is a great example.
The kit actually has only 12 major pieces
that need to be assembled, yet by the
time the builder does all the assembly
and connections, it still meets the 51-
percent rule. We feel a responsibility to
protect our privilege to build light aircraft,
so we work hard to keep our kits
compliant."
The S-6 Coyote II series is priced well
below $30,000 even with the Rotax 912
and other desirable equipment. At half
the price of last month's CT2K—and
many other fiberglass creations like it—
Coyote II is sure to continue to make
sales. And buyers like you can go ahead
and purchase today, building under the
51-percent rule and flying with your FAA
certificate and medical. When the sport
pilot rule changes are final, you can
choose to fly under the provisions of that
new pilot certificate with no change to
your aircraft's certification status or its
maintenance requirements.
That's the best of both worlds.
Published in Experimenter Magazine
Seating
2, side-by-side, 42 inches wide
Empty weight
600 pounds
Gross weight
1,010 pounds
Wingspan
34.5 feet
Wing area
155 square feet
Wing loading
7.1 pounds/square foot
Useful Load
500 pounds
Payload

(with full fuel)

392 pounds
Height
9 feet
Fuel Capacity
18 gallons
Max Speed
120 mph
Cruise speed
95/100 mph*/**
Stall Speed
36 mph
Rate of climb at gross
1,000/1,400 fpm */**
Takeoff distance at gross
200 feet
Landing distance at gross
250 feet
Notes:
* Variable figures based on use of 80- or 100- hp Rotax 912/912S engine.
** RANS also offers a 116-square-foot wing that changes speeds and climb rates. With a gross weight of 1,200 pounds and cruise speeds of 105/110 mph, this model may also meet light-sport aircraft requirements.