Luscombes and Champs
with a New Lease on Life
Pilots of the world, meet American know-how building American airframes powered by American powerplants. This month, we offer not one but two such airplanes, the Luscombe Silvaire LSA-8, and the American Champion Aircraft Champ.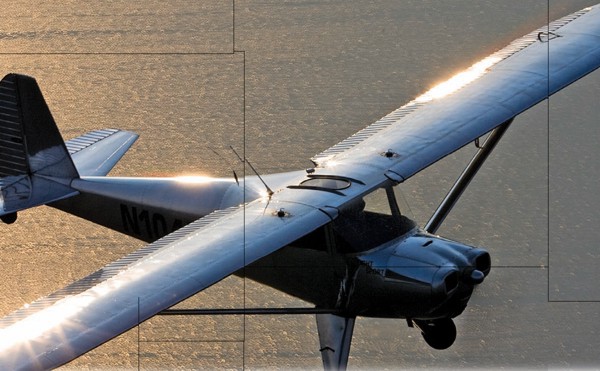 These flying machines offer not only homeland availability but homeland pricing as well. Neither is subject to constant price increases from a soaring euro, and when Europe finalizes acceptance of ASTM
standards (see "Europe, EASA, and Light-Sport Aircraft" page 36), these planes may be a compelling purchase for Europeans. An LSA-8 or Champ might seem downright cheap in Europe (approximately 55,000 euros plus shipping). Globalization works in both directions!
Two-thirds of the approximately 1,270 airplanes in today's current light-sport aircraft (LSA) fleet (as of April
2008) were built overseas, but recent entries by American companies joining the LSA parade could change those numbers. At times of rising LSA import prices and skyrocketing
fuel costs, these are two affordable aircraft Americans ought to consider. The Luscombe Silvaire Company hails from California, at historic Flabob Airport. American Champion, based in Rochester, Wisconsin is a longstanding company that's only a short flight from Oshkosh.
LUSCOMBE NOSTALGIA
Though I've had the privilege of flying more airplanes than most pilots, I'd always heard about but never flown a Luscombe.
"Marvelous handling" is what some knowing pilots would say. "Superb performance," exclaimed others. I didn't experience one for myself until I went flying with Luscombe Silvaire Company President John Dearden. Why did I wait so long? What a terrific little airplane!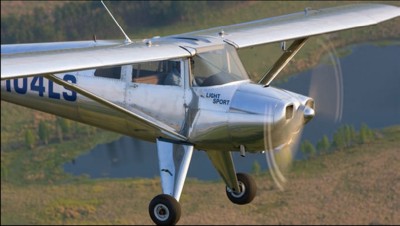 Okay, it's a taildragger, and I know many pilots lack taildragger experience. My first 35 flying hours were in a Citabria, a relative of the Champ, which hints at how long
I've been flying, but if you have only tricycle-gear experience,
you may look at LSA-8's high deck angle and wonder
when your next ground loop might happen. All I can say
is, looks can be deceiving and rumors are often wrong.
With 60 years of history and many thousands of aircraft
produced, Luscombe ranks as one of history's most successful
airframe producers. The maiden flight of Donald
Luscombe's original design was on December 17, 1937.
The first variation to achieve success
was the Silvaire (a name retained by
today's manufacturer). More than
6,000 units were delivered. Most
American pilots know the Model 8
series, 8A through 8F, of which another
1,200 units were delivered. Add
in about 200 four-seat Luscombe Sedans
and two-seat tricycle-gear versions
and you'll tally at least 8,000
Luscombe aircraft.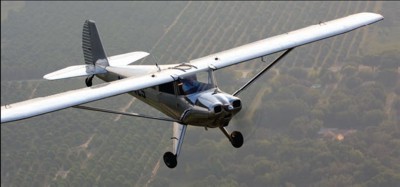 Luscombe Aircraft once built the
predecessor to the LSA-8 at the rate of
23 per day-yes, per day. In 1948, the
company produced 2,700 airplanes
in one calendar year. That high production
rate may have been relatively
short-lived, but it proves that the
tooling that Luscombe Silvaire Company
owns today holds the potential
to build a lot of airplanes.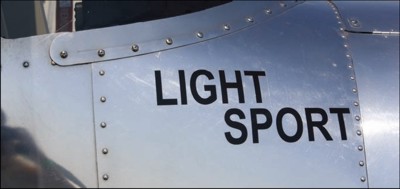 Dearden says his company has
more than a thousand machining
dies, and on my visit to his California
shop, I felt like I saw most of them.
John said that the former factory had
production hours down to about 400
per aircraft when it was pumping out
significant numbers.
Today's Luscombe LSA-8 is built
new to meet ASTM standards, but it
was originally designed and is still
constructed to CAR 4a standard airworthiness
requirements. "Our Light
Sport Luscombe using the 100-hp
Continental O-200A powerplant
matches or exceeds the performance
of the original Luscombe top-of-theline
8F in every way," said Dearden.
While many imported LSA are furiously
building the infrastructure
to support their designs, the LSA-
8 boasts time-proven low-maintenance
requirements. Thousands of
aircraft mechanics are familiar with
Luscombes, and parts are readily
available from the American factory
and other suppliers. With thousands
of the originals still flying after 50
years or more of service, Donald
Luscombe's durable design has an
enviable track record.
FLY MY SHINY AIRPLANE
Finally, after all these years, it was my
time to go aloft in a plane from the
much-storied Luscombe 8 series, specifically the new iteration of it under
sport pilot rules. I was ready.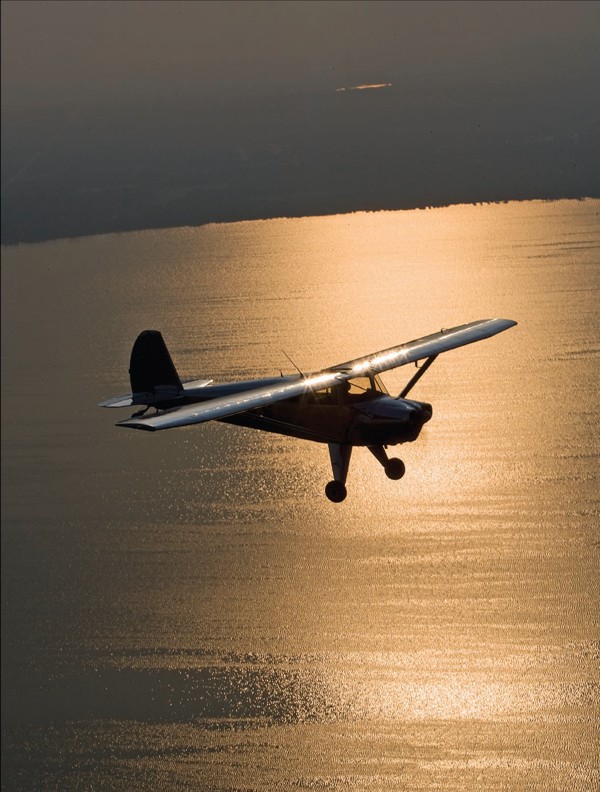 Despite my anticipation, getting in
the aircraft proved a little more challenging
than with some LSA (although
I'm admittedly not as flexible as I was
earlier in my career). The technique
involves putting your hand on the far
seat and your foot on the foot peg.
While leaning well inside the cockpit
you then lift your other leg. After getting
one leg inside, I found the door
opening to be fairly tight; I had to use
my hand to pull in my other leg.
Once inside, you realize this is an
earlier design. The Luscombe LSA-8
has a 39-inch-wide cabin, which is
half an inch narrower than a Cessna
172 and measurably narrower than
most modern special LSA (S-LSA).
Nonetheless, it seemed roomier than
the number suggests, thanks partly
to the fact that neither Dearden nor I
are large men. Perhaps the simple interior
also made the space feel larger.
Fancy interiors are fine, but they take
up space (and add weight).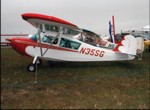 The LSA-8's luggage compartment
is large enough for big bags and has a
75-pound capacity. However, the allaluminum
LSA-8 weighs between 830
and 890 pounds empty, which means
you have to watch weight carefully.
With two larger occupants, you may
have to forgo luggage unless you're
willing to launch with less than the
full 30 gallons of fuel.
I absolutely loved that you can
open the windows at any time. When
you do, a lovely breeze fills the cabin
and your visibility increases. You also
get to hear that Continental O-200 in
operation. A Rotax sounds quite different.
The aircraft's window-latching
mechanism is simple yet secure, so
you feel comfortable opening a window
in flight.
An opened-window Luscombe
might work as a photo platform, and
the great controls of the LSA-8 lend
themselves to accurate flying. John
noted that if you open both windows
you get some buffeting, so if you try
one or the other, you may find one
superior. On a warm summer day, flying
with your arm hanging out the
window is just plain fun.
The flap T-handle located above the
center of the panel has a somewhat unusual
mode of operation, though I had
it figured out by the end of our flight.
You twist the spring-loaded handle
to the right to release the detent and
can then reposition from 0 to 15 to 30
degrees. You have to remember which
way to rotate, and you'll find the twisting
motion easier, John explained, if
you relieve the pressure on the flap surfaces
by first slowing the LSA-8. The design
allows deploying flaps at 90 mph,
but slowing first will make the surfaces
much easier to set. On the plus side of
the handle location, the flap lever is
readily available to either pilot/passenger,
befitting its dual controls.
The trim control is a forward-facing
knob with crank-handle operation
and is less intuitive than the flap lever.
Though clearly labeled-you turn the
knob clockwise, when viewed from the
front, to lower the nose-you'll have to
learn the direction to go without lowering
your vision to read the placard and
mechanical position indicator down
by the knob between the seats. The
LSA-8's trim control gives results, but it
has so little resistance in its movement
that you get no feedback.
However, except for special investigations
such as slow flight or trying
to max out cruise, I didn't use trim
much. The LSA-8's pitch control is
so cooperative that it simply isn't
that big a deal how the trim control
operates. You can largely ignore it if
you wish.
Another pilot observed that the relatively
small trim surface of N104LS,
which appeared to be the original size,
had surface area added. He also noted
that after one landing the surface was
deployed to a good percentage of its
range. Indeed, the trim surface appears
to be relatively small compared
to trim surfaces on more recently designed
aircraft.
Luscombe has a built-in theft deterrent
via the fuel shut-off knob, which
has a removable handle that would
make it much harder for a thief to
supply fuel to the engine.
EASYGOING TAILDRAGGER
Too many pilots look at a taildragger
and conclude they don't have
the experience (or the patience to
acquire the experience) to manage
one. Even with a lot of taildragger
experience, I was uncertain how
the LSA-8 would behave on landing
approach and touchdown. The
fairly steep deck angle led me to
conclude I would need to use the
rudder pedals well to avoid the
dreaded group loop.
Essentially, that impression was
wrong. While you can never ignore
rudder pedals when landing a taildragger,
the LSA-8 proved to be quite
stable to land.
My three landings went well. The
effort was easier, with better results
than expected. The first two landings
were made without any flaps, and
both went exceeding well. I did not
experience the need to dance on the
rudder pedals-that recommended series
of tiny but steady movements to
assure the tail stays behind the nose.
On my third landing using the
full 30 degrees of flaps, I had a much
shorter flare window. I overflared and
overcontrolled a bit, so my touchdown
was less smooth than I preferred
it. Regardless, the LSA-8 set us
down easily.
Once aloft, I was keen to explore
the much-admired handling of the
Luscombe. What I discovered with
my Dutch roll exercise-trying to
keep the ball centered while rotating
on the longitudinal axis-was that
you lead with the ailerons and follow
with the rudders. This is the opposite
of some LSA born out of the ultralight
movement, in which you often
lead with rudders. But most general
aviation pilots will easily understand
the action.
Contrary to some highly evolved
general aviation designs, you must
use the rudders, as the LSA-8 exhibits
significant adverse yaw without using
the foot pedals.
I also explored the LSA-8's behavior
by operating the rudder pedals without
the ailerons. Except for some initial
adverse yaw, the LSA-8 responded
quite well to rudder-only input. Interestingly,
the LSA-8 comes around to
coordinated flight better with rudderonly
input than with aileron-only
input. What this likely illustrates is
that responsive and effective ailerons
such as on the Luscombe LSA-8 cause
the adverse yaw. No matter. The effect
diminishes quickly and is easily
controlled.
I performed 45- to 60-degree bank
steep turns with 2550 rpm from the
100-hp Continental O-200 fourbanger,
and the LSA-8 held altitude
without effort.
John observed that at 2,500 feet
mean sea level in Florida on a warm
day, we flew with the airplane slightly
lean. He suggested 2600 rpm, which
is near full power.
When flying behind the Continental
engine and not a Rotax, I had to
be reminded to pull on some carburetor
heat when reducing power significantly-
for example, when checking
power-off stalls or normal descent
sink rate. Because of a panel ledge just
above the knob, it was a minor challenge
to actuate the carburetor heat,
specifically in pressing the detent button
to pull the knob out.
On a downwind run, we saw 111
knots. The upwind run showed about
98 knots, for an average max cruise
speed of 105 knots or 120 mph. Climb
rate was about 1,000 fpm off the runway
near sea level. It sustained later
at 600 to 800 fpm at about 75 mph
indicated.
My power-off descent with engine
idling (which brings increased disk
drag) showed about 800 fpm. For
comparison, the slowest descending
LSA can achieve 400 fpm or less; a few
descend faster.
WELL-BEHAVED LSA
The pleasure I experienced flying the
LSA-8 with John revolved around
the design's good manners. I figured
performance would be good, and I'd
heard handling was responsive. No
one had mentioned how easy the
Luscombe might be to fly.
Indeed, the LSA-8 is quite accommodating
to those who are new to
the design. I explored the stall and
stability to satisfying results.
Power-on and power-off stalls,
plus accelerated or banking stalls in
both directions, showed no tendency
to stall break. Going into a right accelerated
stall, I noticed only a little
wiggle in the rudder. To the left, the
LSA-8 showed no such tendency. At
most the power-on stall showed a bit
of wandering at the point of highdeck-
angle incipient stall.
Luscombe officials report a full
flap stall of only 44 mph or 38 knots.
Numbers in this low range are hard to
verify with accuracy, but it was easy
to discern that our forward movement
was modest.
When I checked longitudinal stability
by trimming to level and then
disturbing the stick forward, the LSA-
8 approached redline (of 145 mph)
but did not exceed redline without
any adjustment or pressure on the
controls. The plane stabilized after
two-plus oscillations, which is a fairly
quick recovery. I got essentially the
same results when I pulled the stick
aft and released.
Power response was proper and
expected. That is, reducing power resulted
in a dropping nose (that might
exceed redline without pilot input or
trim adjustment). Conversely, adding
power raised the nose, but you
should pay attention to trim if you
wish to release the stick.
REFLECTIONS
"The Luscombe Silvaire Aircraft Company
(LSAC) is dedicated to manufacturing
new production Luscombe
aircraft and to serving the existing
fleet," said John-but LSAC is only
one of two operations serving the
Luscombe community.
Team Luscombe LLC, an affiliate
of Luscombe Silvaire Aircraft, holds
the type certificate (ATC-694) for all
Luscombes ever made. Based in Chandler,
Arizona, it has built a reputation
for its quality restoration and rebuilding
work on Luscombe aircraft. More information
on the company is available
at www.LuscombeHeritage.org.
Dividing the tasks, Team Luscombe
holds FAA parts manufacturing approval
for many new manufactured
parts and can supply serviceable
parts from an inventory built up during
more than a decade of service,
restoration, and parts sales. Fortunately,
though, new original equipment
manufacturer parts will also be
available from the Luscombe Silvaire
Company itself, manufactured using
the original Luscombe factory tooling
and techniques.
I'd come to fly the LSA-8 expecting
good performance and snappy
handling at the cost of stability, but
what I found was a docile, pleasantto-
fly airplane that also happened to
handle nicely and perform well. The
LSA-8 offers quite a nice introduction
to taildragger flying, though proper
training is recommended.
John said the Luscombe had a
reputation for being hard to land or
a handful to fly. When the Luscombe
was first certificated in the 1930s,
many pilots were flying biplanes that
stalled at 20 mph, he said, and the
livelier Luscombe monoplane seemed
like a high-performance airplane. My
experience certainly did not match
the outdated reputation.
The LSA-8 is very much a new airplane,
with the shiny, polished-aluminum
look of aviation's so-called
golden age. And it has an S-LSA airworthiness
certificate to prove it.
With a price tag below $90,000, it
may answer a need for some.
I was charmed in many ways by
the Luscombe-its gleaming, polished-
aluminum surface, the great
handling, zippy yet economical performance,
surprisingly easy landings,
and good old American hardware.
Factor in a reasonable price
and service from people in the United
States, and maybe you could be
charmed, too.
Published in EAA Sport Pilot & Light Sport Aircraft Magazine
| | |
| --- | --- |
| Seating | Two, side by side |
| Empty weight | 830 pounds 1 |
| Gross weight | 1,320 pounds |
| Wingspan | 35 feet |
| Wing area | 140 square feet |
| Wing loading | 9.4 pounds/square foot |
| Useful Load | 490 pounds 1 |
| Length | 22 feet |
| Payload (with full fuel) | 310 pounds 1 |
| Cabin Interior | 39 inches |
| Height | 7 feet |
| Fuel Capacity | 30 gallons |
| Baggage area | Aft of seats, 75 pounds 1 |
| Airworthiness | Certified SLSA |
| Notes: | 1 At base price weight. Optional equipment can boost weight to as much as 890 pounds, reducing useful load and payload accordingly. |
| Standard engine | Continental O-200A |
| Prop Diameter | Two-blade metal |
| Power | 100 hp |
| Power loading | 13.2 pounds/horsepower |
| Cruise speed | 104 to 111 knots/120-128 mph (depending on altitude) |
| Stall Speed (Flaps) | 38 knots/44 mph |
| Never exceed speed | 126 knots/145 mph |
| Rate of climb at gross | 900 fpm |
| Takeoff distance at gross | 500 feet |
| Landing distance at gross | 600 feet |
| Range (powered) | 6 hours (no reserve) 720 statute miles |
| Fuel Consumption | about 5 gph |