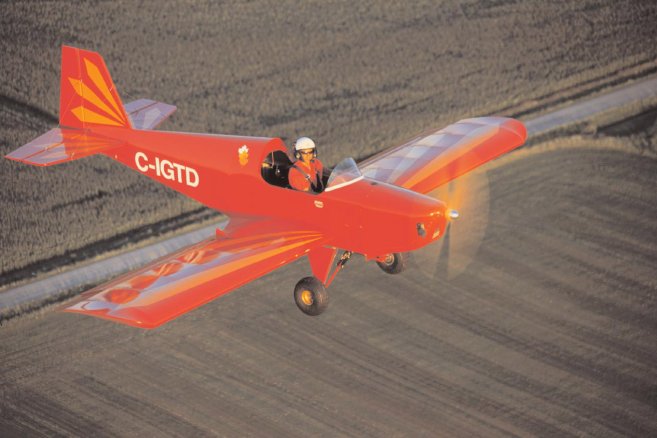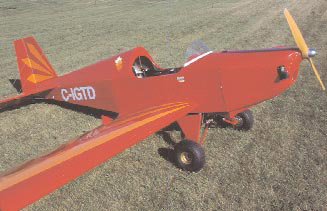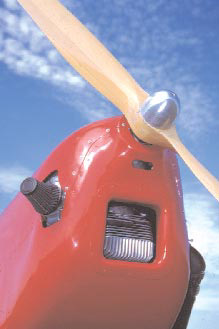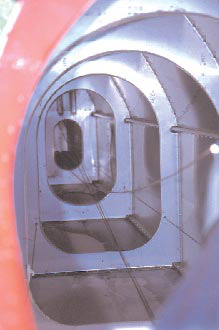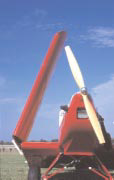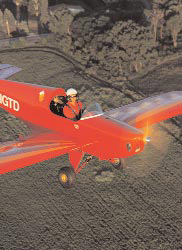 After ever-bigger Rebels, the JDM – 8 is a genuine ultralight
Darryl Murphy's commitment to
small plane design is evident
by the fact that during the
years when Murphy Aircraft Mfg. exhibited
in two locations at various
fly-ins, Darryl frequently was seen
working his company's booth in the
ultralight area. Other Murphy Aircraft
staff members would be working the
Rebel/Super Rebel booth. At the Northwest
EAA Fly-In in Arlington,
Washington, this past summer, that
pattern re-emerged; the boss stayed
with the JDM-8 in the ultralight exhibit
area. In my conversations with
him, he seemed pleased to be presenting
a genuine ultralight again.
Those who know the history of
Murphy Aircraft before the first Rebel
arrived won't be surprised to see the
company marketing an ultralight.
This Canadian manufacturer was an
ultralight company that expanded
into homebuilts and has achieved success
through their Rebel series. The
new single-seat JDM-8—especially
when contrasted with the huge, radialengine-
powered Moose—shows this
company has not forgotten its roots in
ultralight aircraft.
Welcome back to the lighter side of
Darryl Murphy.
From Moose to Ultralight
The JDM-8 is a low-wing monoplane,
and in the tradition of Darryl's later designs,
it's of all-metal construction. Recall
that Murphy's first entry onto the ultralight/
homebuilt scene was the
tube-and-fabric Murphy Renegade biplane,
followed next by the all-metal
Rebel, Super Rebel, and Maverick designs.
Having flown the Renegade, Maverick,
and two models of the Rebel, I keenly followed
the development of the single-seat
ultralight Darryl was creating. The first
version was rather basic and a little crude
in the way of prototypes. It used a wing
covering called Tedlar, the see-through
qualities of which were interesting. But
this material never seemed to strike a
chord with the mainstream.
At the Northwest EAA Fly-In when I
chanced across the latest version of the
design, I was pleased to see it had more
conventional construction and was
painted in the highly finished way typical
of Murphy Aircraft's air show planes.
And, it had its wings folded! That impressed
me for several reasons.
Darryl told me years ago that he does
not like folding wings because he was always
concerned about wings folding in
flight. Yet, here was his new JDM-8 with
that popular feature. In true Murphy
style, Darryl expended special effort in designing
the wing-fold mechanism to
make sure that it would be unlikely that
anyone would ever assemble this aircraft
in a manner that would cause it to fold
up in flight.
"We do not want the JDM-8 to have
an incident," said factory representative
Stephane (pronounced Steh-FAHN)
Marois, "and that's why this design does
not use the rearward-swinging wings often
seen on other aircraft." Instead,
Murphy uses a folding system similar to
Navy carrier aircraft where the wings fold
upward from the wingtip and come to a
point above the canopy. When folded,
the wings are less than 11 feet above the
ground—still low enough for most hangar
doors—and 8 feet wide. This should
equate to lower hangar costs and less
hangar damage to parts, though you'll
want to preflight the hinges with special
care, as they become the outermost extremities
when the JDM-8 is folded.
Folding of the wings is best done with
two persons, as a few parts must be detached.
It will take 10-15 minutes per
wing to fold the JDM-8 into or from its 8-
foot width.
In addition to his conscientiousness
about thoroughly reviewing the folding-wing
mechanism, Stephane was equally
careful to show me the aircraft bolts used
in the elevator and rudder hinges. He employs
a fore and aft motion to reveal if
any elongation is occurring in those
hinges.
Murphy Aircraft uses a clear tape for
gap seals; you can barely see them, but
they close the opening and improve control
efficiency. Stephane, who reports
flying 30 different ultralights, is quite impressed
with the feel and control balance
of Darryl's design.
Murphy powered the JDM-8 with the
Rotax 277 engine to stay within FAA's
Part 103 weight definitions. Darryl describes
the 277 as "half a 503," an apt
enough label that I'd never heard before.
Some buyers are likely to choose
the Rotax 503 for its extra oomph. Those
who want to stay within Part 103's limits
but yearn for more power or twin
cylinders may use the 2si or Zanzottera
engines, both of which boast lower
weight penalties.
Parts to Paint in Two Weeks
Stephane built this evaluation aircraft
at the factory in a mere two weeks,
a reasonably amazing feat, despite long
hours during the fortnight. He located
parts from here and there in the sprawling
Murphy Aircraft plant. And he
admits that he had some assistance
from other employees including Darryl
himself. Despite the ideal working environment
for such a project, I find it an
impressive effort to go from parts to
paint in two weeks' time and then debut
the new machine at the Arlington
air show in July 2002.
Yet, at the same time, the attention to
detail in this aircraft is obvious. For example,
Stephane used waxed cord to secure
the bungee cords for the landing gear suspension.
Normally, builders use the faster
and easier metal clips, but these can cut
into the cords during normal use. The
cord method takes more time and effort,
but some say it helps the bungee system
last longer.
The cowling on this particular JDM-8
was the same one used on the original
Murphy Renegade biplane. It had been
returned to the company and gained new
life after being refitted to the JDM-8.
In fact, the entire JDM-8 I flew employed
parts of other Murphy designs.
Stephane said the landing gear and control
linkages are taken from the Renegade,
and the wings and tail are from the Maverick.
These are parts that buyers can feel
comfortable with based on the long track
record for those other models.
Another reason the fast build was successful
is that the JDM-8's metal
components use the matched-hole system
perfected at Murphy over many years
of kit building. This method virtually
guarantees that the parts will go together
accurately.
In still another example of detail awareness,
Stephane was careful to make me
aware that he had just mic'd (micrometer
measured) the control cable swages to be
positive they had a perfect press. Throughout
the aircraft, the JDM-8 uses
single-swaged nicopressed cable ends—
which is the established industry method.
Despite the fast building time, this isn't
a rushed-together project; the JDM-8
has been developed and refined over a
four-year development period. Though it
borrows from other Murphy designs, the
final JDM-8 design shares only a few
common airframe members with the
Tedlar-covered version shown at Sun 'n
Fun two years ago.
Overall, I found Stephane to be a careful
and thoughtful young fellow. After his
excellent preflight check and preflight review, I had no concerns when I took to
the air solo for the first time in this new
JDM-8 he'd built.
In addition to his building skills,
Stephane is quite an experienced pilot,
having logged lots of time as an instructor
for another Canadian company prior
to joining Darryl Murphy's team, basically
to work on this project.
The preflight Stephane did was arguably
the best inspection I've ever seen
anyone do on an airplane. Of course, he's
the proud papa of this particular aircraft.
(During construction, Stephane slept on a
cot in the Murphy "infirmary," as he didn't
want to spend an hour and a half each
day driving from his home.) He expressed
great satisfaction at working for Darryl. He
says Darryl gives direction and has control
of the operation, but allows enough autonomy
that his employees can exercise
their own abilities and judgment.
Flying on Darryl's
Long Experience
I've had the pleasure to fly several of
Murphy's aircraft, and I cannot think of
one I didn't enjoy thoroughly. When he
offered the JDM-8, I was eager to go aloft.
After Stephane's exacting preflight exam,
I felt ready.
Once I eased myself into the surprisingly
spacious cockpit and fired up the
277, I was ready to go, my tape recorder
at the ready to note my observations for
this report.
My evaluation model JDM-8 has large
tires and wheels with hydraulic brakes set
up for differential action. This is necessary
as the ultralight version has no movable
tail wheel, though the tailskid present on
the aircraft at the Northwest EAA Fly-In
gave way to a tiny skateboard-type wheel
by EAA AirVenture Oshkosh. Murphy explained
that its factory strip is rough
gravel, and a skid is superior to a small
wheel on such a surface.
Soon after leaving the ultralight runway
at EAA AirVenture, I noticed the
windscreen gave good wind protection,
but it created some rumbling noise while
flying. You can elect a slightly taller windscreen
or a full canopy—but not if you
want to remain within the weight limits
of Part 103.
The JDM-8 wanted to nose over rather
convincingly, though sufficiently light
stick forces made it easy to keep the nose
up. When I had examined the aircraft before
the flight, I saw it once had its seat
one bulkhead aft of the current position.
It was moved forward to accommodate
the lighter weight of both the 277 engine
and Stephane's bodyweight. Because I
outweigh Stephane by 20-plus pounds,
this seat location probably accounted for
the JDM-8's tendency to lower the nose.
Larger pilots may prefer the popular
Rotax 503 engine. If so, they'll move the
seat aft one bulkhead—along with the
rudder pedals plus other controls. Any
builder could locate the seat such that the
balance is right for him or her. A controllable
trim could also be added if pilots of
different weight were going to fly your
JDM-8. However, if you want to operate
under Part 103, you'll need to be careful
about any weight additions.
Though Stephane likes a non-locking
throttle, I prefer the opposite, especially
when flying with the Rotax 277 engine,
which I've found can drop from a cruise
setting to 4000 rpm without you noticing
the change. At the lower revolution, the
engine will not sustain the JDM-8 and you
lose altitude, albeit rather slowly. Contrarily,
the slightest forward bump of the
throttle will push the revs back to 5000. I
tried to hold between 5000 and 5500 rpm
on the 277, and anywhere in this range,
the JDM-8 will sustain level flight.
The JDM-8 I flew was fitted with a
cruise prop so it could keep up better with
a Super Rebel in a photo session, but the
two-blade wood prop provided only a
300-fpm climb. Clearly, you'll want more,
but Stephane assured me that a different
prop and different carburetor jetting will
remedy the situation. The current 150 jet
setting would be replaced with a 148 jet
to "significantly boost the power," he
says. The 150 setting was chosen for Arlington,
Washington's, cool air and
proved less than optimal in Oshkosh's
hot and humid summer air.
We postponed my flight of the JDM-8
during the Arlington 2002 fly-in because
Darryl Murphy wasn't adequately satisfied
with the plane. At EAA AirVenture he still
fussed at not having this JDM-8 example
"perfect," but he eventually consented to
let me fly it knowing that most remaining
improvements will be finished before kits
are shipped to customers.
The JDM-8's brakes were very powerful.
You lift your feet to actuate them
(Cessna style), but at first they seemed a
little sensitive for ground steering. However,
it is precisely ground steering that
necessitates brakes this powerful. The tail
wheel is not steerable, so the brakes perform
steering duties. This was done to
keep weight off, but I have to question if
hydraulic brakes in lieu of a steerable tail
wheel is an efficient weight trade-off.
On the lone ultralight runway at
Oshkosh, I landed in a significant left
crosswind, ranging from 45 to 90 degrees
off runway heading. Despite this situation,
I did not employ the usual
corrections of crab or wing down, and yet
the JDM-8 landed very cooperatively. It
was as easy as any aircraft I've ever flown;
so easy it seemed I had help from invisible
hands.
My takeoff was a little more challenging
because of the combined effects of
the uphill (northwest) ultralight runway
and this JDM-8's cruise-propped 277 engine.
Nonetheless, even at 300 fpm, I
never doubted I could climb strongly
enough, though it was obvious that a 503
engine would make quite a performer out
of this design, even with the engine's
added weight.
The airspeed indicator on the JMD-8
was nonfunctional, so I couldn't perform
several of my preferred evaluations. But
based on intuition gained from experience,
the descent rate felt good; it didn't
give me a fall-from-the-sky feeling when I
throttled back.
Murphy's Law
If you do not need or wish to stay
within Part 103's weight limitations, the
JDM-8 would be an excellent performer
with the Rotax 503. You could also use
leaf-spring main gear legs in place of the
bungee cord suspension, and you could
have a full canopy in lieu of the opencockpit
version, though many pilots will
prefer a partial enclosure that still allows
you to smell and feel the air.
Builders may also choose to shorten
the wing for faster cruising by taking out
one bay. The wing was designed with this
in mind. You can alter the wing one bay
inside of the curved tip where two ribs are
placed back to back with this alteration in
mind. This change would move the
wingtip in to the outside edge of the
aileron, doing away with the flaps and
thus giving the wing a fixed trailing edge.
Having made these alterations, Murphy
says with confidence that the JDM-8
could be transformed "from a Part 103 ultralight
to a kit-built aircraft capable of
110 mph."
The important aspect of the transformation
described above is that the JDM-8
design suddenly appears very versatile,
able to serve many pilots who enjoy single-
place aircraft. Nonetheless, I wish to
observe—for the umpteenth time—that
the lighter ultralights are, the more they
fly like true ultralights. The JDM-8 with
the Rotax 277 meets this description of a
light, responsive ultralight with slowspeed
charm.
The ultralight model JDM-8 grosses at
485 pounds with an empty weight of 250-
254 pounds, depending on the precision
of the builder. If you wish to build an Nnumbered
JDM-8, its shortened-wing
structure can handle a 700-pound gross
weight while the empty weight climbs to
300-400 pounds. Murphy Aircraft also
states the airframe can accommodate an
80-horsepower engine, suggesting the Rotax
912 for those with the extra cash and
a desire for a more conventional aircraft.
The heavier JDM-8 has a 4-foot shorter
wingspan and 20 square feet less wing
area, and in this configuration achieves
nearly a ±6g rating.
From genuine ultralight to perhaps a
potent and speedy light-sport aircraft
under the proposed sport pilot rule,
Murphy's JDM-8 is a dandy new entry
that deserves your attention. And, it's
reasonably priced. The basic airframe kit,
firewall back, lists at just under $7,000.
Engine options include the Rotax 277,
503, and 912, or the 28-hp Hirth F-33
engine. Murphy aircraft offers engine
mount and cowling packages for all options.
Though I've enjoyed every
Murphy design I've flown, this one is far
and away my favorite. Maybe it can satisfy
you as well.
Published in Experimenter Magazine
Seating
1
Empty weight
250-254/300-400 pounds
Gross weight
485/700 pounds
Wingspan
24/20 feet
Wing area
120/100 square feet
Wing loading
4.0/up to 7.0 pounds per square foot
Width
(wings folded) 8 feet
Height
(wings folded) 10.75 feet
Fuel Capacity
5/20 gallons
Standard engine
Rotax 277
Power
25-30/up to 80 hp
Power loading
17.3*/8.75 pounds/hp
Max Speed
63/110 mph
Cruise speed
40-60/45-100 mph
Stall Speed
26/34 mph
Rate of climb at gross
600/1,000 fpm
Takeoff distance at gross
200/100 feet**
Landing distance at gross
150/200 feet***
Range (powered)
125/400 miles
Notes:
*Assuming Rotax 277 engine at 28 horsepower.

**Assuming 28/80 horsepower.

***Assuming 485/700 pounds gross weight.