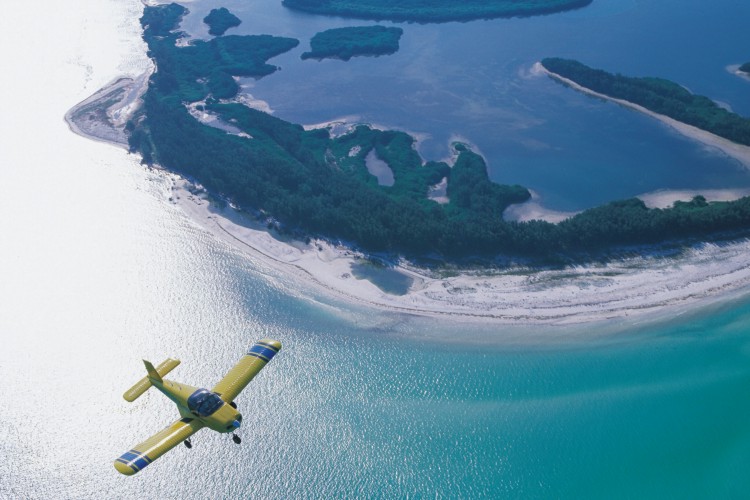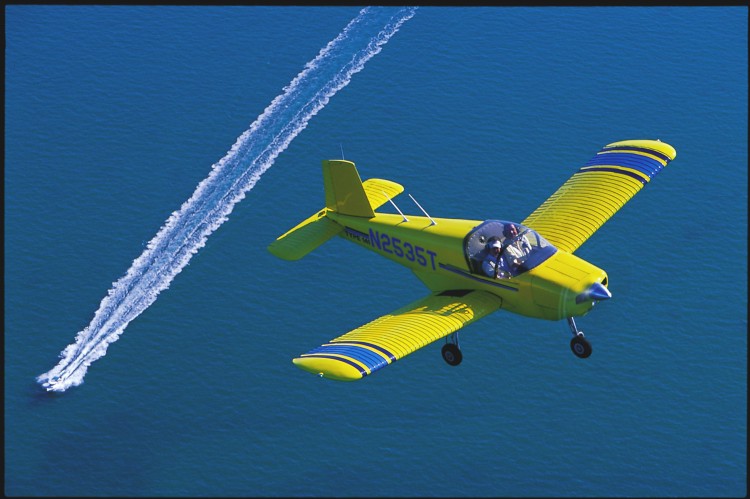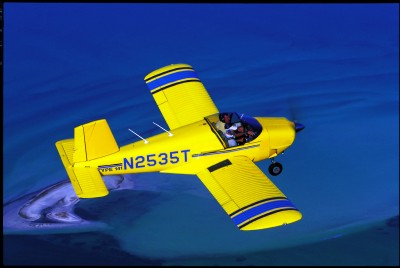 All Revved and Everywhere to Go
This vintage design with a big Jabiru engine is an impressive performer.
Since its reintroduction to the aviation community by IndUS Aviation, John Thorp's T-211 is generating more attention than at any time since he first designed the airplane.
While John worked on large aircraft, like the Navy patrol bomber P2V Neptune, he focused most of his career on small, sporty aircraft. He began designing a two-place light aircraft in the 1930s. By the 1950s his T-10 Sky Skooter powered by a 50-hp Franklin 2AC-99 engine evolved into the T-111 with a 75-hp Lycoming engine. Later it became the T-211, with a Continental O-200. It is this last version of the T-211 that IndUS now offers as a standard category aircraft. IndUS is also planning to offer the model as a light-sport aircraft (LSA) with a Jabiru 3300 engine, affectionately named the Thorpedo for its improved performance.
The T-211 was actually the design predecessor to the Piper Cherokee, which has gone on to have an amazing success story. However, the attractive little twoseat T-211 didn't fare well on its own. The design went through several ownership changes, the last of which saw it leave the United States for England. None of these ventures were particularly successful, and the T-211 languished.
IndUS Aviation
Good news for the design arrived by way of Ram Pattisapu and IndUS Aviation based in Dallas, Texas. Ram is Indian by birth, but has lived in the United States for nearly 35 years. He was a surgeon for many years and owned several aircraft, but the siren's call of aviation as a business opportunity caught his attention, and Ram traded his stethoscope and charts for a headset and logbook.
Ram has struck a manufacturing deal with Taneja Aerospace and Aviation Limited (TAAL) to produce the T-211. Located in India, TAAL offers manufacturing cost advantages and opens the door to sales in the second most populated country on Earth. Ram has plans for an aviation showroom in India, and he attended the Aero India 2005 show in February to stimulate interest. Two certificated T-211s have already been fully produced in India. While we may think of India as a poor country, many entrepreneurs, businesspeople, and government agencies in that country are prospects for the T-211.
To make sure the T-211 will fully meet LSA requirements, Ram has attended nearly every ASTM consensus standards development meeting. (Recall that special LSA and experimental LSA, other than transitioning ultralights, must be built and maintained according to the FAA-mandated consensus standards.) The T-211 will have few problems meeting those requirements, as it's already certificated to CAR 3 standards with the O-200 engine, but to accommodate alterations such as the installation of the Jabiru engine, LSA approval will be necessary for those who want fully built special LSAs.
Scott Severen, formerly the CEO of TEAM Aircraft of miniMAX fame, is the company's sales and marketing director. A hang glider pilot who also flies ultralights and general aviation aircraft, Scott brings a wealth of aviation experience to the IndUS Aviation team.
A Tale of Two Pilots
One of the beauties of the sport pilot rule is the variety of aircraft that a sport pilot can fly. However, the many choices complicate the decision-making process.
At the U.S. Sport Aviation Expo held in Sebring, Florida, in late October, I made a couple of presentations on what to consider when buying an LSA. While my first session early in the weekend was nearly full, only two pilots attended my end-of-event talk. Rather than run my usual computer presentation, the two men and I visited informally.
We talked about their aviation backgrounds- both had been general aviation (GA) pilots, and each had some experience with ultralights and liked the low-and-slow experience these aircraft represent. Each was an older gentleman (that is, a few years older than me!), and while neither currently had trouble maintaining their airman's medical, they both realized the future might be different, so flying a sport pilot-eligible aircraft was important to them.
We talked about many light aircraft, discussing performance, cost, design background, entry and exit, longevity, maintenance, and a raft of personal preferences. As we neared the end of my one-hour time slot, it was clear that both these men were ripe candidates for the Thorp T-211. Both were intrigued by the Thorpedo, with its extra power and performance, but if they go the T-211 route, they'll likely each end up with the Continental-powered T-211 as it retains its CAR 3 certification (the predecessor to FAR Part 23). While these men don't represent the only candidates for a Thorpedo or T-211, they do show that this aircraft is one that can satisfy a variety of interests and demands. For example, I like open-cockpit flying. I like to smell the air and feel the warm breezes|in the right climates. However, other pilots don't like the wind or the noise of an open cockpit. The T-211/Thorpedo lets you go both ways. The canopy can be opened or closed any time in flight. I actually found it easier to close than to open, though both are one-handed operations.
Meet the Thorpedo
At the U.S. Sport Aviation Expo, I had the opportunity to fly the Jabirupowered Thorpedo. For the first time in our 20 years of acquaintance, Scott and I were able to occupy the same cockpit as he joined me on this test flight.
In an earlier T-211 flight behind a Continental O-200, I found the takeoff roll long and the climb rate rather uninspiring. Many GA pilots may not see it the same way because they may be used to tamer performance, but I prefer ultralights and LSAs that like to jump off the ground. The Thorpedo with the sixcylinder, 120-hp Jabiru 3300 gave me a whole new impression of the design. It enthusiastically leaves the ground in only 350 feet of roll and can climb better than 1,000 fpm.
I measured a climb rate over a three-minute window on a day with 85°F temperatures near sea level. The Thorpedo averaged 833 fpm with an initial climb rate better than 1,000 fpm. We achieved this at about 100 pounds under the maximum gross of 1,270 pounds, Scott calculated.
The big Jabiru engine ran smoothly, suggesting that IndUS mechanics have done a good job with the installation of this engine, but it also speaks to the design of the Australian-built engine.
The Jabiru 3300 likes to run at 2700 rpm; however, prop choice is always a factor in such a number. Maximum continuous revolution is 3100, and the prop on the Thorpedo that I flew in Sebring had a fairly aggressive pitch. IndUS Aviation has since changed the pitch and is now getting a higher prop speed, resulting in improved climb and cruise.
The Jabiru USA representatives say that the engine prefers to run in the 2700-rpm range or higher. Yet without referring to the tachometer, I naturally gravitated to about 2500 rpm as I listened to the engine. Scott said that setting offers an economical flying speed, burning about 4.5 gph and "never more than 7 gph." Given the aircraft's 21-gallon fuel tanks-the same as a Cessna 150-the Thorpedo can run longer than four hours, during which time it can cover around 500 miles. Even with the throttle firewalled, the Thorpedo can stay aloft for three hours, covering almost the same distance in less time.
Maximum full-power, level flight speed was a few notches slower than 130 mph (about 113 knots). IndUS believes it can coax a bit more speed from the Thorpedo. Scott said IndUS might push the design to 120 knots, the speed limit under the SP/LSA rule. An obvious way to achieve this would be the addition of wheelpants to reduce drag, but a more subtle solution that will achieve beneficial results involves adding a small fairing at the trailing end of the canopy where an inch gap generates a bit of drag.
The plane stalls at just faster than 50 mph, achieving a respectable speed range with a 2.5-to-1 low-to-high speed ratio.
Sky Skootin' Sweetheart
The Thorpedo's performance numbers are fine, but a more subjective quality of any airplane is its handling. In this area, the Thorpedo has few peers. In every flight maneuver I practiced, the plane was well behaved. Dutch roll coordination exercises, turns to headings, and climbing or descending turns all were highly predictable. Experts and novices alike will be assured by the surefooted ways of the T-211.
The Thorpedo did nice steep turns. I performed 60-degree steep turns and found it easy to keep the ball coordinated. Not much back stick was required to hold altitude. Adverse yaw was minimal for the required stick inputs.
As we left cruise altitude, I measured the descent rate at 700 fpm over a twominute timed descent.
Returning to the Sebring Regional Airport for some touch-and-goes, I tended to fly the Thorpedo too much like an ultralight. I raised the nose too high on the flare-out and ended up plopping the airplane on the ground two out of three times. Most of this was caused by a lack of familiarity with the airplane and some personal preference for high-wing landing characteristics. Regardless of my clumsiness, the gear absorbed the load as though it were nothing. Instructors will love this airplane as much as their students do.
On our first go-around, as we retracted flaps-which you hardly need for landing or takeoff-rotation behind the Jabiru 3300 came at 50 knots indicated airspeed (IAS). Coming back in for my second touch-and-go, Scott advised me not to approach slower than 70 knots. This provides an extra margin of energy when you get low over the runway. Sure enough, my touchdowns improved. I'd been flying too slowly earlier.
The best landing technique in this aircraft is to approach at 80 knots (92 mph), slow to 70 knots (81 mph) on short final, and drop the speed to less than 52 knots (60 mph) as appropriate over the runway. All this has little to do with the engine and more to do with the wing design. At 12-pounds-persquare- foot wing loading, the Thorpedo is substantially more heavily loaded than the lightest ultralights.
Standard Category or LSA
The T-211 is a standard category design with full FAA certification under the CAR 3 program of the 1940s and '50s. When delivered as a certificated aircraft, the T-211 must be powered by a 100-hp Continental engine. As a CAR 3-certificated aircraft, it can be compared to an Aeronca Chief, which has a nearly identical gross weight. However, comparing the Thorpedo to the Chief shows some significant differences. The Thorpedo has 20 extra horses and weighs 150 pounds less, causing it to perform better yet not use more fuel. The Chief climbs at a little faster than 400 fpm, as does the T-211 with the same engine, while the Thorpedo can climb more than twice as fast. The Chief may be available at lower prices, but you have to be careful not to buy an older airplane with a problem history. With a Thorpedo, the plane will be brand new.
Maintenance differences also separate the three aircraft. The certificated T-211 and Aeronca Chief remain standard category aircraft; therefore, the annual inspection must be conducted by an airframe and powerplant (A&P) mechanic. Because the Thorpedo uses the not-certificated Jabiru engine, it must, at present, be built as an amateurbuilt aircraft (that is, from a 51-percent kit). In that scenario the builder can obtain a repairman's certificate and do the annual condition inspection.
After the FAA issues its Notice of Availability (NOA) for the ASTM consensus standards, Thorpedo will be available as an LSA either as an experimental LSA (E-LSA)-that is, a more-than-51- percent complete kit-or as a ready-tofly special LSA (S-LSA). Assembled as an E-LSA, the owner/builder can obtain a light-sport repairman's certificate with an inspection rating after attending a 16-hour course. Sold as an S-LSA, the Thorpedo must be inspected by a lightsport repairman with a maintenance rating (acquired by attending an 120- hour course).
You can build the Thorpedo as a 51-percent kit under IndUS Aviation's Rapid Fire Program and get into the air in a new airplane for about $66,000, with engine, prop, instruments, paint, and interior. Upcoming price changes will reflect a longer equipment list, but the company currently has special offers it would like to present.
A Thorpedo S-LSA is expected to cost about $80,000, said IndUS Aviation, while the Continental-powered certificated T-211 will sell for $96,000. In my mind, the $16,000 savings with the S-LSA version provides a more enjoyable airplane.
Choose from the 51-percent kit, an E-LSA, S-LSA, or the standard category T-211-any one will make you happy, and the wide price range of these models will help the plane fit many budgets. That's what makes this aircraft so interesting; you can get exactly what you want. Even though it's a 50-year-old design, it's a sweet and enjoyable plane to fly.
Published in EAA Sport Pilot & Light Sport Aircraft Magazine
| | |
| --- | --- |
| Seating | 2, side-by-side |
| Empty weight | 650 pounds |
| Gross weight | 1,270 pounds |
| Wingspan | 25 feet |
| Wing area | 104.6 square feet |
| Wing loading | 12.1 pounds/square foot |
| Length | 18.25 feet |
| Cabin Interior | 40 inches |
| Height | 6.3 |
| Fuel Capacity | 21 gallons |
| Baggage area | hat rack, 40 pounds |
| Airworthiness | Certified SLSA |
| Standard engine | Jabiru 3300, six cylinder |
| Power | 120 hp |
| Power loading | 10.6 pounds/hp |
| Max Speed | 132 mph |
| Cruise speed | 100-120 mph |
| Stall Speed | 52 mph |
| Never exceed speed | 156 mph |
| Rate of climb at gross | 1,020 fpm |
| Service Ceiling | 15,300 feet |
| Takeoff distance at gross | 350 feet |
| Landing distance at gross | 400 feet |
| Range (powered) | 460 miles (4 hours) |
| Fuel Consumption | 5.0 gph |