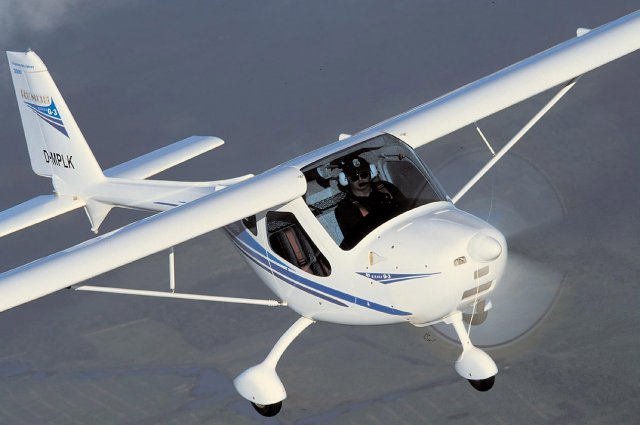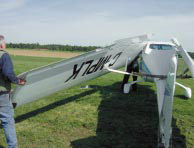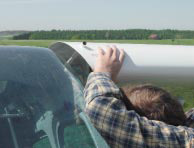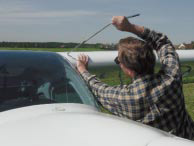 "White, composite, and from overseas"…was a theme
of EAA AirVenture Oshkosh 2002 in the ultralight/lightplane
area. I've already congratulated Experimenter
Editor Mary Jones and Art Director Pierre Kotze on the
October issue's beautiful layout of the aircraft from
afar, which may become near and dear to Yankee pilots.
This month,
I'd like to introduce
you
to one of the
new flock of white, composite,
and overseas aircraft—Remos Aircraft's
G-3 Mirage.
For the second EAA AirVenture
Oshkosh in a row, I was delighted to
fly with Allistair Wilson, an Irishman
now residing in the United States.
Like last year, he is working with Rob
Rollison and the Rollison Light Sport
Aircraft Inc., based in Bloomfield, Indiana.
Last year, Allistair and I flew
in the Flight Designs CT. This year it
was the Remos G-3. Both are white,
composite, and from overseas. The
trend is real!
The Factory and People
In addition to flying with Allistair
at AirVenture, I also chanced to meet
the G-3 Mirage designer, Lorenz Kreitmayr,
at a French ultralight show
called Blois (the town it's near).
Lorenz is an inspiring fellow. He has
created such a beautiful aircraft (as
well as a dashing low wing to come
next April), yet he is confined to a
motorized wheelchair and requires
assistance with basic tasks. A great attitude
shows in a wide smile and an
intimate command of aircraft design
knowledge. Did I mention he speaks
English fluently? He's a remarkable
gentleman; meeting him helped explain
the Mirage.
The Remos G-3 Mirage is an unusual
aircraft—at least as compared to
most American designs—in that it has
a superlative glide angle and low sink
rate. Europeans who often start flying in sailplanes may take such performance
in stride, but a 17:1 glide and descent in
the 350 fpm range are close to double
the U.S. powered light aircraft standard.
The aircraft uses its sleek composite
curves efficiently and has enough wing
area to keep stalls below 40 mph. With
its weight dimensions and speed range,
the G-3 Mirage is ready to fly when the
light-sport aircraft category emerges.
Rob Rollison, the U.S. importer, has
logged a few vigorous years of seeking
out just the right international aircraft to
sell in the United States. He seems to
have settled on a fleet of Pegasus trikes,
the German-built Ikarus C-42, and the
German-designed, Polish-fabricated, German-
assembled Remos G-3 Mirage. From
the deluxe Pegasus line, you step up in
price until the Mirage at the top of the
stack. Rob has learned a few lessons and
has chosen his offerings well in my estimation.
Hitting the Highlights
Because Rob is a successful light aircraft
seller in a challenging market, it
makes sense to ask him for the highlights
of the Mirage. He ticks off a few things
that he believes distinguish the G-3:
• carbon-fiber construction (not mere
Fiberglas)
• folding wings (for transport or for storing
aircraft in tight spaces)
• wide, roomy cockpit (cockpit width—
46.8 inches)
• comfortable adjustable seats, with fourpoint
shoulder harnesses
• powerful Rotax 912S, 100-hp, fourcylinder,
four-stroke engine
• stainless steel exhaust with aftermuffler
for additional noise reduction
• cabin heater, special ventilation system,
and pop-out vents on both door
windows
• exceptional visibility with tinted windscreens
made of special aircraft-optical
acrylic
• large skylight
• gull-wing doors that are quick-removable
for flying without doors; the
Mirage can be flown with the doors
open in flight (up to 65 mph)
• manual flaps and electric elevator trim
• fuel filler cap conveniently located (no
climbing on ladders necessary)
• the Remos G-3 Mirage is a factory-built
aircraft, test-flown in Germany, and
again in the United States, and delivered
ready-to-fly!
To Rob's list, I want to add a few observations
of my own.
The Mirage features a clean looking,
single strut construction with a single
jury strut. Such simplicity nonetheless
passes German regulations for ultralights
and no doubt helps with the wing folding
mechanism. American buyers have
longed embraced folding wings; Kreitmayr
designed an elegant system. Folding
the wings takes two people about 15 minutes;
the process goes like this:
1) A small fairing at the base of the
rudder allows you access to the quick-release
linkage for the elevator controls. (As
a point of interest this fairing is removable,
and you can install a glider towing
release mechanism.) Then two large pins
on either side of the vertical, secured by a
safety pin, are removed, and you can detach
the entire horizontal surface.
2) Next, you move inside the cockpit
where you remove more pins to unlink
the aileron controls. Back outside, at the
fuselage/wing leading edge junction, you
pull out a large pin on each side.
3) At this time you pull out on the
wing slightly, which allows access to the
quick-release pins that secure the flap
controls.
4) The struts have a rotating ball joint
that allows the strut and jury strut to stay
on while you fold each wing aft.
5) Finally an extra piece of hardware
fits over the tail boom and supports the
wings in storage.
Other Fine Touches
The Mirage's electric elevator trim linkage
functions in a slot on the bottom of
the elevator but is smooth on the top. Total
movement is only about a quarter
inch. It's another of those sophisticated
techniques that shows good forethought
and helps to justify the price tag.
The Mirage's cut-out center of the elevator
is not for rudder movement as you
might think. Instead, it's done to accommodate
the glider towing function the
Mirage sometimes serves. In Europe,
glider flying is four times as big as it is in
America, so being fit for such duty makes
the Mirage a better value.
Though the engine is quite tightly
cowled, an opening in the front serves
the radiator. Inside the curvaceous cowling,
the Remos shoehorns a Rotax 912
and all its components.
The G-3 Mirage's wings are of carbon
fiber construction with fabric on the aft
two thirds. This genuinely composite
method helps keep the aircraft lighter
and, in turn, helps create the long glide
and slow sink performance. The aircraft
fuselage and wings are built in Poland
with the final assembly done in the southern
Bavarian region of Germany.
A little vertical ventral fin—on the
lower side of the tail—has a small wheel
smoothly built into the structure. It's yet
another of the many nice touches that
Kreitmayr included in his work.
One Deluxe Cabin Environment
The G-3 Mirage has enough features
and appointments that you have to consider
them in a pattern.
After getting in, I noted the locked
parking brake, which is housed in the
center console. The device involves a hydraulic
brake lever with a red knob just aft
of the lever and its hydraulic reservoir. You prime the system by pushing forward
on the brake lever. When you twist
the T-handled brake lever to the right, to
the three o'clock position, you set the
park brake. It's more complicated to explain
than to do.
Just in front of the hand brake lever is
another right-twisting knob, the fuel cutoff.
Logically, it should be in the forward
position for "go."
A fairly small storage area for an
overnight bag is behind the left side seat.
Kreitmayr also provided some small nylon
net stash areas located on the
backside of each seat. In addition, you
also have map pockets located in the
doors and some additional storage area
can be found under the seats. No space is
wasted.
The cabin provides full dual controls,
which makes it useful for flight training.
Each control stick has a push-to-talk
switch. One Mirage owner, a former German
jet pilot, has logged 1,500 hours and
8,000 landings in flight school operations
using a G-3.
In front of the brake control handle in
our test aircraft were four colored knobs
under the key switch control—fresh air
(blue/lower left), cabin heat (red/lower
right), carb heat (yellow/top right), and
choke (green/top left). Above the key
switch is a series of electric switches, the
largest one being the master switch.
Something you rarely see on American
designs are removable doors. A
large red knob just to the side of either
pilot's head provides a quick release for
the doors, facilitating easy removal.
You can fly this aircraft with the doors
off, and this quick release also addresses
emergency situations.
Oshkosh can be a hot place when Air-
Venture happens. One nice touch for
such warm days is a system of air vents
consisting of no less than five openings.
A NACA inlet on the right side of the
fuselage supplies the air to all. Some of
the outlets are at the base of the windscreen,
modeled after defroster vents on
cars. Others are airliner-type movable air
vents on each end of the control panel,
plus openings in the side windows.
As I said above, you can remove the
doors or fly with them open (below 65
mph), but if you have the doors on, you
want them to be secure. Mirage's door
hold latch asks you to pull down on a pin
system, holding the door as you do so.
Once seated, moving a knob forward located
at your knee pushes down three
pins to fix and lock the door. One angles
forward into the fuselage, one down, and
one aft to firmly secure the door.
When it's time to exit, as you lift the
door to the gull-wing position, you push
a latch pin up into a dimpled catch. It
works slickly and holds the door open as
you unload. These special fittings are also
able to fix the doors open in flight, within
the speed limitation. Once you're ready
to put the Mirage away, you can use a
pickproof lock and key to secure your
valuables.
One more nice touch is a fueling port
on the right rear of the body (just above
the word Remos on the airplane used for
this evaluation—DMPLK). You won't
have to stand on a ladder to fuel the high
wing design.
The Remos G-3 Mirage is a ripe candidate
for the proposed light-sport aircraft
category, assuming it will also be able to
meet the consensus standards. It is conventional
in its general shape and
handling and can be operated the same
way lots of general aviation pilots fly
their Cessnas and Pipers. However, Mirage
also has ultralight-like characteristics
with fast takeoffs, steep climbs, and great
performance-per-cost ratio. And, it pegs
high on the fun meter!
Our Flight
Of two possible flap notches, Allistair
preferred to use one notch for takeoff
from AirVenture's "down-on-the-farm"
ultralight runway. The two settings available
are at 15 and 30 degrees.
Once into the crowded ultralight pattern,
Allistair and I kept our eyes peeled
for conflicting traffic. The Mirage's excellent
lateral and forward visibility helped.
It also has a skylight window, though it is
further aft to make room for the spar. The
skylight provides good in-turn visibility
to the opposite side on which you are
seated. To your own side, visibility in
turns is restricted.
Our test Mirage had a 100-hp 912S engine
installed, but you can elect the
80-hp model and save a few dollars
(though not enough to be worth it, in my opinion). This particular aircraft also used
a combination wood and composite
prop.
High-speed cruise appears to be 120
mph. The Mirage has a good speed range
from its stall below 40 mph, but according
to Allistair, 110 mph will produce a
very comfortable cruise. He ought to
know having flown the aircraft from
southern Indiana to participate in the big
show.
With the flaps up and throttle at just
over 5,000 rpm, I flew the Mirage with
the ASI indicating 115 mph airspeed at
about 1,400 MSL.
Steep turns required no back pressure.
If I pulled aft in such turns, I simply
climbed even when the maneuver was
done at a medium power setting. No
push of the throttle was required—as is
necessary in most aircraft—indicating an
efficient airfoil.
For all of Mirage's virtues, I did experience
some initial challenge keeping the
ball centered. The G-3 tended to drift off
to the left side, and I felt like it needed
some opposite control when turning that
direction. Both Allistair and I felt this
might be because of the torque from the
larger Rotax 912 powerplant.
One of the most amazing discoveries
came when I recorded a 300-350 fpm descent
rate at about 70 mph. The Mirage
has a most impressive sink rate that beats
most ultralights or general aviation airplanes
I've flown. Allistair indicates the
glide is an equally impressive 17:1. While
I had no way to verify that fact, the Mirage
certainly didn't want to come out of
the sky and appeared to substantiate a
flat glide.
Allistair demonstrated slow flight with
full flaps, 3,800 rpm, and 60 mph, which
felt very solid. He agreed that the Mirage
does get a little soft in control at 55-60
mph, but it still has plenty of roll control.
When I took the controls, I could hardly
note the softness; the Mirage retains
enough authority even at 50 mph to be
fully controllable in a low-wind approach.
One thing I enjoyed as Allistair and I
switched taking control was the genuinely
full nature of the dual controls.
For example, both seats have a left side
throttle allowing pilots to keep their right
hand on the joystick.
The trim lever was mounted on the
joystick of this Mirage; logically, you
move the switch forward for nose down
and back for up. The trim control operates
a surface only on the left elevator.
Just above the VSI on the left side of the
panel is a small, white dial that shows the
trim position, yet another nice touch.
As we reentered AirVenture's ultralight
pattern, I turned the controls back
over to Allistair. Maintaining one notch
of flaps down, Allistair was able to hold
75 mph easily; we had slower traffic
ahead of us in the crowded pattern. Out
in the free flying area, I'd been able to
back off the throttle to about 3,500 rpm
and hold 60 mph, good for times when
you need a slow-flight operation.
The Mirage's long glide made for a
challenging landing when it came time
to put it down. The range of speeds
among the intermixed aircraft can be
wide, and sometimes you have to improvise
in order to fit in the procession. We
landed long and Allistair got on the
brakes quite aggressively. Thanks to some
throttle creep he went further than he
planned, eventually killing the engine on
the far end of the 1,400-foot strip to
come to a complete stop. Despite our
speedy touchdown, the Mirage's composite
landing gear felt very supportive.
Waiting on Sport Pilot
One of the vexing problems right now
in the light aircraft industry is that many
buyers are sitting on the fence waiting to
see if/when the proposed sport
pilot/light-sport aircraft rule will pass. In some sense, that's wasted
flying hours.
If/when the rule passes,
aircraft like the G-3 Mirage
will be candidates for your
airplane-buying dollars.
But you have a number of
purchase choices today for
aircraft that should qualify
when the new rule is final.
Nearly every kit-built
model from the major light
aircraft manufacturers
could eventually qualify as
a light-sport aircraft (if the
manufacturer is willing to go through the
process of verifying that the aircraft meets
the yet-to-be finalized consensus standard).
The rule will allow both kits and
fully built aircraft. Thus, while it's nice to
dream about buying a ready-to-fly aircraft
like this G-3 Mirage, you needn't put
your plans on hold while FAA sorts out
the rule. In addition, there is quite a
range of legal Part-103 models you can
buy that will not be affected by the rule.
That said, most pilots I talk to like the
idea of fully factory-built aircraft. If this is
your preference, Remos makes one aircraft
you should consider carefully. At
$64,950, the Mirage is one of the higherend
choices, but it's also one of the
higher-end offerings. Rollison Light Sport
Aircraft's Ikarus C-42, at $22,000 less, is
an example of a much more moderately
priced offering. (Editor's Note: We'll ask
Dan to review that aircraft in another article
in the coming months…M.J.)
Standard equipment on the Remos G-
3 Mirage includes an airspeed
indicator, vertical
speed indicator, precision
20,000-foot altimeter, compass,
slip indicator, electric
fuel gauge, and Rotax Fly-
Dat digital engine
monitoring system (which
provides tachometer, water
temperature, four EGT temperatures,
oil pressure, and
oil temperature).
Mirage is so deluxe that
you can't choose from many
options. However, Rob is a
strong promoter of emergency parachutes
and says the Mirage is "set up for easy installation
of the optional BRS aircraft
recovery system."
As of AirVenture 2002, Rollison Light
Sport Aircraft reports that 112 Mirages are
flying in Europe. That number is bound
to grow when FAA releases their new rule.
If it fits your pocketbook, I feel very
confident in saying one flight in a Mirage
will make you ready to part with
your cash.
Published in Experimenter Magazine
Seating
2-place, side-by-side
Empty weight
625 pounds
Gross weight
1,232 pounds**
Wingspan
32.3 feet
Wing area
131 square feet
Wing loading
9.4 pounds per sq. foot
Length
21.4 feet
Height
6.5 feet*
Fuel Capacity
18.2 gallons
Airworthiness
Certified SLSA
Notes:
* With wings folded, height is 5.5 feet.
**Final gross weight is pending issuance of the light-sport aircraft rule. Performance Max cruise speed 130 mph Max level speed 142 mph Stall speed 38 mph Max rate of climb 1,300 fpm.
Power
100 hp
Power loading
12.3 pounds per hp
Max Speed
142 mph
Cruise speed
130 mph
Economy Cruise
2.9 gph
Stall Speed
38 mph
Rate of climb at gross
1,300 fmp***
Takeoff distance at gross
200 feet
Landing distance at gross
350 feet
Range (powered)
over 600 miles
Notes:
*** With fixed-pitch prop as required by the sport pilot proposal.