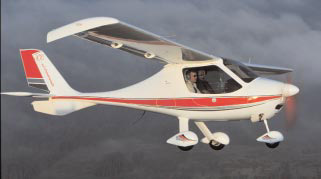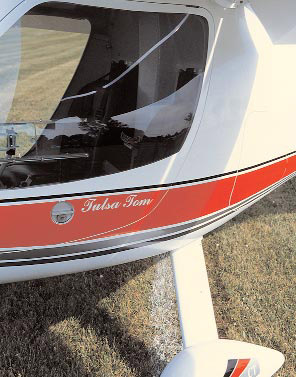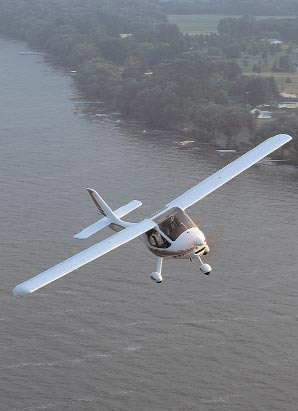 A Bold Yet Efficient Euro-Designed Light-Sport Aircraft
Flightstar imports the CT2K in anticipation of the light-sport aircraft rule.
As FAA's proposed light-sport aircraft
rule looms ever closer, one
of the first aircraft that will likely
fit the field and be recognized by American
pilots is Germany's CT. For the U.S.
market, and with a nod to the new millennium,
producer Flight Designs has
renamed the model as the CT2K.
"CT" stands for Composite Twoseater.
It is certainly not alone in being
"white, glass, and built overseas," a
theme that emerged at EAA AirVenture
Oshkosh 2002. But the design was a
leader in the move from tube-and-rag
ultralights to the modern microlights of
Europe. And it distinguishes itself in a
number of ways that we'll explore in
this review.
My experiences flying the CT on two
occasions were both with Europeanbased
check pilots. The most recent
opportunity was with Allistair Wilson,
formerly a major with the Royal Irish
Regiment in Northern Ireland. Allistair
has since relocated to the United States
where he is working with former CT importer,
Rollison Light Sport Aircraft.
I first flew the CT not long after its
release while attending an air show in
southern France, accompanied by
French importer, Pascal Chanéau. Between
my first and second flights in the
aircraft, Flight Designs altered the CT to
better address customer comments.
These two CTs weren't identical.
Reviewing CT2K Features
As with virtually all the light-sport aircraft
(LSA) candidates, the preferred
powerplant is one of the two Rotax models,
either the 80-hp 912, or the 100-hp
912S. This may be the perfect engine for
aircraft like the CT2K, but it comes with a
price tag and complexity not familiar to
many American ultralight enthusiasts.
Most experts acknowledge that the
912 is a complicated engine with many
parts, far more so than any two-stroke engine
used to power ultralight aircraft.
However, you shouldn't have to replace
those parts very often. For example, Allistair
maintains that if you change the oil
and the spark plugs faithfully at 200-hour
intervals, the 912 will run "pretty much
forever."
That longevity, in combination with
its better fuel economy and lower noise
output, goes a long way in balancing the
sharply higher cost of the 912 series.
To Yankee pilots, CT2K's cantilevered,
all-fiberglass (and carbon fiber) structure
also seems foreign compared to the more
common aluminum tubing structures
that have dominated U.S. ultralight aircraft.
The CT's glass and carbon materials
are widely used on American homebuilt
kits like the Lancair, Pulsar, and Velocity
aircraft. Apparently, composites also will
be common on LSA, based on what we've
seen in recent years.
As shown in last month's story about
European aircraft, literally dozens of aircraft
as beautiful as the CT2K are being
built in European factories. Many of
these LSA candidates have already passed
some level of certification and are being
built ready-to-fly. This may give designs
like this a leg-up once the LSA rule is
passed into law. Certainly, the CT2K is
well positioned within this new market
segment.
But there are large differences in
price—$50,000 and more for European
LSA compared to $15-$25,000 (or even
less!) for American-built ultralight kits.
Some pilots will be willing to pay for fully
assembled, deluxe LSA; others will want
the economy offered by more reasonably
priced kits. Fortunately, FAA's new rule
allows for both—though even current
kits may likely rise in cost somewhat to
accommodate the mandatory effort required
to meet consensus standards.
(Note: The requirement for ultralight
trainers to be replaced by "certificated"
LSA takes effect only after a three-year
transition period beginning at the passage
of the new rule. EAA and others have asked the FAA to extend that period
to ease the economic hit on instructors.)
When LSA becomes a reality, Flightstar
Sportplanes, CT2K's new importer,
will be ready to serve American interests
in that aircraft, while continuing to build
and sell their line of Flightstar ultralights
and light aircraft.
Flightstar is no newcomer to importing.
Though best known for their line of
ultralights like the Flightstar II SL and SC,
the company once imported the Icarus-
Comco C-42, which they renamed the
Cyclone. (In an interesting role reversal,
Rollison now imports the C-42 and no
longer represents the CT.) Flightstar's sibling
company, H-Power, is the importer
of the Japanese HKS four-stroke engine
that continues to find favor among light
aviation enthusiasts.
Flying the CT2K
My general flight experiences with the
older and newer CT models gave duplicate
impressions of a solid and sturdy
aircraft. Even when a strong thermal
threw me against the shoulder strap during
one flight, nothing appeared to flex
or strain. Such anecdotal information is
far from scientific, but with over 200 CTs
flying worldwide, the model enjoys a
good safety record.
Starting the aircraft is general aviation
(GA)-like; you engage a starter motor and
the 912 fires; no yanking a rope. And
again, as with GA planes, you start watching
gauges.
When flying with the Rotax 912, Allistair
prefers to wait for takeoff until the oil
temperature is up to 120 degrees, at
which time the oil pressure will drop, a
normal action, he reports. France's Pascal
did likewise, waiting for a 50°C water
temp before takeoff. Since this equates to
122°F, it appears they're both reading the
same engine manual.
CT2K's cockpit has comfortable, supportive
seats with four-point shoulder
and seatbelts. It also has an array of knobs
and switches. As I looked over the flight
control system I observed that flaps have
positions of reflex as well as positions of
flaps down. Reflex, rare though not unheard
of on American designs, allows
improved performance at cruise speeds
by curving the trailing edge upward
rather than downward. Allistair pointed
out that flap settings from -12 to +40 degrees
are available. Few American
ultralights or light planes have this range.
In a center console, the CT2K has
other levers (from aircraft's right to left):
hand brake lever with parking brake lock,
throttle, starter lever, and trim lever.
Aft of the CT2K's rear cabin bulkhead,
Flight Design mounts the ballistic parachute
handle often supplied on this
aircraft. In fact, the CT design is distinguished
in BRS parachute history for the
documented use of a BRS parachute as
Save 100. This high-speed (nearly 300
km/h or 180-plus mph!) deployment occurred
when a test pilot did his job of
pushing the limits of the aircraft. He ultimately
shed the wings—talk about
beyond-the-envelope testing!
Up front on the instrument panel, my
flight test model CT featured a nice array
of instrumentation, including an air
speed indicator (ASI), altimeter, vertical
speed indicator (VSI), slip indicator, Fly-
Dat electronic engine panel, and
intercom unit (the latter two optional). A
compass was mounted above, on the spar
carry-through in the cabin. Fuel quantity
could be seen through curved clear tubing
at the wing root.
With the engine properly warmed up
we started to taxi. CT2K's brakes are hydraulic
and work quite effectively,
making the aircraft precise to taxi. Visibility
was broad in all directions except
upward; independent brakes made it easier
to twirl around 360 degrees prior to
takeoff.
Creature Comfort
The CT2K is a fully enclosed design,
which may please many buyers, and it
boasts easy entry. The doors swing up
gullwing-style, where they clasp on a secure
fitting fastened to the bottom of the
wing. The door sill is level and sturdy
enough to use as a support during entry
and exit. You simply turn around, sit
down, and swing in your legs.
CT2K's doors are held open with the
same steel latch mechanism that holds
the doors closed in flight. You reach out
to the back corner of the door to release
the latch after entry, though I wasn't able
to do so while strapped in place.
Once those big, convex doors are
closed, CT2K's wide cabin becomes obvious,
offering 49 inches of lateral room.
Three to four inches separated a lean Pascal
and me in France though less room
remained between a bulkier Allistair and
me.
The CT2K allows 55 pounds of baggage
on each side behind the pilot and
passenger. Dual exterior doors access the
area so you can't use the space for inflight
items. Fortunately, an interior floor
compartment on each side offers a small
but handy area for stuff you may want
while aviating. Flight Design claims you
can carry 660 pounds inside the airplane,
a rather amazing payload for an aircraft
grossing at 1,232 pounds (the limit described
in FAA's LSA proposal). I didn't
get to examine weight and balance documents
to prove that claim, but there's no
doubt that the CT2K is a very spacious
aircraft.
The CT2K offers leather-clad seats that
are adjustable in-flight both fore and aft.
You pull a wire to allow repositioning
within a several-inch range. The seat back
also adjusts via a webbing strap, but
you'll want to perform this adjustment
on the ground.
While test flying the aircraft during a
hot and humid EAA AirVenture, the
CT2K was a little warm because it doesn't
have any swivel ventilation ports like
many American kits. Europe tends not to
be as warm as the United States, so improved
ventilation will no doubt come
with the importer's input.
Fairly small skylights are installed between
the nicely finished spar carry
through. Despite their smaller size, dictated
by the cantilever-wing construction,
the skylights aided visibility in steeply
banked turns. In shallow turns though,
they did little to assist lateral vision.
The CT2K has high ground clearance,
which is valued by many pilots but, like
four-wheel drive vehicles, this quality is
rarely used outside of those operating in
the bush. This is a sophisticated aircraft
that you are unlikely to land among
desert rocks very often. Damage to the
fiberglass and carbon aircraft will not be
something you'll repair as easily as a bent
landing gear tube on a Quicksilver.
Pascal recommended an 80 km/h (50
mph) approach speed to landing, which
puts the speedy CT2K right in the range
with many ultralights. The phrase "Fifty
is Nifty" for landing speeds works just as
well for CT2K as it does for many mainstream
U.S. ultralights. Of course, flaps
are essential to maintain such low speeds.
Sweet Handling
Unless you prefer your aircraft to have "handling with feedback" (another way
of saying, "not so light handling"), you'll
like CT2K. It exhibits very light and responsive
handling. Dutch roll
coordination exercises went well almost
immediately, though always keeping the
ball centered will take some experience (a
similar comment applies to the Kitfox
and other kit-built designs). Flight Designs'
engineers have clearly done their
homework and fiddled with the linkage
as the CT2K possesses well-balanced controls.
I found precision turns to heading
were easily achieved. On the downside
adverse yaw is significant, as it is on
many of the more responsive ultralights.
During my first flight in southern
France, Pascal and I got the earlier CT
down to 60 km/h indicated (37 mph) in
slow flight, at which time the controls
became sluggish but still workable. This is
admirably slow, but many Yankee ultralights
are willing to fly more controllably
at such slow speeds.
In addition, the earlier CT proved very
light in pitch, enough that it took familiarization
to not overcontrol. Rollison
had first represented CT2K, as it was sold
in England by his trike supplier, Pegasus
Aviation. After work by aerodynamicist
Billy Brooks of Pegasus, the CT2K has lost
this pitch sensitivity. In fact, I believe
handling of the CT2K is somewhat tamer
than the earlier model I flew. Most pilots
will prefer it, I believe.
Indeed, on initiation of turns in the
French registered CT, I had to use a little
high side rudder pedal movement to coordinate
the turn entry. Once in the turn
itself, it coordinated nicely. The newer,
British-refined CT2K model seemed to
show better in-turn behavior.
The CT2K has passed muster with certifying organizations. Both German and
English certifications have been won—
and meeting the British BCAR-S rules is
quite challenging, perhaps even more so
than the program many expect under the
LSA consensus. In my trials, CT2K
showed normal stall response, had proper
longitudinal response, and its response to
throttle changes were positive.
The evaluation CT2K was fitted with a
parachute, which I appreciate, though
the activating handle is rather awkwardly
located. You must twist tightly around in
your seat in order to reach the handle,
and most occupants will only be able to
reach the handle with one hand.
Other changes were made between
my first and second CT flights. In the
French aircraft, flaps were manual and
had five detent positions (-4°, -8°, +15°,
+20°, and +26°). Contrarily, CT2K now
features electric flaps with an indicator
light showing -12°, +15°, +30°, and +40°.
Because they are electric, no detents keep
you from setting an infinite adjustment
to your liking.
In France, I saw a top speed of about
230 km/h (144 mph) on an engine that
did not rev up as high as it should, according
to Pascal. It had more speed
potential, he said, but the prop choice is
critical.
Former importer Rob Rollison wasn't
sure the speedy CT2K could be made to
stay within the proposed LSA rule. Yet installing
a three-blade Ivo prop seemed to
do the job. With that prop, it hits the
wall at around 130 mph. The two-blade
Neuform prop that is popular in Europe
allows about 140 mph, according to tests
in England after a static source was fitted.
One of FAA's challenges under the LSA
regulations will be to keep owners from
refitting their planes with faster props.
Most owners will not want to invalidate
their aircraft's certification.
But the CT2K slips through the air easily
at 120 mph, with lower power settings,
lower noise, and reduced fuel usage.
Wheel fairings are standard equipment,
which help keep CT2K clean and efficient.
On approach to landing with the
engine at idle thrust, I was very impressed
with the glide angle.
To CT or Not to CT
I love American ultralights, simple
and fun. I'd also rather pay for the
much lower-cost machines we've been
enjoying for two decades. But, the proposed
sport pilot/light-sport rules will
offer new flying options for those who
might want something just beyond ultralights.
The CT2K is priced at two to three
times the average Yankee ultralight kit,
but it's aimed at a different market, or
at least a buyer ready to "move up"
from simpler and slower flying machines.
If that describes your pleasure,
you can buy and fly the CT2K for $55-
$65,000, depending on how you equip
it—a full option list can help you unload
excess cash. Simple or fully loaded,
CT2K will put a large smile on new
owners.
The CT Cruiser, as flown, comes with
droop tips, the FlyDat digital instrument,
gear leg fairings, cabin heat, parking
brake, door locks, strobe and position
lights, and a 912S, 100-hp engine. Our
test model had a ballistic parachute,
leather seats, and the Ivo prop, which
helps keep the CT2K within the 132-
mph speed limit proposed for LSA. To
have all this, plan to spend close to
$63,000 delivered ready to fly.
One of many benefits proponents of
the LSA rules speculate about is financing
(others are insurance, airport access,
greater utility, among other positives).
Using my handy financial calculator, I
can envision a monthly installment payment
of $982, assuming an 8 percent
finance cost spread over seven years.
For those not in the $60K-plus price
range, the standard model CT Sport is
no slouch, and most ultralight enthusiasts
would love its equipment list. You
can lower your investment by over
$10,000 for the standard CT still
equipped with a parachute and using
the 80-hp 912 engine. That's still more
than twice the average cost of an American
ultralight of the late nineties or
early 'noughties," but these comparisons
are apples and oranges. If
$55-$63,000 is too much for you, then
you will still have many choices of kitbuilt
aircraft including Flightstar's
original aircraft—whose line presently
runs under $20,000. It's probably best
to look at this new aircraft this way: The
CT2K is a well-equipped aircraft that
will offer you comfortable cross-country
travel for far less than a certificated GA
aircraft or many homebuilts.
For those with the cash or those willing
to sign finance papers, the CT2K
looks like a winner to me. It flies sweetly
and swiftly and has features to compare
with many modern automobiles. For all
it offers, the price tag really isn't out of
line. You'd be well advised to fly one
when you can and make your own judgment.
I predict a lot of smiles after such
an experience.
Published in Experimenter Magazine
| | |
| --- | --- |
| Seating | 2, side-by-side |
| Empty weight | 580 pounds |
| Gross weight | 1,232 pounds |
| Wingspan | 30.5 feet |
| Wing area | 116 square feet |
| Wing loading | 10.6 pounds per square foot |
| Length | 20.5 feet |
| Height | 7 feet |
| Fuel Capacity | 34 gallons |
| Kit type | Fully assembled |
| Build time | None, or assembly from shipping only |
| Standard engine | Rotax 912 |
| Power | 80 hp at 5,500 rpm |
| Power loading | 15.4 pounds per hp |
| Cruise speed | 132 mph |
| Economy Cruise | 4.5 gph |
| Never exceed speed | 192 mph |
| Rate of climb at gross | 1,000 fpm |
| Takeoff distance at gross | 300 feet |
| Landing distance at gross | 450 feet |
| Notes: | *Wing loading with the 912S (100 hp) engine is 12.3 pounds/square foot. |
| Standard Features | 80-hp Rotax 912, quickly removed wings, 4-point belts, 3-color paint scheme, 2 baggage compartments, ASI, altimeter, tach, oil gauges, CHT, and numerous amenities and appointments suiting a $60,000 aircraft. |
| Options | 100-hp Rotax 912S, leather seats, additional instruments and avionics, BRS emergency parachute system, skis, Full Lotus floats, special paint and graphics. |
| Construction | Fiberglass airframe reinforced with carbon fiber. Manufactured in Eastern Europe for a German-owned company; distributed by U.S.-owned Rollison Airplane Company. |
Design
Cosmetic appearance, structural integrity, achievement of design goals, effectiveness of aerodynamics, ergonomics.
Pros – Sleek, cantilevered design not seen in ultralight circles (more similar to U.S. homebuilts). Excellent combination of features and attributes: roomy, speedy, well appointed for American market. Built around 80-hp Rotax 912 engine.
Cons – Fiberglass and carbon repairs are said to be not difficult, but experience is needed with these materials. At present, the test CT is the only one operating in America.
Systems
Subsystems available to pilot such as: Flaps; Fuel sources; Electric start; In-air restart; Brakes; Engine controls; Navigations; Radio; (items covered may be optional).
Pros – Test CT was loaded with extras. Flaps have usual down positions but also up or reflex positions which can be used to enhance cruise performance. Electric start standard with Rotax 912s. Fuel capacity is large. Hydraulic brakes are via lever; work well.
Cons – The CT isn't missing any systems you probably want, but all more complex aircraft require more familiarity to handle competently. Engine accessible only after cowl removal. Brakes don't assist ground steering.
Cockpit/Cabin
Instrumentation; Ergonomics of controls; Creature comforts; (items covered may be optional).
Pros – Huge roomy cabin 49 inches wide. Interior compartments accessible in flight. Wide doors for easy entry/exit. Comfortable, supportive seats with 4-point belts. Seats adjust both bottom and back rest. Panel easily reached.
Cons – I struggled to unlatch the gull-wing door for closing when securely belted. Seemed somewhat noisier than another European 912-powered CT I flew in France. No other negatives to this wonderful cabin.
Ground Handling
Taxi visibility; Steering; Turn radius; Shock absorption; Stance/Stability; Braking.
Pros – Very straightforward handling for anyone used to conventional tri-gear operation. Brakes were quite effective. Visibility was very broad (except upward). Large ground clearance. Quite precise to taxi.
Cons – Rather stiff suspension (mostly noticed on turf runway). No aft window or visibility.
Takeoff/Landing
Qualities; Efficiency; Ease; Comparative values.
Pros – Responsive controls allow normal crosswind operation. Glide seemed quite strong, an asset in an engine-loss situation. Flaps help control glide path and slips are reasonably effective. Large ground clearance will help if you must land off-field.
Cons – In France my landing was good. At shorter airstrips you'll need practice to handle the the CT's long glide; you must plan approaches well. Takeoff roll is long (compared to ultralights), thanks to smaller wing and higher weight.
Control
Quality and quantity for: Coordination; Authority; Pressures; Response; and Coupling.
Pros – Very light and responsive handling. Dutch roll coordination exercises went well almost immediately (though always keeping the ball centered will take some experience). Well balanced controls. Precision turns to heading were easy.
Cons – Pitch is light enough that some pilots may not feel comfortable. Coordination will take some time to optimize. Adverse yaw is significant.
Performance
Climb; Glide; Sink; Cruise/stall/max speeds; Endurance; Range; Maneuverability.
Pros – Very speedy design. Even with an incorrect prop, I saw speeds of more than 140 mph (though for U.S. market, the CT will be propped down). U.S. model with IvoProp propeller didn't exceed 132 mph, per GPS runs. Slows down under 40 mph.
Cons – Climb not as strong as expected, perhaps optimized for European high-cruise speed desires.
Stability
Stall recovery and characteristics; Dampening; Spiral stability; Adverse yaw qualities.
Pros – Fitting both German and English certification systems, the CT has normal stall response, longitudinal response, and throttle response – a benefit of such programs. Four-point seat belts are standard.
Cons – Slippery airplane that may be more than some pilots want. Fitted with a parachute, though with the activating handle awkwardly located in case of emergency (see article).
Overall
Addresses the questions: "Will a buyer get what he/she expects to buy, and did the designer/builder achieve the chosen goal?"
Pros – The CT has German certification, and thanks to Pegasus, approval under the tough English system. Though $60,000 is a lot of money, the CT is a well equipped model for far less than a certified general aviation aircraft or many homebuilts.
Cons – CT kits are currently unavailable (European sales allow fully built models). Company and plane are not well known in the U.S., which could affect resale ability.